CAA
Familiar Foes: CAA, MVFC Meet For 22nd Time When JMU Hosts UNI
Familiar Foes: CAA, MVFC Meet For 22nd Time When JMU Hosts UNI
The CAA and The Valley will clash for the 22nd time in the FCS Playoffs on Friday night when James Madison hosts Northern Iowa.
Dec 12, 2019
by Kyle Kensing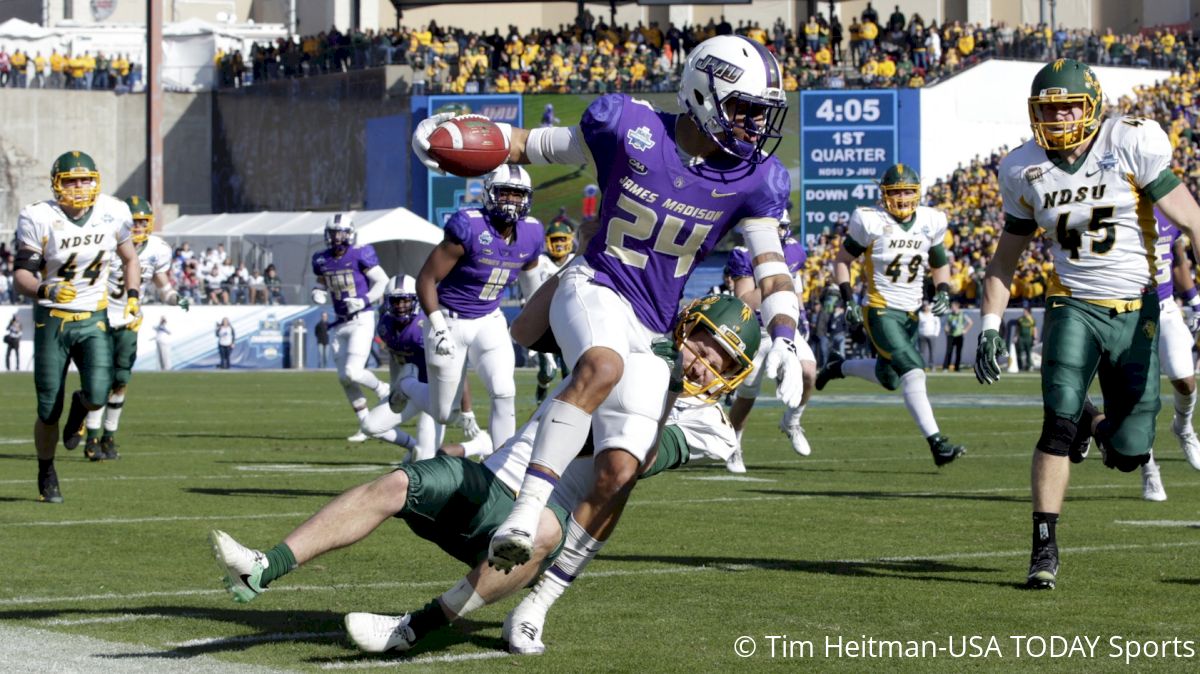 Friday night's national quarterfinal showdown between James Madison and Northern Iowa marks the 22nd all-time meeting of Colonial Athletic Association and Missouri Valley Football Conference programs in the FCS Playoffs.
Since the inception of CAA football in 2007, the Colonial and the MVFC have combined to be the two standard-bearers for the FCS.
Since 2008, they are the only two conferences to produce a national champion. In the case of the CAA, three of its members have won it all (Richmond, Villanova and James Madison). For the MVFC, it's been all North Dakota State with a historic seven championships in eight seasons.
Since the playoff field first expanded to 20 teams in 2010 (and 24 three years later), the CAA and MVFC are the only leagues to have sent more than one different program to the national championship game.
The No. 1 overall seed has come from either the CAA or MVFC every year but one since 2012. North Dakota State has been the top seed in that time on five occasions (2012, 2013, 2016, 2018, 2019); New Hampshire held it in 2014, and James Madison in 2017.
This year is the third time the two conferences combined for the No. 1 and 2 overall seeds, along with 2017 (James Madison/North Dakota State) and 2014 (New Hampshire/North Dakota State).
In CAA vs. MVFC playoff matchups:
The MVFC leads the all-time series, 12-9 (57.1 percent)
Saturday's matchup is something of a rarity, as it's being played in CAA Country. The Colonial representative in these encounters has hosted just twice, and for the first time in 2014. There have been more neutral-field championship meetings in Frisco (three) than games at a CAA stadium.
The following are the 21 meetings between the conferences. Underline denotes the host team.
2007
MVFC: Northern Iowa 38, New Hampshire 35 (1st Round)
CAA: Delaware 39, Northern Iowa 27 (Quarterfinals)
MVFC: Southern Illinois 34, UMass 27 (Quarterfinals)
CAA: Delaware 20, Southern Illinois 17 (Semifinals)
The rich Flacco Family Legacy in CAA football added an important chapter when Joe Flacco threw two touchdown passes at Southern Illinois to send Delaware to the 2007 national championship game.
2008
MVFC: Northern Iowa 40, Maine 15 (1st Round)
CAA: New Hampshire 29, Southern Illinois 20 (1st Round)
MVFC: Northern Iowa 36, New Hampshire 34
CAA: Richmond 21, Northern Iowa 20
Richmond's Cinderella run to the 2008 national title would not have been without The Drive: Eric Ward's heroic engineering of a nine-play series with no timeouts that culminated in Joe Stewart's touchdown run.
2009
CAA: William & Mary 24, Southern Illinois 3 (Quarterfinals)
A CAA representative in the national championship game was guaranteed for a third straight season when Villanova and William & Mary faced in a frigid instant classic in the 2009 semifinals. To get there, the Tribe walloped No. 3 overall seed Southern Illinois in Carbondale.
2011
MVFC: North Dakota State 26, James Madison 14 (2nd Round)
In the first season after playoff expansion, 2010, the CAA and MVFC did not meet despite the inclusion of seven programs from the two conferences combined.
The next season began the ongoing North Dakota State dynasty, as well as added the first chapter in something of a postseason rivalry with perhaps another installment to come this year. The Bison knocked off James Madison in the 2nd Round following a narrow JMU defeat of Eastern Kentucky on the road.
2013
MVFC: North Dakota State 52, New Hampshire 14 (Semifinals)
MFVC: North Dakota State 35, Towson 7 (National Championship)
The field expanded again to 24 teams in 2013, and the North Dakota State dynasty rolled on. Towson may not have won the national championship, but Terrance West's incredible season pacing the Tigers to Frisco marked a huge milestone in the program's ascension.
2014
MVFC: Illinois State 21, New Hampshire 18 (Semifinals)
Sean McDonnell's illustrious coaching career includes a run of 14 consecutive FCS Playoffs appearances. This was the closest his Wildcats came to the national championship game, and it was painfully so: Illinois State needed 15 fourth-quarter points to win.
Remarkably, this was the first time a CAA program hosted an MVFC opponent in the Playoffs.
2015
CAA: Richmond 39, Illinois State 27 (Quarterfinals)
MVFC: North Dakota State 33, Richmond 7 (Semifinals)
A year after Illinois State forced an All-Missouri Valley title game with its upset of New Hampshire, Richmond exacted a measure of CAA revenge – but not before a creeping sense of déjà vu.
Jacobi Green put the Spiders ahead 32-14 in the early fourth quarter before a pair of Illinois State touchdowns made it a five-point game. Richmond denied another Redbirds rally as Green scored his fourth touchdown of the day, and third rushing, to slam the door.
2016
MVFC: South Dakota State 10, Villanova 7 (2nd Round)
CAA: James Madison 27, North Dakota State 17 (Semifinals)
CAA: James Madison 28, Youngstown State 14 (National Championship)
Speaking from a literal definition of "upset" – ergo, the one defined by our friends in the Mojave Desert – this column lacks the historical data to deem James Madison's defeat of North Dakota State the greatest upset in Playoffs history.
From a purely rhetorical standpoint, however? You bet it is.
The Dukes went into the Fargodome, smacked the Bison in the mouth early with a pair of Bryan Schor touchdown passes, then held off a second-half rally with great defense and Schor's third touchdown pass.
2017
MVFC: South Dakota State 56, New Hampshire 14 (Quarterfinals)
CAA: James Madison 51, South Dakota State 16 (Semifinals)
MVFC: North Dakota State 17, James Madison 13 (National Championship)
The championship rematch of the epic JMU-NDSU game a year later didn't go the Dukes' way. A possible return bout in Frisco this year hinges on James Madison winning two more games – starting Friday with the rare MVFC-at-CAA contest.