2019 Elon vs Towson | CAA Football
The Provider: Yeedee Thaenrat Has Given Towson New Life
The Provider: Yeedee Thaenrat Has Given Towson New Life
In the wake of Shane Spencer's season-ending knee injury, Yeedee Thaenrat has taken on the lead role for a powerful Towson running game.
Nov 22, 2019
by Kyle Kensing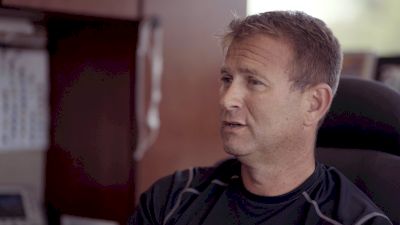 When Yeedee Thaenrat arrived at Towson as a transfer from Tennessee Tech, Tigers running backs coach Tyree Foreman offered the Philadelphia native some perspective.
"Coach Foreman told me, 'You always end up where you're supposed to be,'" Thaenrat said. "Towson and in this moment is where I'm supposed to be."
Watch Elon vs Towson LIVE on FloFootball
Thaenrat didn't foresee his time in the spotlight coming, though. He certainly contributed in his first season at Towson, rushing for 250 yards and five touchdowns in 2018. He earned All-Colonial Athletic Association recognition for his contributions on special teams.
But in 2019, Thaenrat has stepped into a more prominent role. He's rushed almost 70 more times than a season ago, score nine more touchdowns, and been a linchpin to a late-season winning streak that has Towson surging ahead of the Playoffs.
His solo contributions, which include a CAA Offensive Player of the Week nod in the regular season's penultimate Saturday, did not follow the script.
"Me and Shane Simpson talked about how we were going to be the two best running backs in the conference," Thaenrat said. "This year, we had a shot at it."
Hey Yeedee Thaenrat, your Senior Day is tomorrow. What should we wear? pic.twitter.com/1CUODiPXBs

— Towson Football (@Towson_FB) November 22, 2019
Simpson, the All-American utilityman, sustained a knee injury in Week 3 that sidelined him for the remainder of the year.
Thaenrat went from one-half of a dangerous tag team to the main event of Towson's running-back rotation.
"It's unexpected for me. Every day I go in, I play the role they ask me to do," he said. "I do whatever they ask me to do to the best of my ability."
"Yeedee provides," Towson coach Rob Ambrose explained. "And what he provides is something that's really hard to put a finger on. He provides energy, he provides excitement and he provides leadership in how he plays the game. And he provides a physicality that emboldens all of our players.
"He makes people around him better," Ambrose added.
Work hard, prop up those around, let the personal accolades take a backseat. That's the ethos of a devoted father. That's the attitude leading him to where he is now. And it's a byproduct of overcoming.
Born in the West African nation of Liberia, Thaenrat came to the United States during the country's Second Civil War.
Thaenrat embraces football and the fun he has on the field. How could he not?
TOUCHDOWN TOWSON! A 51-yard run by Yeedee Thaenarat sets up a first and goal, and Thaenrat punches it in for his 14th rushing TD of the year. 7-0 Towson! pic.twitter.com/H8XHUIjlJO

— Towson Football (@Towson_FB) November 16, 2019
"The last three games have been the most fun of my college career," he said of a stretch in which he's scored five touchdowns and gained more than 300 yards. "It's not the play on the field, it's about the energy on the sideline. I'm not sure if you can see it on film, how we're on the sideline jumping up and down for the defense on third down."
Sometimes the cultural emphasis placed on winning and losing does not align with the meaning of sports. Everyone plays with the intention of winning – Thaenrat is no different. He said he relishes his role in Towson's winning streak, and hopes to erase the disappointment of losing early in last year's FCS Playoffs.
But the game has also been a catalyst for Thaenrat's life. It's led him to where he's supposed to be: Earning his criminal justice degree from Towson, overcoming unfathomable odds just to continue playing.
A broken ankle as a high school senior threatened to end his football journey. One would never know it now, watching his ever-evolving game.
He went from being a goal-line and short-yardage thumper, albeit a "stiff" runner, as Thaenrat put it, to an elusive and more explosive ball-carrier.
Thaenrat is playing his best football now, but the best he has to offer with his attitude is only just beginning.
"From a coach's perspective, you wish had a hundred of him," Ambrose said. "You really do. But there's only one Yeedee Thaenrat."