2019 James Madison vs Rhode Island | CAA Football
Cohesion & Leadership Has Fueled James Madison's Title Run
Cohesion & Leadership Has Fueled James Madison's Title Run
JMU's senior laden team bonded with its new coaching staff during the summer months, and the seamless transition is paying dividends this fall.
Nov 22, 2019
by Kyle Kensing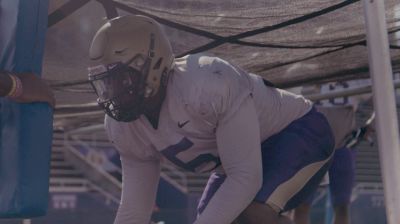 Autumn Saturdays mean thousands pouring into a stadium on campuses nationwide, and millions more tuning in at home. Countless fans are invested in what they see play out from Labor Day weekend and beyond – they hope beyond means December.
What these people don't see are the summer days preceding.
Watch JMU vs Rhode Island LIVE on FloFootball
When campus is empty and most of the student population is enjoying the sunshine, that's when the work necessary to build an autumn winner comes.
"The bonds started during the summer when we were down here, and it's just us, just the team," said James Madison running back Percy Agyei-Obese. "Every day we're out there working hard together, grinding together."
Summer workouts are a rite of passage for every program. The grind in the heat, those initial practices that set the tone, aren't things exclusive to a championship-winning squad like James Madison.
But for the second-ranked Dukes, who approach the FCS Playoffs with an outright Colonial Athletic Association championship, a 10-game winning streak, and a perfect record against FCS competition, the summer grind proved to them they could do something special come fall.
Senior linebacker @Hollows_Way2 is the glue for @JMUFootball's dominant defense.

— FloFootball (@FloFootball) November 20, 2019
A central element to those preseason workouts at James Madison was the adjustment to a new coaching staff. Mike Houston, who led the Dukes to a national championship in the 2016 season and return to the title game in 2017, left for East Carolina.
Remaining was a corps of upperclassmen, both returning stars and experienced albeit new Dukes poised to breakout, like Agyei-Obese. A shift in approach with a bevy of upperclassmen who knew how to win could have caused upheaval.
That made meshing both team and staff in the summer vitally important.
First-year Dukes coach Curt Cignetti said in his press conference following the CAA championship-sealing win over Richmond he, "kinda creeped into [the job]," because he "respect what they'd done in the past."
At the same time, no one in Harrisonburg was ready to rest on their laurels. All the returning talent remembered the misfires of the past, too.
"After freshman year [2017], getting all the way to the national championship [game] and not winning, a lot of people definitely haven't forgotten," Agyei-Obese said.
Nor had anyone returning forgotten a disappointing exit in the 2018 playoffs when the Dukes lost to Colgate; or the runner-up finish in the CAA that preceded it.
James Madison won the three conference championships before the 2018 campaign. Returning to that mountaintop in 2019 was one of the many lofty goals eyed during those summer practices.
For the redshirt seniors like linebacker Dimitri Holloway and Riley Stapleton, winning a fourth conference championship in five years was a byproduct of their leadership.
✌? more days 'til kickoff in Kingston!#GoDukes pic.twitter.com/ExIa38d21O

— JMU Football (@JMUFootball) November 21, 2019
"We've got a lot of great senior leaders on this team," Cignetti said, adding with a laugh: "They overcame their coach this year."
Even in jest, that's selling it short. Agyei-Obese said a key for the Dukes has been the relationships the team has formed with the new coaches, and how it's translated onto the field.
"With this new coaching staff, I've learned more about the game," he said.
And Agyei-Obese has put those lessons into action with 13 rushing touchdowns, and a continuously elevated personal bar.
He scored a pair of touchdowns for the first time in his career Week 3 against Morgan State; the next week at Chattanooga, he rushed for a personal-best 114 yards.
Agyei-Obese since obliterated both records; like the Dukes as a whole, his individual play has only gotten better the deeper into autumn James Madison plays.
On a roster loaded with returning talent, running back was an outlier with the top three ball-carriers of 2018 gone. Not only has the four-man rotation with Jawon Hamilton, Solomon Vanhorse and either Latrele Palmer of Eric Kirlew filled the void left behind, they've raised the standard.
Agyei-Obese has been the most productive of the bunch with 779 yards. In an offense that required him to carry more, he might have broken the 1,000-yard mark – but he also wouldn't be as fresh for a postseason push.
And, after all, that's the intention behind the summertime grind.