2019 BYU vs UMass | Independent Football
With Bowl Eligibility In The Bag, BYU Goes For Fifth Straight Win At UMass
With Bowl Eligibility In The Bag, BYU Goes For Fifth Straight Win At UMass
Brigham Young will try to extend its winning streak to five games when it plays at Massachusetts on Saturday.
Nov 21, 2019
by Roger Brown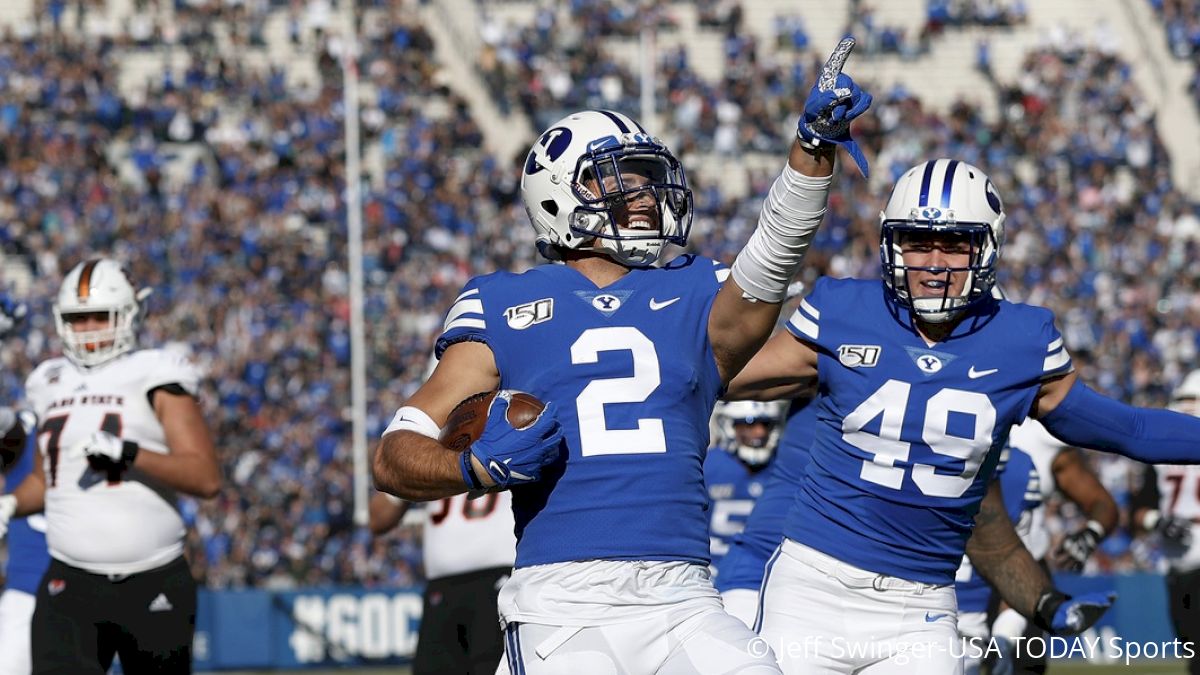 It's a game between two teams moving in opposite directions. There's no arguing that point.
Brigham Young (6-4) will try to extend its winning streak to five games when it plays at Massachusetts (1-10) on Saturday. UMass has lost six games in a row since it posted a 37-29 victory over Akron.
Watch BYU vs UMass LIVE on FloFootball
It will be the season's final game for the Minutemen, which have allowed allowed at least 44 points in each of its 10 losses. BYU will finish its regular season with a game at San Diego State next weekend and then start preparing for the SoFi Hawaii Bowl that will be played at Aloha Stadium in Honolulu, Hawaii, on Christmas Eve. BYU's opponent for that game has not been announced.
"We're creating momentum and we're creating belief in each other, so this is something that is more focused on what we're trying to get done," BYU coach Kalani Sitake said. "I have a ton of respect for [UMass]. That's just how football goes, a lot of guys do what our players do, they work hard and put a lot of time into the game.
"This will be their last game of the season, so we know it's going to mean a lot to them. We're going to get their best shot, so we're going to make sure they get ours as well."
Quarterback Options
It's been a season of instability at quarterback for UMass. When redshirt sophomore Andrew Brito replaced redshirt senior Randall West at quarterback late in the third quarter of last Saturday's 45-6 loss to Northwestern it marked the sixth time this season UMass coach Walt Bell has made a quarterback change during a game.
Injuries forced the Minutemen to change quarterbacks on two other occasions, so UMass has finished the game with the same QB it started three times this year.
Coming Up Empty
UMass forced three turnovers in the loss to Northwestern, but scored no points off those turnovers. What's worse, when UMass' Cooper Garcia attempted a 30-yard field goal after UMass took possession on a Josh Wallace interception, the kick was blocked and returned for a Northwestern touchdown.
UMass crossed the Northwestern 25-yard line four times, but was held to six points on the four scoring opportunities. Those drives ended with two field goals, the blocked field goal attempt and a turnover on downs.
"In a game like that where your defense is giving you the ball and you have a lot of opportunities while the game is close, if you want to have a chance to win, you have to capitalize on those opportunities," West said.
Heavier Workload
BYU running back Sione Finau had run for 27 yards on seven carries this season when he made his first collegiate start in a 28-25 victory over Boise State on Oct. 19. He ran for 89 yards and a touchdown on 11 carries in that game, and has been BYU's go-to running back since then.
Finau has run for 332 yards on 52 carries in his last four games, and is averaging 6.1 yards per carry this season.
"I'm getting more comfortable, especially playing in front of a lot of fans," Finau said. "I'm focusing on the things that I need to get better on a daily basis, trying to hone in on those. I'm just trying to be more comfortable in my role and do what I can to help the team."
Feeling At Home
This is the fourth meeting between BYU and UMass, but the first time the teams will play in Amherst, Mass. BYU defeated UMass at Gillette Stadium -- home of the New England Patriots -- last season. BYU has won two of the first three meetings.
UMass and BYU are two of the six current FBS independent programs. Notre Dame, Army, New Mexico State and Liberty are the others.
"I don't think we're overlooking [UMass)," BYU defensive lineman Uriah Leiataua said. "We're going to treat them as any other opponent. We're going to take them on and be prepared for anything. They're a good opponent and they can surprise anyone."