2019 Elon vs Towson | CAA Football
Towson Can Play Its Way Into The Playoffs On Saturday
Towson Can Play Its Way Into The Playoffs On Saturday
Towson hosts Elon on Saturday with an FCS Playoff berth within reach on Saturday.
Nov 20, 2019
by Kyle Kensing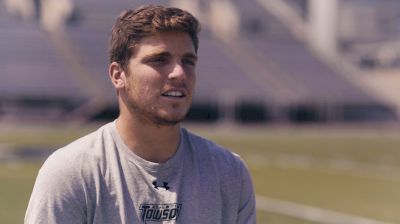 Saturday's regular-season finale pitting Elon against Towson means different things to the two teams.
---
Who: Elon (4-6, 3-4 CAA) at No. 18 Towson (7-4, 4-3 CAA)
When: Saturday, Nov. 23, 2 p.m. ET
Where: Johnny Unitas Stadium; Towson, Md.
Watch: LIVE on FloFootball
---
For host Towson, the Colonial Athletic Association capper offers one more opportunity to build the Tigers' case for the FCS Playoffs. Extending their end-of-season winning streak to four games presents to the committee that this is a dangerous team, capable of overcoming adversity and hitting its peak at the right time.
"There aren't a whole lot of teams in our league that started the season and finished the season the same way," Tigers coach Rob Ambrose said. "You're talking about new people, new ideas, an evolution of a scheme and personnel. What you ask for from your kids is that they get better."
While Towson hits an apex for the 2019 postseason to come, Elon aims to close out its first campaign under coach Tony Trisciani building for the future.
The Phoenix will not make the Playoffs, ending the program's first-ever streak. But with underclassmen set to return in 2020, and the identity of the program taking shape, Saturday's finale is about finishing strong.
"We're looking at this game like it's a comprehensive final exam for football class," Trisciani said. "For our seniors, being their final game, we want to be successful…For the underclassmen, it's their last chance to put their game on final going into the offseason."
Red Zone Opportunity
Ambrose touted that despite surrendering yards, the Towson defense has been "bend-don't-break" in terms of giving up points. Indeed, over their last five games, points are averaging just 16.8 points per game – and that includes CAA champion James Madison, which Towson held to an FCS opponent season-low 27 points.
A key reason is red-zone defense. Towson ranks No. 32 in the nation, allowing scores on 75.7 percent of opponents' trips inside the 20. Of those 28 scores, 21 are touchdowns.
On the flipside, Elon's been excellent inside the red zone. The Phoenix rank seventh nationally with a 91.1 percent conversion rate. The multifaceted Phoenix rushing attack has produced 15 touchdowns, rolling out with multiple looks from Jaylan Thomas, DeSean McNair, and down the stretch this regular season, Joey Baughman.
Picks Given, Picks Taken
At the heart of Towson's defensive play this season has been the greediness of cornerback Coby Tippett and linebacker Keon Paye. The Tiger duo combine for 10 interceptions, each producing five.
Their ability to generate takeaways starts with an aggressive pass-rush, keyed up front by Robert Heyward.
Garnering interceptions against Elon has been a challenge for opposing defenses, however. Quarterback Davis Cheek threw 240 consecutive passes dating back to last season without a pick, a streak that ended against James Madison.
Similarly, Elon's Get The Ball Wall is stocked with images of defensive back Greg Liggs Jr., whose seven interceptions lead the nation. That's almost double the number of picks Towson quarterback Tom Flacco has thrown all year.
Pass Rushers Extraordinaire
A cornerstone of both defenses meeting at Johnny Unitas Stadium has been the pressure generated in the backfield. Whether it's forcing opposing quarterbacks into bad passes that are picked off, dropping ball-carriers for a loss, or getting to the quarterback for a sack, both Elon and Towson boast some of the CAA's premier blitzers.
Towson's Heyward comes in with 12 tackles for loss on the season, while the tandem of Bryce Carter and Christian Dixon each have 3.5 sacks. Elon's Marcus Willoughby has five sacks on the year, while teammate Devonte Chandler has made 7.5 tackles for loss.
How each offense counters the inevitable rush will have a pivotal role in Saturday's contest. Towson's Flacco's mobility will be tested, as the Elon defense has had success against running quarterbacks this season. That places a greater onus on the running-back tandem of Yeedee Thaenrat and Adrian Feliz-Platt, who have picked their up production during the Tigers' winning streak.