2019 Delaware vs Villanova | CAA Football
Villanova Hosts Delaware For 53rd Battle Of The Blue
Villanova Hosts Delaware For 53rd Battle Of The Blue
Villanova will get one more opportunity to improve its playoff resume' as the Wildcats play host to a Delaware squad looking to finish the year at .500.
Nov 20, 2019
by Kyle Kensing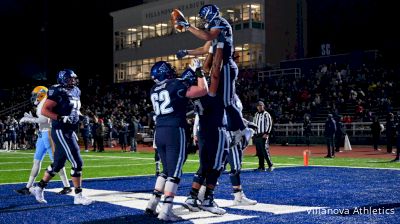 Villanova will get one more opportunity to improve its playoff resume' as the Wildcats play host to a Delaware squad looking to finish a turbulent season at .500.
---
Who: Delaware (5-6, 3-4 CAA) at Villanova (8-3, 4-3 CAA)
When: Saturday, Nov. 23, 1 p.m. ET
Where: Villanova Stadium; Villanova, Pennsylvania
Watch: LIVE on FloFootball
---
The 53rd all-time meeting in the Battle of the Blue sees Villanova looking to solidify its resume for the upcoming FCS Playoffs, and extend its winning streak over rival Delaware to eight games.
"There's been unbelievable games in both directions," Villanova coach Mark Ferrante said of the rivalry. "It's one of those games where [you can] throw the records out the window. It doesn't matter who's playing for what, what their overall record is, what their conference record is. This is a game that's going to bring out the best sides in both sides, so you better be ready to play."
Ferrante's been part of the Battle of the Blue since 1987. Delaware coach Danny Rocco is much newer, taking over in 2017, but he knows the significance of the rivalry and the quality of this Villanova team.
"Really complete team," Rocco said. "This is a CAA team that's positioned itself for the postseason really, really well, regardless of this week's outcome."
Certainly Rocco and the Blue Hens would rather that outcome send Villanova off to the Playoffs with a defeat, not unlike a year ago when the roles were reversed.
It's All About Pace
Villanova boasts one of the highest-scoring offenses in the country at 33.4 points per game – two full touchdowns more than Delaware's averaged. The Fightin' Blue Hens have struggled to put up points while dealing with a bevy of injury issues, not the least of which has been the on-and-off availability of quarterback Nolan Henderson.
Meanwhile, Villanova's potent offensive pace has left the Wildcats vulnerable to surrendering scores at a rate almost equal to what the Dan Smith-led offense produces. At 31.4 points per game allowed, only Rhode Island's allowed more in the CAA.
Still, Villanova's in its comfort zone when the game is more open. It's no coincidence that the Wildcats scored below their average in two of their three losses, posting 24 against James Madison and 20 at New Hampshire.
Conversely, Delaware's marquee wins of this season's back-half – against New Hampshire and last week, at Stony Brook – were point totals in the teens.
The Fightin' Blue Hens excel when grinding down the pace, even in defeat. Their season's marked with heartbreaking near-misses, like a 17-14 loss at Pitt, a team likely to play in a second straight ACC Championship Game; 24-31 at Towson; and 21-17 against UAlbany.
Sharing The Load
Part of Delaware's ability to slow down an opponent comes on the offensive end, where the Blue Hens have the necessary run game to complement the defense.
Running back Will Knight has broken out as one of the stars of the 2019 season, averaging a whopping 6.8 yards per carry and ranking second in the CAA for yards per game.
The hard-running Knight works well in tandem with elusive DeJoun Lee, who missed the North Dakota State and Pitt games in September. Since returning, Lee has performances of 103 yards against New Hampshire, 55 vs. Richmond, 69 against UAlbany and 61 against Stony Brook.
In that same stretch, Knight went for 101 against both New Hampshire and Richmond; 96 at Towson; 79 against UAlbany; and 108 against Stony Brook.
Villanova's similarly spread the rushing load, albeit partially due to necessity – at least initially. The loss of Justin Covington when he was leading the nation forced youngsters TD Ayo-Durojaiye and DeeWil Barlee into more prominent roles.
Both have grown into their bigger spots. Meanwhile, reinforcements arrive with Jalen Jackson returning.
"Our two freshmen having been picking up the slack and doing a phenomenal job. Now with Jalen coming back, that will add a new dimensional, as well," Ferrante said.
Mr. Smith's Closing Statement
Smith's outstanding 2019 comes to a close with the Villanova quarterback in the hunt for postseason awards. His 36 touchdowns – 26 passing, 10 rushing – are the most in the nation. He can hit the 40 mark for the regular season, and join Villanova's 2014 Walter Payton Award winner John Robertson in the illustrious 30-10 Club, if he replicates last week's four passing score performance.
Delaware's passing defense comes in allowing 231.1 passing yards per game, but fewer than two touchdowns per game.
The Blue Hens secondary has had to regroup down the stretch, losing standout Justis Henley early against Richmond. Replacing his production is challenge enough without factoring in the diversity of Smith's primary targets.
Changa Hodge has been an electric big-play threat, while freshman Jaaron Hayek made himself an immediate part of things, catching at least two passes in 10-of-11 games. Tight end Todd Summers is an elite pass-catching tight end, but will see resistance from Noah Plack. The Delaware linebacker Plack is excellent dropping back into pass coverage.