2019 Maine vs New Hampshire | CAA Football
Maine's Uphill Climb To The Playoffs Is Nearing The Apex
Maine's Uphill Climb To The Playoffs Is Nearing The Apex
Maine's uphill climb to a playoff spot is approaching the apex, as a win at New Hampshire likely punches the Black Bears' ticket.
Nov 20, 2019
by Roger Brown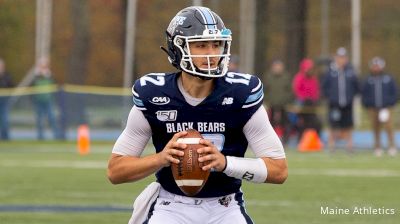 Maine has been climbing uphill for more than a month to keep itself in contention for an FCS playoff berth, so in some ways the 14-point, fourth-quarter deficit the Black Bears faced Saturday against Rhode Island was more of the same: Maine had to overcome long odds to keep its postseason hopes alive.
The likelihood of Maine earning a spot in the 24-team FCS playoff field seemed remote when the Black Bears dropped to 2-5 overall following a 59-44 loss to Liberty on Oct. 19. At that point they were also without some key pieces like starting quarterback Chris Ferguson, who sustained a season-ending foot injury during a 24-17 loss to Richmond a week earlier.
Watch Maine vs New Hampshire LIVE on FloFootball
Maine got the momentum going in the right direction with a 34-25 victory over William & Mary, and then thrust itself back into the playoff conversation with wins against UAlbany (47-31) and Elon (31-17) the next two weeks. Problem was, the Black Bears had to beat Rhode Island last Saturday to stay in that conversation, and the Rams had a 27-13 lead with 9:52 to play.
The Black Bears scored on Emmanuel Reed's 12-yard run with 8:24 to play, and then tied the game on Joe Fitzpatrick's 3-yard run and Kenny Doak's point-after kick with 3:16 remaining.
Things looked bleak after Rhode Island kicked a 29-yard field goal to take a 30-27 lead with 1:49 left, but Maine put together a five-play, 81-yard drive capped by an 11-yard touchdown pass from freshman QB Joe Fagnano to senior wide receiver Earnest Edwards with 34 seconds to play. When Rhode Island failed to score in the final seconds Maine's 34-30 victory had extended the team's winning streak to four games.
"Really happy to come out with a win, obviously," Maine coach Nick Charlton said. "It was a pretty wild game. We found a way to make some plays at the end of the game and score a bunch of points there in the last couple minutes.
"That's definitely a big takeaway from it -- that the guys are resilient. They keep fighting. They believe they can win."
No one contributed more to the victory than the versatile Edwards, who produced 259 all-purpose yards. He caught five passes for 58 yards, gained 73 yards on three carries, returned four kickoffs 100 yards and had a 28-yard punt return that set up a touchdown. He also made the tackle on Rhode Island's Hail Mary pass to end the game.
It should come as no surprise that Edwards caught the go-ahead TD pass, because he's in his fourth year of making big plays for the Black Bears (6-5, 4-3 Colonial Athletic Association). As a freshman he was the only player at the FCS level to run for a touchdown, pass for a touchdown, catch a TD pass and return a kick for a touchdown. Whenever his career ends, Edwards will have left his mark on the Maine program.
"He's been huge," Charlton said. "He's been a big part of all these wins. I really thought this weekend he willed our team to win. He had an impact in literally every facet of the game.
"I think he's a tremendous player. He's certainly made an impact for this football team."
Fagnano was 7 of 13 for 67 yards against Rhode Island in the first half, but completed 13 of 16 passes for 149 yards and two TDs after halftime. He connected on 6 of his 7 passes for 112 yards in the fourth quarter.
"I was very impressed with him [in the second half], especially his work in the two-minute drill," Charlton said. "I'm proud of him and the way he led this team."
Maine's one-game-at-a-time mantra will continue when it wraps up the regular season Saturday at New Hampshire (5-5, 4-3), which may be the closest thing New England has to the Auburn-Alabama rivalry. The game will have a familiar storyline for the Black Bears: win and hope they've done enough to get in.
"We definitely have our work cut out for us this week and we have to play well, but we're confident," Charlton said. "We gotta go 1-0 once again."