2019 James Madison vs Rhode Island | CAA Football
Dimitri Holloway Is 'The Glue' For JMU's Dominant Defense
Dimitri Holloway Is 'The Glue' For JMU's Dominant Defense
Reigning CAA Defensive Player of the Week Dimitri Holloway stands at the center of a JMU defense that is laser focused on a national title.
Nov 19, 2019
by Roger Brown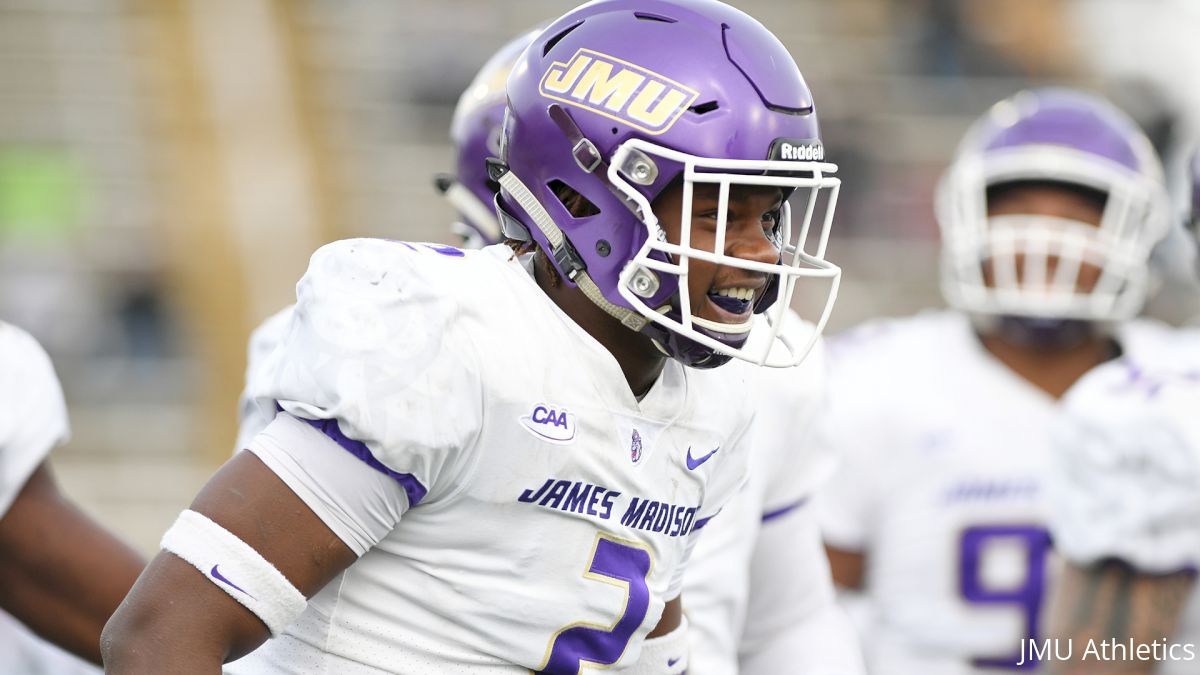 Last Saturday was one of those days when it seemed like James Madison linebacker Dimitri Holloway could do no wrong. Even when he failed to do his assignment, things still turned out for the best.
Richmond's opening possession against James Madison is perhaps the best example.
Watch JMU vs Rhode Island LIVE on FloFootball
The Spiders drove deep into James Madison territory Saturday when junior cornerback Wesley McCormick forced a fumble at the 1-yard line and Holloway recovered the ball in the end zone for a touchback. On the ensuing play James Madison quarterback Ben DiNucci fired an 80-yard touchdown pass to Brandon Polk that opened the scoring in James Madison's 48-6 victory.
"Me personally, I was supposed to already make the play," Holloway said. "I was supposed to be sliding over there and that was technically my man who was coming into my zone. I ended up missing the tackle. ...Thankfully, he (Wes) saved me and forced that fumble on the goal line, because I knew in the back of my head that I had messed that play up. Thankful for that."
Dimitri Holloway recorded a season-high 15 tackles, a tackle for loss, a half-sack and a fumble recovery as @JMUFootball beat Richmond

Yep he's #CAAFB Defensive POTW pic.twitter.com/RxyuYGVulh

— CAA Football (@CAAFootball) November 18, 2019
In addition to the fumble recovery, Holloway recorded a season-high 15 tackles, a tackle for loss, and a half-sack in the victory, which clinched the Colonial Athletic Association championship for the Dukes (10-1, 7-0 CAA). He was named the CAA Defensive Player of the Week for his performance against the Spiders. It was the fourth game in which Holloway has reached double-digits in tackles this season. He also leads the conference with three fumble recoveries.
Holloway, a redshirt-senior from Newport News, Va., has been a major contributor to a second-ranked James Madison team that leads the CAA in both scoring defense (15.2 points per game) and total defense (283.4 yards per game) entering Saturday's matchup with Rhode Island. He ranks seventh among CAA players in tackles with 94 (40 solo) and is tied for seventh in tackles per game (8.5).
Holloway played in 12 games in both his freshman and sophomore seasons and made nine starts at linebacker as a sophomore, but missed all but one game of the 2017 season because of an injury. He was granted a medical redshirt, and last season tied for CAA lead with 127 tackles and was second in the conference with 9.8 tackles per game.
"I've talked a lot about Ron'Dell and his voice, but the one guy who has the biggest effect on our defense is Dimitri. When things aren't going right, when Dimitri talks, people listen. He means a lot to the defense."

-On Dimitri Holloway

— JMU Football (@JMUFootball) November 18, 2019
"The thing about Dimiti, he's the one guy when maybe it's not going quite right will rally everybody defensively," said first-year James Madison coach Curt Cignetti. "His voice means a lot. He's been a very consistent player throughout his career. Was injured early in camp (broken bone in his hand). We didn't have him until Wednesday of the first week and had a great game against West Virginia (13 tackles).
"Dimitri is really sort of the glue. He's a very instinctive player. He's got the respect of the defense and when he talks everybody listens."
Holloway had at least 10 tackles in six games last season, including 12 against a Cignetti-coached Elon team. He helped spearhead a James Madison defense that held Richmond to 265 total yards and a season-low six points Saturday. The Dukes forced four turnovers that led to 17 points in that contest.
"Everybody did their job," Holloway said. "We still had mistakes out there of course, but we all played hard and played the right way and played smart. We all clicked and had a great game.
"I think communication was the main key. We harped on it all week and just knowing that as long as everybody was on the same page even if we were all wrong together, we'd be in the right defense. Just flying around, being fast and keeping our eyes in the right spot -- those were the keys."