2019 Richmond vs James Madison | CAA Football
The Playoffs Begin Early In The CAA
The Playoffs Begin Early In The CAA
The FCS Playoffs don't technically begin until Nov. 30, but for a good portion of the CAA, the playoffs effectively begin this week.
Nov 15, 2019
by Roger Brown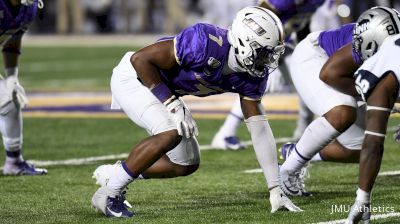 The FCS Playoffs don't begin until Nov. 30, but some Colonial Athletic Association teams will be part of something very close to a playoff game this weekend.
Take New Hampshire and UAlbany, for example. The Wildcats (5-4, 4-2) and Great Danes (6-4, 4-2) will meet Saturday at UAlbany's Tom & Mary Casey Stadium, and each team will likely need a victory this weekend -- and next weekend as well -- to have any chance of qualifying for postseason play. The loser of Saturday's game will almost certainly be removed from the playoff conversation.
New Hampshire can finish no worse than second in the CAA if it defeats UAlbany and follows up that victory with a win against Maine next weekend. That would also give the Wildcats seven wins overall, which may be the minimum needed to earn an at-large berth for any team that plays an 11-game schedule like New Hampshire does.
Interim head coach Ricky Santos speaks at UNH's weekly press conference. #CAAFB #GraniteStrong #BeTheRoar https://t.co/7n4oddaJde

— UNH Football (@UNH_Football) November 13, 2019
UAlbany, which will conclude the regular season with at game at Stony Brook next weekend, is among the teams that may need eight wins to qualify. If so, the Great Danes would need to add two more victories to their resume. A seven-win UAlbany team would be a longshot at best.
As many as six CAA teams may still be trying to play their way into the 24-team playoff field. That doesn't include James Madison, which is close to clinching the CAA Championship and the automatic playoff berth that comes with it.
"From top to bottom I think the CAA is as competitive as any league you're going to find in the country," UNH interim head coach Ricky Santos said. "The top team being James Madison, (which) is a national-championship-contending team right now.
"It has really good balance, there's a ton of parity, but for us right now we're not trying to get caught up in the numbers, the stats and how it's all going to play out. We really need to focus on this week and getting better. And if we win this game the following week will have even bigger implications on a potential postseason berth."
Here's where things stand in the CAA with two weeks left in the regular season:
Safely In
James Madison
The Dukes (9-1, 6-0) can secure an outright CAA title by beating Richmond at home Saturday.
James Madison is in position to earn the No. 2 seed for the FCS playoffs, which means any postseason game the Dukes play in through the FCS semifinals will be held at Bridgeforth Stadium.
Almost There
Villanova
After Friday night's non-conference home game against LIU, the Wildcats (7-3, 4-3) will complete their regular-season schedule with a home game against Delaware next weekend. In many cases eight will be the magic number when it comes to wins needed to qualify for this year's playoffs, so one more victory should get the job done.
If Villanova wins nine games, a first-round bye could be in play.
On The Bubble
UAlbany, Maine, New Hampshire, Richmond and Towson.
As mentioned above, Saturday's UAlbany-New Hampshire winner will keep its postseason hopes alive. You can probably draw a line through the loser of that contest.
Richmond (5-5, 4-2) is another team that will likely need two more victories. The problem the Spiders face is they play at James Madison on Saturday in what can be described as a high-risk, high-reward contest.
Towson (6-4, 3-3) has a favorable schedule remaining (at William & Mary; and at home against Elon) and may need to win both games to qualify.
Two of Maine's losses came against FBS opponents, so if the Black Bears (5-5, 3-3) can get past Rhode Island on Saturday they could find themselves in a win-and-get-in game against rival New Hampshire next weekend. Rhode Island is the only CAA team that hasn't won a conference game this year, but if this season has taught us anything it's this: there are no guaranteed victories in the CAA.
One Eye On Next Season
Delaware, Elon, Rhode Island, Stony Brook and William & Mary
The best Stony Brook (5-5, 2-4) can do is win seven games with a 12-game schedule. That, plus a 4-4 record in the conference, will still leave too many CAA teams with better resumes. Delaware (4-6, 2-4), Elon (4-6, 3-4), Rhode Island (2-8, 0-6) and William & Mary (4-6, 2-4) can't finish above the .500 mark overall or in the league, since Elon, like New Hampshire, has an 11-game schedule.
These teams will be looking to create some momentum heading into the offseason.