2019 Long Island vs Villanova | CAA Football
With Lessons Learned, Villanova's Drew Wiley Is Ready For A Playoff Run
With Lessons Learned, Villanova's Drew Wiley Is Ready For A Playoff Run
Five years of hard work came to a head for Drew Wiley and his Villanova teammates in Week 11 against Richmond.
Nov 14, 2019
by Kyle Kensing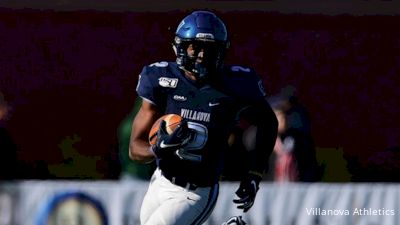 Unlock this video, live events, and more with a subscription!
Get Started
Already a subscriber? Log In
Five years of hard work came to a head for Drew Wiley and his Villanova teammates in Week 11 against Richmond.
Giving up 28 first-half points to the red-hot Spiders, and battling to contain explosive, dual-threat quarterback Joe Mancuso, the Wildcats faced the prospect of a fourth straight loss. One goal that fifth-year senior Wiley set for his college career, a berth in the FCS Playoffs, faced serious peril.
"At halftime, we said, 'Alright, this isn't happening again,'" Wiley said. "'We're coming out and finishing this game and ending the [losing] streak.' Collectively as a group, we bought into that mantra in the second half."
Watch LIU vs Villanova LIVE on FloFootball
The challenge set, Villanova responded, not allowing another point for the rest of the game. Wiley set the tone himself on the opening drive. Mancuso moved the Spiders into Villanova territory with back-to-back long passes, then a Milan Howard rush brought Richmond near the red zone.
But on the ensuing pass, Wiley intervened. His interception squashed the Spiders' best chance of scoring after intermission.
"You're always going to go in there [at halftime] and make a few adjustments, but the biggest part was the defense settling in there, settling down,"said Wildcats coach Mark Ferrante
Coupled with a forced fumble, 3.5 tackles for loss and a sack, the pick earned Wiley Colonial Athletic Association Defensive Player of the Week.
"For him to be recognized this week…that was really exciting to see," Ferrante said.
Individual honors are not behind Wiley's outstanding play in 2019, however. He has been outstanding from an individual capacity, racking up 15 tackles for loss, tied for ninth nationally. But he said he has one primary focus when he makes play for the Villanova defense.
Congratulations to Drew Wiley on being named the CAA Football Defensive Player of the Week. Wiley had 3.5 TFL, a sack, a forced fumble and an interception in win over Richmond. #GoNova #TTR pic.twitter.com/v7aCmefZAR

— Villanova Football (@NovaFootball) November 11, 2019
"I don't do it for me, I do it so we can win," he said. That ties into a goal set when he arrived on campus from Hopewell Valley High School in Pennington, New Jersey, in 2015.
"Ultimately, ever since I've been here, I've wanted to go to the Playoffs," he said. "For this year, hopefully do that in my senior season, would be great."
Villanova last reached the Playoffs in 2016, Wiley's redshirt freshman season. He contributed then as a reserve, including making an appearance in an opening-round win over Saint Francis.
The next two seasons, however, the Wildcats endured some hard times.
They finished 5-6 in 2017, with three losses to Tempe, UAlbany and Elon coming by a combined 17 points. Villanova again finished 5-6 last season, with losses at Stony Brook and Maine – both playoff teams – by a combined five points; and a Capital Cup defeat against William & Mary that denied the Wildcats a winning record.
Villanova's 2019 parallels the program's finishes in Wiley's first three playing seasons: a strong start, with some bumps to follow. This year's squad opened 6-0 and peaked in the top 5 of the FCS rankings, but the already-thin #88Strong lost a bevy of production to injuries.
Then-nation leading rusher Justin Covington sustained a season-ending knee injury, with fellow running back Jalen Jackson already dealing with a quadriceps injury. Safety Jaquan Amos missed two games. Linebacker Amin Black went down in the September rout of Maine.
Losses piled up commensurate with the names added to the injured list.
Action ? from yesterday's W over Richmond

Recap: https://t.co/kpIWS5jZom pic.twitter.com/tGhjMjaBNe

— Villanova Football (@NovaFootball) November 10, 2019
A loss to Stony Brook on the final play of the game was sandwiched between a one-touchdown defeat at New Hampshire, in which Villanova had two drives in UNH territory stall late. The James Madison loss on Oct. 12 was by two touchdowns, but Villanova led in the fourth quarter.
A repeat of the previous two seasons and their heartbreaking near-misses denying Villanova a shot at the Playoffs was not a scenario Wiley was willing to let play out.
The rally unfolded with the 2009 national championship-winning Villanova team in attendance. The squad held a reunion last week, which included linebacker Terry Thomas. Wiley said he delivered a message to this year's Wildcats following Friday walk-throughs that resonated.
This season's bunch also watched a highlight package from 2009, which Wiley said, "got our guys thinking about what could potentially happen down the road."
With two games remaining against Long Island and Delaware, winning out would put Villanova at 9-3. That should net a favorable spot in the FCS Playoffs, with at least one home-game opportunity on the road to Frisco.
Such is the culmination of Wiley's lessons taken away from his time in the program.
"Throughout my time here, there's been a lot of ups and a lot of downs," he said. "To see the process of getting over the humps to be great, is something I've learned in football and life."
"Nothing's easy," he added. "You've got to work for it, and eventually your time will come when you'll succeed."