2019 Stony Brook vs Delaware | CAA Football
Desperate Times Call For A Big Win At Both Delaware & Stony Brook
Desperate Times Call For A Big Win At Both Delaware & Stony Brook
Stony Brook and Delaware each enter Saturday's Colonial Athletic Association matchup in Newark, Del., trending in the wrong direction.
Nov 13, 2019
by Roger Brown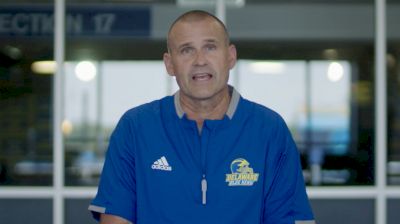 Stony Brook and Delaware each enter Saturday's Colonial Athletic Association matchup in Newark, Del., trending in the wrong direction.
Stony Brook (5-5, 2-4 CAA) has lost four of its last five games and has failed to score more than 14 points in three of those four losses. Delaware (4-6, 2-4) has lost five of its last six games, including its last three.
Watch Stony Brook vs Delaware LIVE on FloFootball
The best each team can hope for this season is a .500 record within the conference, and that possibility will no longer be in reach for the team that loses Saturday's contest.
Among Delaware's problems has been an inability to come up with game-changing plays, especially on defense. The Blue Hens are at the bottom of the CAA in sacks with six. No other CAA team has fewer than 12.
Delaware may have trouble pressuring the quarterback Saturday as well, since Stony Brook is second in the CAA in sacks allowed (12). Only Villanova has allowed fewer.
"That's kind of been our storyline here of late … the last couple weeks," Delaware coach Danny Rocco said. "An untimely error on our part. We're just not making ourselves hard to beat. We're not doing what good teams do in those moments.
.@topclassgeneral putting in work!#BleedBlue302#BlueHens pic.twitter.com/bYCKmhoqdx

— Delaware Football (@DelawareFB) November 12, 2019
"They have to put themselves in a position where they can make more plays to impact the outcome of the game. I think that's the thing that we haven't been doing defensively. We haven't been sacking the quarterback the way you need to. We're not taking the ball away the way you need to. So we're playing hard. We play fast. These kids are physical, they're having fun, they're united -- they're doing a lot of really good things. Gotta do more things to impact the outcome of a game. Hopefully this weekend we can."
Many of Stony Brook's issues have occurred in the red zone. The Seawolves are 11th among CAA teams in red zone offense with 31 scores (24 touchdowns) in 43 trips inside their opponent's 20-yard line. Stony Brook is last in the conference in red zone defense, having allowed 26 scores (18 TDs and eight field goals) in 29 opportunities.
"Good football team that's probably going through some of the same things we are," Stony Brook coach Chuck Priore said when asked about Delaware. "You think you're going to be a little bit better than you're record shows.
"They defend the field well … don't give you some big plays and they keep the game close, so it'll be a typical Stony Brook/Delaware game. Looking forward to it."
Running Time
Although Stony Brook is averaging 201.8 rushing yards per game -- No. 2 in the CAA -- the Seawolves have had trouble controlling the clock and keeping the ball away from opposing offenses. The Seawolves are 11th in the CAA in terms of time of possession (28:57 per game). Towson had a 39:08-20:53 edge in time of possession in last Saturday's 31-14 victory over Stony Brook.
"At the end of the day they want to pound the ball down in there and soften the defense and do everything off of that," Rocco said. "Defensively they're fast. This should be really good game. We have to find a way to make a couple of those impactful plays to find a way to secure victory."
Air Ball
One factor that could go a long way toward deciding Saturday's outcome is Delaware's ability -- or inability -- to move the ball through the air. Delaware ranks 11th in the CAA in pass offense (185.0 yards per game) and Stony Brook is 12th in pass defense (258.7).
Delaware's inconsistent pass offense has also led to some struggles on third down. The Blue Hens are last in the conference in converting on third down (49 for 133; 36.8 percent).
"Got the opportunity to compete against a great program that has tradition," Priore said. "What you have to do is win on Saturday to maintain relevance. We're in a scenario where we just got to keep on winning. If you keep on winning at the end of the day stuff takes care of itself."
No Flags
Delaware is one of the least-penalized teams in the country. The Blue Hens have been penalized 36 times in their 10 games. Dartmouth (29) and Princeton (30) are the only FCS teams with fewer penalties this season, and those teams have each played eight games.