2019 Long Island vs Villanova | CAA Football
Villanova Hosts LIU With Postseason Looming
Villanova Hosts LIU With Postseason Looming
After rallying for a hard-fought victory over Richmond, Villanova has an opportunity to get rolling once again, just in time for the postseason.
Nov 13, 2019
by Kyle Kensing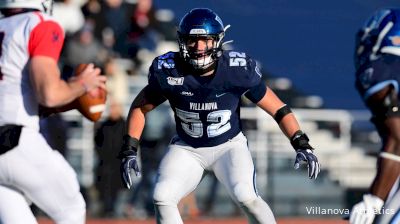 Villanova's best start in 16 years preceded a difficult and injury-plagued three-game losing streak. But after rallying in the fourth quarter for a hard-fought win in Week 11 against Richmond, the Wildcats have an opportunity to build a new streak just in time for the postseason.
---
Who: Long Island (0-8) at No. 13 Villanova (7-3)
When: Friday, Nov. 15, 7 p.m. ET
Where: Villanova Stadium; Villanova, Pennsylvania
Watch: LIVE on FloFootball
---
'Nova's regular-season slate winds down with an out-of-conference matchup ahead of Rivalry Week's Battle for the Blue. Villanova hosts an opponent that, just a season ago, did not exist.
OK, that's not entirely true. The current Long Island Sharks were the LIU Post Pioneers in Division II. The program was merged into the LIU Brooklyn athletic department, joining the former Blackbirds teams in the Div. I Northeast Conference.
The Sharks' historic, transitional season underscores the challenges of Div. I. A year ago, LIU Post was preparing for the Div. II Playoffs. This year, Long Island heads into its final two games seeking its first-ever Div. I win.
Getting Started With Defense
Long Island's biggest challenge in its first Div. I season has come on offense. The Sharks average just 10 points per game, playing primarily NEC counterparts. A run game that averages just 1.7 yards per carry should find it difficult establishing much of anything against a linebacker corps with Drew Wiley and Forrest Rhyne.
Struggles in the run game lend to longer down-and-distance on third-down situations -- and at a 33.39 conversion rate, Long Island's is the worst such rate of any offense Villanova has seen this season.
If Villanova can get Long Island off the field early into possessions from the outset, Friday can be a short night for the starters. That's a good thing for a team with a rivalry game and playoffs ahead, and a thin roster that's been grinding through the Colonial Athletic Association schedule much of the year.
Stay Out Of The Backfield
Although Long Island has had its struggles getting into the win column, the Sharks have gotten into opposing backfields effectively. In particular, the duo of Ramshar Clarke and Abel Joseph combine for 21 tackles for loss. With 62 team tackles for loss in eight games, Long Island ranks in the top 20 of the FCS.
Conversely, the Villanova offensive line has done an excellent job stopping penetration despite seeing some of the best pass-rushers in college football. Last week, the Wildcats limited Richmond's dynamic duo of Kobie Turner and Maurice Jackson to just 0.5 TFL each.
In that important win for its postseason outlook, Villanova also rushed for 5.8 yards per carry. That's the best rushing performance the Wildcats have had since losing Justin Covington to injury. With DeeWil Barlee and dual-threat quarterback Dan Smith both exceeding 100 yards, and TD Ayo-Durojaiye making it three primary ball-carriers around or above six yards per carry, Villanova looks poised to pop some big runs against a solid defense.
Early Big Plays
After games against Stony Brook and Richmond went down to the wire, some breathing room for the Wildcats would be beneficial ahead of the playoffs. In addition to the defense shutting down Long Island early, look for Villanova's offense to come out firing straight out of the gate.
Smith's primary target, Changa Hodge, is one of the most dangerous big-play receivers in the CAA. A quick turnaround from a change-of-possession into a quick strike for a score could be just what Villanova needs to get the ball rolling on Friday night -- much like it did in a rout of Maine earlier this season.