2019 New Hampshire vs UAlbany | CAA Football
Eli Mencer's Buck Buchanan Award List Snub Is Inexcusable
Eli Mencer's Buck Buchanan Award List Snub Is Inexcusable
With UAlbany's success and the individual effort fueling it, Eli Mencer has a strong case for the Buck Buchanan Award.
Nov 12, 2019
by Kyle Kensing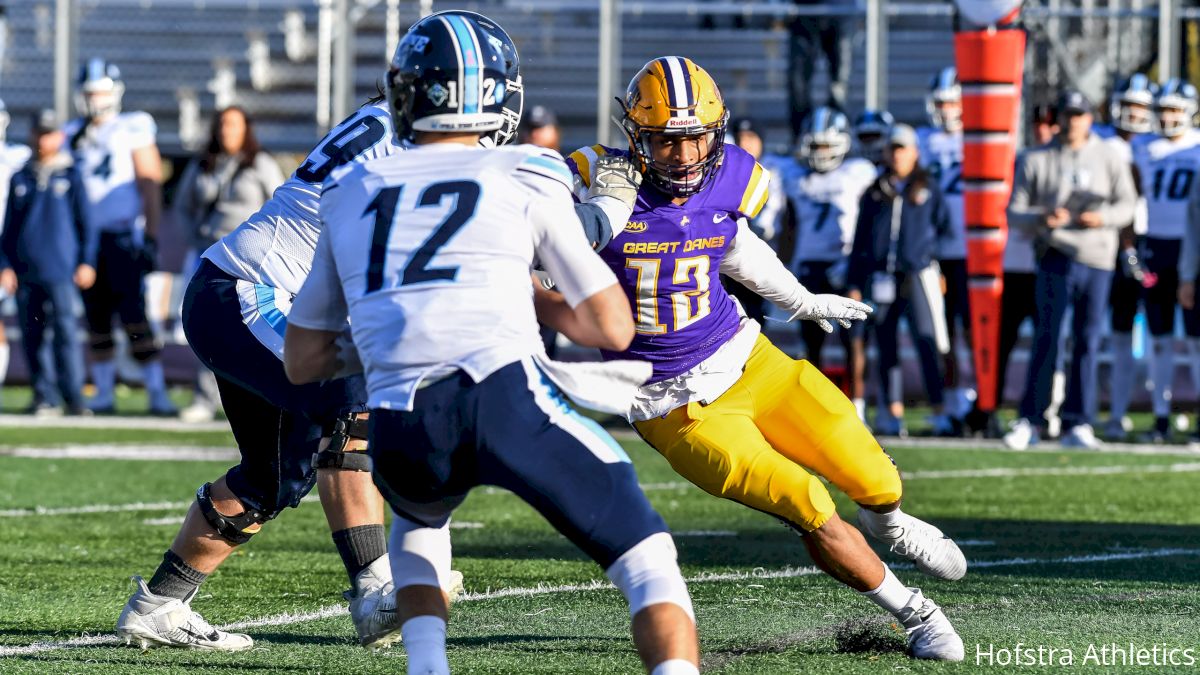 Question: What team leads the Colonial Athletic Association in takeaways this season with 22? And what player is responsible for contributing a nation's best five forced fumbles to that total?
If you answered UAlbany and defensive end Eli Mencer, right on both counts. But if you assumed Mencer was at the forefront of conversation for individual awards, well – that's a different story.
"I was a little surprised when the [Buck] Buchanan [Award watch list] came out and he wasn't listed," said Great Danes coach Greg Gatusso. "Because he's been consistently in the top one or two of sacks and [tackles for loss] all year. He leads the country in forced fumbles. He's really been disruptive for offenses."
No, Mencer's name does not appear on the watch list of the trophy presented to the top defensive player in FCS. But it should be. Consider this case.
Individual Numbers
Sacks: At 10.5 sacks, Mencer ranks second in the CAA behind only James Madison's John Daka (11). That's good enough for sixth in the nation. He's one of only eight players in the nation to average more than a sack per game.
Tackles For Loss: Mencer leads the CAA and FCS both in tackles for loss at 18.5, and trails only Villanova's Drew Wiley in per-game
Fumbles: Only UC Davis' Nick Eaton can match Mencer's five forced fumbles. The UAlbany defensive end has proven just as adept at collecting them as creating them, with three recoveries on the season; that ranks tied for second among all FCS players.
Team Numbers
Points Per Game: Pivotal for UAlbany's turnaround in 2019 has been the collective improvement of its defense. The Great Danes improved from 11th in scoring defense a season ago at more than 30 points per game, to fifth this season.
Rushing Defense: UAlbany ranks fifth in the conference in rushing yards allowed at 152.1 and tied for second in yards per carry yielded at 3.9.
Takeaways: The Great Danes' 15 fumble recoveries are most in the FCS, and they 22 takeaways in total tie for sixth nationally.
Stepping Up In Big Spots
UAlbany heads into its final two games at 6-4, and very much in the hunt for a playoff berth. This opportunity's owed to some key Great Danes stepping up in pivotal spots. Mencer's had a knack for that.
In Week 11 against Delaware, he played what Gatusso called "an Eli-like game." That entails five tackles, three of which went for loss, a sack, a forced fumble and a quarterback hurry. The numbers alone in a potential must-win spot for postseason aspirations speak volumes, but the context say even more.
"The strip fumble took away their field position," Gatusso said of Mencer's takeaway near midfield in the third quarter. "Even if we stop them, make them punt, we've got 70, 80 yards to go."
In a low-scoring, 21-17 contest like that, shutting down an offense gaining confidence and flipping the field carries a lot of weight. And in a much different style of game – the CAA-opening, 39-31 defeat of William & Mary in Week 5 – Mencer's contributions proved crucial.
BOOM

See ya later Eli Mencer

Strip, scoop, score for the @UAlbanyFootball defense pic.twitter.com/PV3sOoGTTf

— CAA Football (@CAAFootball) August 30, 2019
In the fourth quarter with the Great Danes clinging to a 25-24 lead, Mencer recovered a fumble in Tribe territory. UAlbany's offense capitalized on the short field with a Jeff Undercuffler touchdown throw to Juwan Green.
Later in the quarter, leading 39-31 and with William & Mary moving into UAlbany territory in the final minute, Mencer got to Kilton Anderson for his first sacks of the game. It pushed the Tribe back six yards and altered their approach on third and fourth down.
On Oct. 12 at Towson, Mencer set the pace for the Great Danes' signature win of 2019. UAlbany held the explosive Tigers offense to 21 points, nine below their per-game average, and Mencer absolutely ate: two sacks, 3.5 tackles for loss, and a quarterback hurry.
We are sure you've seen this play from @uAlbanyfootball's Eli Mencer but we just have to watch it one more time pic.twitter.com/aQJUZ9ytkk

— CAA Football (@CAAFootball) September 25, 2017
Mencer has flourished at a new position in 2019, a move that headlines the all-around flip the Great Danes defense has experienced from a season ago.
"He accepted this move from outside linebacker to defensive end, stand-up end, and he's just been the catalyst for the defense," as Gatusso put it.
With team success and the individual effort fueling it, Mencer has one of the strongest cases among all FCS defenders for the Buck Buchanan Award.