2019 Rhode Island vs William & Mary | CAA Football
From Walk-On To Anchor, Malik Gavek Has Risen To Stardom At URI
From Walk-On To Anchor, Malik Gavek Has Risen To Stardom At URI
Malik Gavek made the Rhode Island roster as a walk-on and waited more than two seasons for his start — but on Sept. 26 vs. Elon, he made the most of it.
Nov 8, 2019
by Roger Brown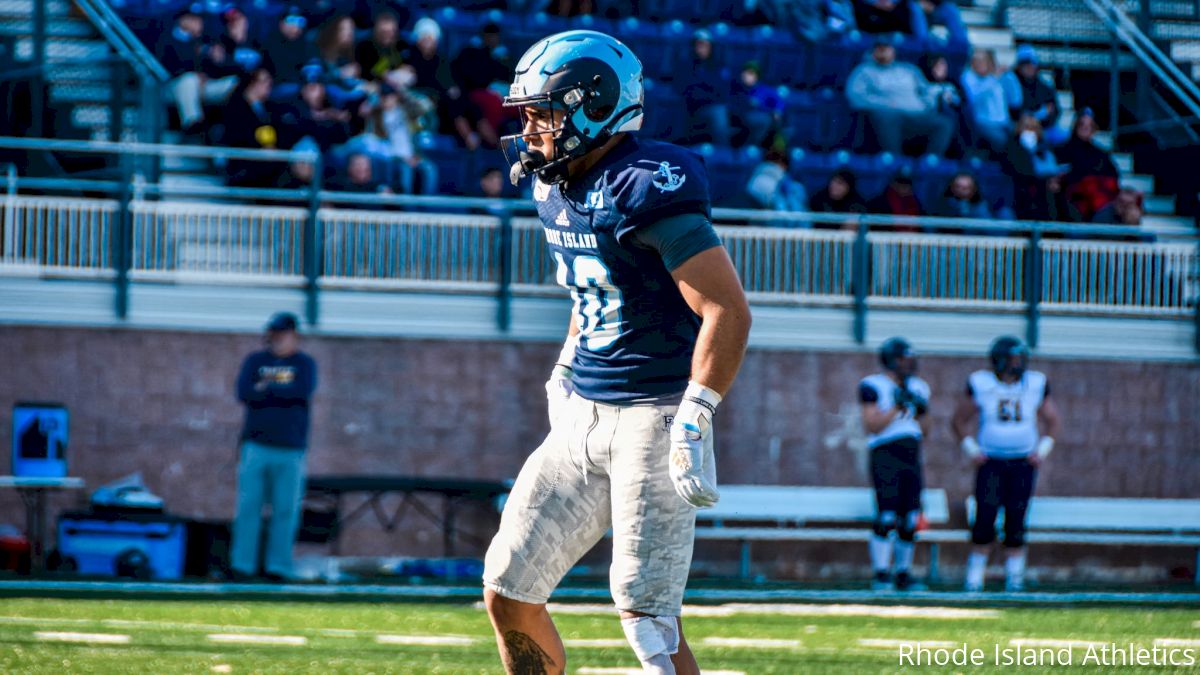 Malik Gavek is a classic case of a college football player getting a chance and then making the most of that opportunity.
Gavek, a 5-foot-10, 185-pound redshirt sophomore, made the Rhode Island roster as a walk-on in 2017, and waited more than two years before he earned his first start against Elon on Sept. 26. He recorded four tackles and intercepted a pass in a 38-13 loss that day, and then filled the defensive stat line in his second start last weekend against Merrimack.
Watch Rhode Island vs William & Mary LIVE on FloFootball
Gavek was named the Colonial Athletic Association's Defensive Player of the Week after he made 14 tackles, including 1.5 tackles for loss, recovered two fumbles, and returned an interception 30 yards for a touchdown in Rhode Island's 42-14 victory over the Warriors.
"It was really preparation and knowing your assignments," Gavek said. "I felt like that's all I was really doing was just being in the spot my coach put me in to make plays. And it is my job to make those plays.
"It wasn't as surreal as I feel some people on the outside look at it and see. I felt like I was just doing my job, and I guess my job was being there at the right time every time. I'm really happy for myself and for my coaching staff believing in me, but that's where the coaches put me all week. I just had to read my keys and do my job."
The interception Gavek returned for a touchdown gave the Rams some much-needed breathing room. It came in the third quarter with Rhode Island leading Merrimack 14-7. Rhode Island scored the next 21 points as well before Merrimack collected the game's final touchdown.
Both of Gavek's fumble recoveries — one of which he forced — came inside the Rhode Island five-yard line, and ended potential Merrimack scoring drives. His 14 tackles matched the most by a Rhode Island player this season.
#CAAFB Defensive POTW goes to Malik Gavek who recorded a career-high 14 tackles, 1.5 tackles for loss, two fumble recoveries and returned an interception 30 yards for a touchdown in @RhodyFootball's 42-14 victory over Merrimack pic.twitter.com/bA8VRIJ37K

— CAA Football (@CAAFootball) November 4, 2019
"We were playing OK, but not where we wanted to be," Rhode Island coach Jim Fleming said. "We went in 14-7 at half, and we came on out and started to get a little bit of a rhythm going, and then obviously the explosions occurred on defense with a huge play that was made by Andre Bibeault (a tipped pass that led to the interception) and Malik Gavik giving us a defensive score. The entire team kind of loosed up at that moment in time. We kind of settled in and went about doing our work. The whole team lit up after Gavek's interception and didn't look back after that."
Gavek didn't play at all in 2017. He appeared in three games (one tackle) on defense and special teams last season, and played on special teams in Rhode Island's first seven games this season.
"Saw him continue to get better," Fleming explained. "Settle in after his first start. Established himself, studied the opponent, got himself ready to play. Played extremely fast.
"I'm thrilled for him and thrilled for us. Hopefully he can have a game like that every week, but I think that would be tough to do. You never (expect) a monster performance like that. When you look at the statistics it's phenomenal. You play your whole life for a game like that in the statistics column."
Gavek, who played high school football in nearby Cranston, R.I., said performing well against Elon just reinforced to him — and others — that he was not over his head at the FCS level.
One thing that has accelerated his progress, Gavek said, is going up against top receivers in practice every day. Rhode Island's Aaron Parker leads the CAA in receiving yards per game (112.9), and teammate Isaiah Coulter is fourth in receptions per game (5.78) and fifth in receiving yards per game (88.9).
"As a defense, every rep that we can get against those guys is really just making us better," said Gavek, who was awarded a partial scholarship before this season. "I personally don't think there's a better receiving corps in the CAA, or even the country.
"Coming in from high school I was not the player that I am today. Pretty much all of that is due to the coaching and the process of being here for two years. It was the right moment to do it (perform well) because that's the time that I got my shot. I feel like I made the best of it."