2019 New Hampshire vs James Madison | CAA Football
Playoff Committee Darlings Collide For CAA Supremacy When Dukes Host UNH
Playoff Committee Darlings Collide For CAA Supremacy When Dukes Host UNH
Just days after both being ranked inside the FCS Playoff Committee's Top 10, James Madison and New Hampshire will battle for CAA supremacy.
Nov 7, 2019
by Roger Brown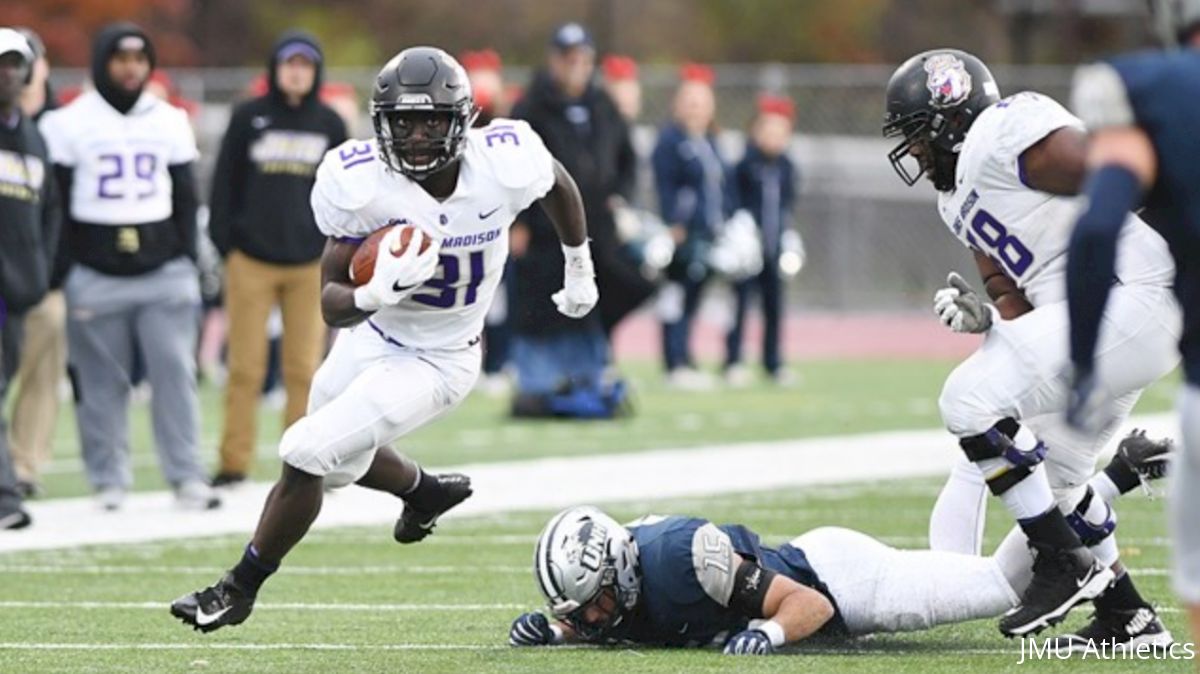 New Hampshire was nearing the end of a disappointing 2018 season when something unexpected occurred: The Wildcats posted a 35-24 upset victory over James Madison, which entered that game ranked No. 3 in the FCS Coaches' Poll.
You can be sure the thought of that game still stings certain members of this year's James Madison team, which will get another crack at New Hampshire on Saturday in Harrisonburg, Va.
Watch New Hampshire vs James Madison LIVE on FloFootball
"The game wasn't even that close to be honest with you," said James Madison coach Curt Cignetti, who was Elon's head coach at this time last season. "New Hampshire dominated pretty much throughout the whole game. I'm sure our guys will remember that. You're always looking for extra motivation.
"They're gonna come down here with a lot of confidence so we're gonna have to play really, really well."
James Madison (8-1, 5-0 Colonial Athletic Association) is ranked No. 2 in both national FCS polls. The Dukes haven't lost since they opened the season with a 20-13 setback against West Virginia.
The @NCAA_FCS Top-10 rankings were just released

No. 2 @JMUFootball and No. 10 @UNH_Football #CAAFB pic.twitter.com/YuWaLjt5yP

— CAA Football (@CAAFootball) November 7, 2019
New Hampshire (5-3, 4-1 CAA) will head into Saturday's matchup with the No. 2 scoring defense in the CAA (16.6 ppg), but the Wildcats are at the bottom of the CAA statistics when it comes to scoring offense (20.1).
"They're going to play a lot of man to man," New Hampshire interim head coach Ricky Santos said. "They're going to pressure us, so Max (UNH quarterback Max Brosmer) has to do a great job of getting the ball out of his hand and understanding where the pressure's coming from.
"Especially this week we need to establish the ground game early. We need to try to win the possession battle, because if we give their explosive offense too many extra possessions it's not gonna bode well for us."
They're No. 1
James Madison is ranked first among CAA teams in several categories, including scoring offense (38.9 ppg), rushing offense (238.0 ypg), scoring defense (16.1), rushing defense (67.3), total offense (463.1) and total defense (289.9).
"Where do you begin?" Santos said. "They don't really have a weakness. Both sides of the line are really good for them. They're a big, physical, imposing offensive line. They run the ball well. Their game plan is going to be to control the clock. They've won the time of possession in almost every game they've played.
He leads the country in tackles for loss per game.

Through 9 games, @rc5____ has registered 17.5 TFL, which is 4.5 better than his 2018 total.

He also has 6.0 sacks and is approaching JMU's career top 10 in that category.#GoDukes pic.twitter.com/zSIt6F1eSw

— JMU Football (@JMUFootball) November 5, 2019
"And then their defensive line is very dynamic. Their two defensive ends (Ron'Dell Carter and John Daka) are one-two in the conference in tackles for loss. We definitely have a big challenge ahead of us."
Carter leads JMU with 17.5 tackles for loss, including six sacks. Daka has recorded a team-high nine sacks and has 16 tackles for loss.
Secondary Thoughts
James Madison turned the ball over six times (four interceptions) during its loss to New Hampshire last season. Two of the four interceptions were returned for touchdowns.
New Hampshire has 13 interceptions this season, which is tied for the fourth most among FCS teams. Safety Evan Horn, who scored one of New Hampshire's two defensive touchdowns against James Madison last year, leads the team with four interceptions.
"We know how explosive a team they are," Santos said. "We have to tackle really well. The second guy in has to try to strip it and get the ball out. And then hopefully do some good things disguising coverage-wise, so hopefully we get one or two interceptions there in the back end to give us a few more possessions."
Conference Call
James Madison, which had a bye last week, can maintain sole possession of first place in the CAA with a victory Saturday. A win could move New Hampshire into sole possession of first place after tiebreakers. New Hampshire enters the weekend tied with Richmond for second place in the conference.
"They're a really good football team," Cignetti said. "The defense, the offense and special teams all complement each other. They have a lot of grit. They play hard, and thus they are where they are right now. The biggest challenge coming out of the bye week will be to start fast on Saturday."