2019 UAlbany vs Delaware | CAA Football
Mencer Leads UAlbany Into Big Spot At Delaware
Mencer Leads UAlbany Into Big Spot At Delaware
Eli Mencer will be looking to add to his sack total total when UAlbany (5-4 overall, 3-2 CAA) visits Delaware (4-5, 2-3) on Saturday.
Nov 5, 2019
by Roger Brown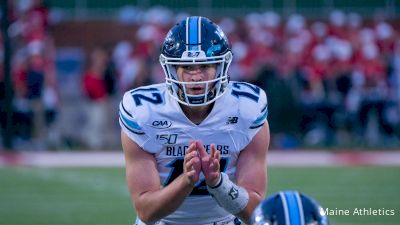 UAlbany senior Eli Mencer had never played defensive end before this year, but you wouldn't know it by how he's performed this season.
Mencer, who was a running back in high school and began his college career as a linebacker, leads the Colonial Athletic Association with 9.5 sacks in nine games, and will be looking to add to that total when UAlbany (5-4 overall, 3-2 CAA) visits Delaware (4-5, 2-3) on Saturday. His 9.5 sacks are a single-season record for the UAlbany program.
Watch UAlbany vs Delaware LIVE on FloFootball
"He's kind of a budding pass rusher in the sense that being a former linebacker we haven't been able to develop him," UAlbany coach Greg Gattuso said. "He's a fast, physical, hard-playing guy who's kind of playing out of position for us, but he's been very impactful on our defense. He's had a great year."
Mencer also leads the conference in forced fumbles (four) and fumble recoveries (three). He's third in tackles for loss (15.5).
"Mencer, (No. 12), is a game-changing kind of a player," Delaware coach Danny Rocco said. "He's in the backfield a lot."
Mencer and the UAlbany defense will be facing a Delaware offense that's allowed 30 sacks this season — the most of any CAA team.
"I've seen some of the great players — there's some great players in our league — but I'm not sure there are many better than Eli Mencer and the impact that he has on our football team," Gattuso said. "The way he's able to pressure quarterbacks and chase quarterbacks and the physicality that he brings -- all in a 6-foot-1, 230-pound body. He's kind of a Tasmanian Devil out there and we're really happy he's on our team. He's doing really well for us."
QB Shuffle
Delaware enters Saturday's game ranked 11th among the 12 CAA teams in scoring offense (23.4 ppg), pass offense (189.9) and total offense (333.9). Part of the problem has been instability at the quarterback position.
Nolan Richardson replaced Pat Kehoe as the team's starting quarterback after Delaware's loss to North Dakota State in Week 3. Then Kehoe returned as the starter when Richardson was injured during a Week 6 loss to Elon.
Richardson, who's more mobile than Kehoe, was healthy enough to start last week's game against Towson.
"I thought he was very prepared, very ready to go," Rocco said. "We are different (with Henderson at QB). I think that's part of our growing pains this season. As we've changed quarterbacks or been forced to make changes at quarterback due to injury, our style changes a little bit, and in doing so we haven't had quite the continuity. … You'd like to have them both, that's for sure. Excited about Nolan's future. No doubt."
Delaware has lost four of its last five games, and failed to score more than 16 points in three of those games.
UAlbany is coming off a 47-31 loss to Maine.
"We gotta regroup," Gattuso said. "I've talked to my football team about we have to worry about the man in the mirror, not the other team. Hopefully we can go out and play our best football game to have a chance to win against Delaware."
Record Player
UAlbany quarterback Jeff Undercuffler set the school record for touchdown passes in a season when he completed 25 of 49 passes for 387 yards and four touchdowns in last weekend's loss to Maine. Undercuffler has 28 TD passes in nine games this season. Dan DiLella set the previous record of 25 TD passes in 2011.
Undercuffler, a redshirt freshman, also had a pass intercepted and returned for a touchdown in loss to Maine.
"What I love about him the most is he throws that pick six and he recovers immediately and comes back," Gattuso said. "He made a couple mistakes, but he came right back and started making good throws again.
"He understands he's gonna make mistakes because he's under the spotlight, but he recovers quickly, and that short memory is what I think makes a great quarterback. They're able to recover and play well even when they make some mistakes. He's got that mental toughness. That's what makes me feel like he's on track to being a great quarterback."
Delaware's 11th-ranked pass defense (257.9 ypg) will get a stiff test from Undercuffler and receivers Juwan Green and Jerah Reeves. Green and Reeves are both averaging 6.1 receptions per game, which is tied for second in the CAA. Green also leads the conference with 11 TD catches.
"The quarterback, Undercuffler, is really good, and the two receivers — not to limit it to two — but I know Reeves and Green are really talented players and having outstanding seasons," Rocco said. "They (the Great Danes) compete. You always feel that if you don't get their best game you're going to get a really solid game out of them."