2019 Maine vs UAlbany | CAA Football
Opportunistic UAlbany Set To Host Maine Saturday
Opportunistic UAlbany Set To Host Maine Saturday
The Great Danes will enter Saturday's game against Maine tied for second among Colonial Athletic Association teams in turnover margin at plus-7.
Oct 30, 2019
by Roger Brown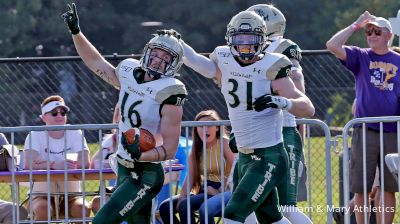 UAlbany coach Greg Gattuso will tell you he's not concerned with yardage. He's all about big plays, and his team's defense has created plenty of them this season.
The Great Danes will enter Saturday's game against Maine tied for second among Colonial Athletic Association teams in turnover margin at plus-7. Only Towson, which is plus-8, has been better.
Watch Maine vs UAlbany LIVE on FloFootball
UAlbany (5-3, 1-3 CAA) has created a league-high 19 turnovers, four of which came in the third quarter of its last game -- a 35-28 victory over Rhode Island. The Great Danes scored 22 points of those turnovers, including a strip sack by Eli Mencer that defensive lineman Nick Griffin scooped up and returned 55 yards for a touchdown that helped tie the game, 14-14. It was the fourth defensive touchdown UAlbany has scored this season.
"There's been five or six forced fumbles off of sacks, which was obviously a big turning point in our last game against Rhode Island," UAlbany coach Greg Gattuso said. "It is who we are. It's the way we've chosen to play. It's the style of defense I've always embraced. We're playing pretty well right now and we're trying to continue to play that way.
"We're counting on our defensive line getting pressure and we're trying to take away big plays. The defense has been getting better and better every week."
Q4 | With his 2️⃣4️⃣th TD pass of the season, Undercuffler is now just one shy of the program single-season record, set by Dan DiLella in 2011.

UAlbany 35, Rhode Island 21#GreatnessLivesHere #CAAFB pic.twitter.com/MTxDsdHWZD

— UAlbany Football (@UAlbanyFootball) October 19, 2019
Maine (3-5, 1-3) has been battling turnovers all season. The Black Bear offense has been giving the ball away too much (13 turnovers), and the defense hasn't taken it away enough (four). Maine's minus-nine margin is the worst in the conference, although the Black Bears came away with the only two turnovers when it ended a three-game losing streak by beating William & Mary 34-25 on Saturday.
"We have to continue to build on things," Maine coach Nick Charlton said. "It's protecting the football and forcing turnovers, and then running the ball and stopping the run. Those are going to be the big things going forward."
UAlbany is tied with New Hampshire and Richmond for second place in the CAA. James Madison (8-1) is 5-0 in the conference.
"If we can continue to win the turnover battle …" Gattuso said. "It's hard to win games when you're losing the turnover battle."
Bye, Bye
UAlbany is coming off its bye week, and has lost the game that followed its bye in each of the last four years. The Great Danes haven't won the game that followed their bye since they beat Rhode Island in 2014, Guttuso's first season as the program's head coach. The four losses came against Richmond in 2015 and 2016, Maine in 2017 and William & Mary last year.
CAA teams have a 2-7 record the week after a bye this year.
Young Gun
True freshman Joe Fagnano has completed 40 of 59 passes for 694 yards with seven touchdowns and one interception in his two starts since taking over for starting quarterback Chris Ferguson, who will miss the rest of the season with a foot injury.
"The quarterback has stepped in and performed really, really well," Gattuso. "We know what that's like. Last year we had a true freshman (Jeff Undercuffler) step in and play well for us down the stretch, so I'm not surprised by it. We knew who he was in high school. He's a really good player."
Now that's how you start a half!

Fagnano's second TD pass of the game goes for 67-yards to Blair!#BlackBearNation | #Elevate | #CAAFB | #UMaineHomecoming pic.twitter.com/nMCiQhfx4P

— Maine Football (@BlackBearsFB) October 26, 2019
For the season, Fagnano has completed 51 of 77 passes for 859 yards and eight touchdowns. He's been intercepted twice.
"He does a really good job operating the offense," Charlton said. "He knows where to go with the football … He's done a really good job. He's not a true freshman quarterback the way he's playing. He's got to continue to do that and grow every game."
Undercuffler, meanwhile, leads the CAA with 24 TD passes. He's one shy of the program's single-season record for TD passes, set by Dan DeLella in 2011.
Loss Prevention
Senior Kayon Whitaker, a 6-foot-3, 255-pound defensive end, recorded eleven tackles, including four tackles for loss, and forced a fumble that he also recovered in Maine's victory over William & Mary. His four tackles for loss were the most by a Maine player since 2016.
Whitaker is tied for fourth on the team in tackles (38) and leads Maine in tackles for loss (9.5) and is tied for the team lead in sacks (3.5). He's Maine's active leader in sacks (21.5) and TFLs (35).
"He came ready to play," Charlton said. "The defense created a lot of energy and Whit was the big guy behind it. He played really hard and was really, really impressive.
"Overall, I just thought the energy and the passion and the will to win from our defense -- you could feel that in the stadium. Creating turnovers creates momentum and creates points."