2019 Richmond vs Delaware | CAA Football
It's Separation Saturday In Delaware As Richmond Comes Calling
It's Separation Saturday In Delaware As Richmond Comes Calling
The logjam of CAA teams with one conference loss will gain some relief Saturday when Delaware hosts Richmond.
Oct 25, 2019
by Kyle Kensing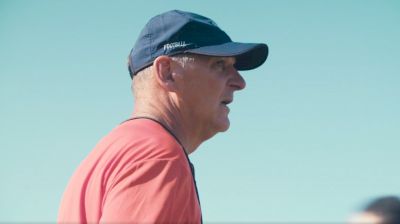 The logjam of Colonial Athletic Association teams with one conference loss gains some relief Saturday when Delaware hosts Richmond.
---
Who: Richmond (3-4, 2-1) at Delaware (4-3, 2-1)
When: Saturday, Oct. 26, 1 p.m. ET
Where: Delaware Stadium; Newark, Delaware
Watch: LIVE on FloFootball
---
Despite their mirroring 2-1 marks in the Colonial, the Spiders and Fightin' Blue Hens come in on different trajectories. Delaware rebounded from a blowout loss to Elon in Week 7 to beat a ranked New Hampshire a week ago -- a win made all the more impressive with the Blue Hens having lost quarterback Nolan Henderson to injury.
"The week of preparation was difficult coming off the tough road loss [at Elon] and facing some adversity," said Delaware coach Danny Rocco. "Our guys were focused...and we played with as much passion and as much physicality as this team this year's played with."
Conversely, Richmond -- surging with a pair of important CAA wins after a 1-3 start -- lost a one-point heartbreaker out-of-conference against Yale. It was a game the Spiders controlled virtually throughout, before giving up two touchdowns in the final minute and a half.
"We were playing really good football," said Richmond coach Russ Huesman. "Give them a lot of credit, their quarterback's a great player … You're probably one catch away from a 33-14 game, then we're sitting here a 28-27 loss. It's a hard one, no question."
Huesman added the Spiders are "resilient," which showed up in their previous two CAA efforts. They'll have to show that spirit again matched up with a Delaware team coming off one of its best showings of 2019.
Physical Football
Statistics belie the quality of these defenses to a certain extent. Some of the CAA's leading defensive playmakers represent on both sides in this one, with Richmond's Buck Buchanan Award contender and elite pass-rusher Maurice Jackson and tackling machine Tyler Dressler pacing the Spiders.
On Delaware's side, the Blue Hens have effectively reloaded despite losing a pair of NFL talents from last year's roster. Justis Henley has stepped up in the secondary, and Kedrick Whitehead's 64 tackles rank fourth in the CAA.
Delaware is coming off arguably its best defensive showing of 2019, which included shutting down two New Hampshire drives in the fourth quarter once the Wildcats reached Blue Hens territory. The same can be said of Richmond despite its loss: Yale managed just 67 rushing yards.
Runnin' Blue Hens
Henderson's injury turned the Delaware offense back over to Week 1 starter Pat Kehoe. Anthony Paoletti came on in the fourth quarter, but neither quarterback passed much. Delaware employed a run-heavy offense to test a strong New Hampshire rush defense; the strategy worked, in large part due to the smallest player on the field.
DeJoun Lee, back from the injury that held him out earlier in the season, came through with 103 yards and a touchdown. Look for another ground-based attack setting the tone for the Blue Hens this week.
With Lee's explosiveness back to form, Delaware boasts a dangerous one-two punch. Will Knight is coming off another 100-yard game as well, and carried much of the load in Lee's absence.
Big Man(cuso) On Campus
Richmond has faced a similar quarterback situation to that of Delaware, losing Joe Mancuso to injury earlier this month. Beau English took the snaps in his absence and showed flashes of being a dynamic dual-threat.
Mancuso manned the job exclusively against Yale and delivered an outstanding performance: 227 passing yards, 117 on the ground, and three touchdowns. Mancuso's mobility against a defense that has struggled getting to opposing quarterbacks -- the Blue Hens rank last in the CAA in sacks -- could be a difference-maker.
In that same vein, however, Mancuso will need to ensure the Spiders maximize opportunities against a defense not likely to yield many. Huesman pointed to four trips deep in Yale territory that produced two field goals (and two missed field goals) as making the difference in the loss.