2019 Stony Brook vs Villanova | CAA Football
Back At Full Strength, Stony Brook Heads To Villanova
Back At Full Strength, Stony Brook Heads To Villanova
Fresh from their bye weeks, it's right back into the Colonial Athletic Association grind for both Villanova and Stony Brook.
Oct 24, 2019
by Kyle Kensing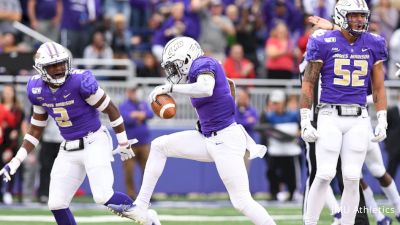 Fresh from their bye weeks, it's right back into the Colonial Athletic Association grind for both Villanova and Stony Brook.
---
Who: Stony Brook (4-3, 1-2) at No. 5 Villanova (6-1, 2-1)
When: Saturday, Oct. 26, 3:30 p.m. ET
Where: Villanova Stadium; Villanova, Pennsylvania
Watch: LIVE on FloFootball
---
"They had a little more pep in their step," Villanova coach Mark Ferrante said. "Seemed to be fairly spirited, and a little bit healed over as far as some of the bumps and bruises."
Unfortunately, the Wildcats do not return everyone to full strength from the bye week. Running back Justin Covington, who led the nation in rushing through six weeks, will miss the rest of the season with the knee injury that sidelined him Oct. 12 at James Madison.
"We feel terrible for him. He was having a great year," said Ferrante, citing Covington's emergence since moving from the change-of-pace back to Villanova's primary ball-carrier. "He had the opportunity to be the lead guy ... and he was off to a phenomenal year."
Villanova looks to move on and stay in the Colonial championship hunt against a similarly built opponent — and one needing a big win for its postseason resume — in Stony Brook.
The Seawolves ascended into the Top 25 after a thrilling win over Rhode Island, but a heartbreaking loss in overtime to James Madison and a defensive grind dropped to New Hampshire force Stony Brook to climb its way back up.
Reinforcements arrive at this crucial stretch run, with some previously injured Seawolves back in the mix after the bye.
"Our entire two-deep that would have started the season is intact," coach Chuck Priore said.
That includes the return of one of the premier playmakers in the CAA, which could set the tone Saturday in Villanova.
Kamara Comeback
It's probably no coincidence that Stony Brook's two CAA losses came with standout defensive end Sam Kamara sidelined. He's back this week, however, adding a dangerous presence off the edge for an already-salty Stony Brook defense.
Kamara's last time out, all he did was make three sacks in the win over Rhode Island. Not a bad day at the office.
In contrast, Villanova owes much of its offensive success in 2019 to some outstanding play up front. Quarterback Dan Smith has been sacked just six times, which ranks the Wildcats ninth nationally. Three of those did come against James Madison, however.
That's noteworthy because, at full strength, Stony Brook's defensive front may be the closest parallel the CAA has to the Dukes' front. That was also Villanova's first game without Covington in the backfield.
With that dangerous rushing threat out of action, and Kamara back on the line, Stony Brook's willingness to blitz could be an intriguing subplot. Six Seawolves have 3.5 tackles for loss or more on the season, including rover Augie Contressa and cornerback Gavin Heslop. The duo leads Stony Brook with 8 and 6.5, respectively, a testament to Bobby McIntyre bringing heat with the defensive backs when the situation's right.
The Game On The Ground
Stony Brook boasts the second-most productive rushing attack in the CAA at 235.3 yards per game. Villanova's run defense ranks second in the Colonial, allowing just 121 yards per outing.
Whichever average gives could be the ultimate decider Saturday. Priore said the stable of running backs looks to be back at full strength, giving the Seawolves no shortage of options. Seba Nekhet and Isaiah White are both just a few carries shy of 500 yards on the season, while Ty Son Lawton -- the team leader with six rushing touchdowns -- boasts a Stony Brook-best 75.8 yards per game.
If a fully operational, three-man running-back attack wasn't enough to contend with, explosive dual-threat quarterback Tyquell Fields adds around 36 yards per game on the ground.
Villanova's outstanding rush defense starts with veteran linebacker Forrest Rhyne, a tackling machine and a relentless player indicative of the Wildcats' #88Strong mantra. Rhyne led an outstanding effort against CAA-leading rushing offense James Madison two weeks ago, limiting the Dukes to 158 yards.
But a 69-yard touchdown run in the fourth quarter shows that, sometimes against a stout defense, it just takes springing one big play to make the difference.
Game-Changers
Indeed, with effective rushing and grinding defenses, one explosive play may be all it takes to swing Saturday's outcome. It could come from Fields, or Stony Brook's stable of running backs. Perhaps Jaquan Amos, who already has two pick-sixes this season for Villanova, provides the pivotal play.
Two potential game-changers to watch are Villanova wide receivers Changa Hodge and Jaaron Hayek.
While Stony Brook's run defense limits opponents to 3.8 yards per carry, the passing defense has been somewhat more susceptible to big gains. Opponents average 235 yards through the air against the Seawolves, with Rhode Island most notably taking to the air to generate explosive plays that nearly engineered a comeback.
Hodge and Hayek are arguably the most well-rounded duo of receivers Stony Brook has seen since Rhode Island's Aaron Parker and Isaiah Coulter. The Villanova pair rank sixth and eighth in the Colonial in receiving, and have been Smith's most reliable weapons.
Hodge's three touchdowns have gone for 43, 49, and 77 yards.