2019 New Hampshire vs Delaware | CAA Football
Get Big: Reimagined Delaware Offense Puts Hens Back In The Hunt
Get Big: Reimagined Delaware Offense Puts Hens Back In The Hunt
Running backs Will Knight and Dejoun Lee each ran for more than 100 yards in Delaware's 16-10 victory over New Hampshire on Saturday.
Oct 22, 2019
by Roger Brown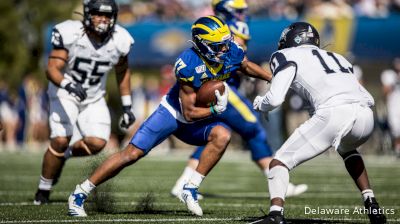 After quarterback Nolan Henderson suffered a head injury during a 42-7 loss at Elon on Oct. 12, it didn't take Delaware head coach Danny Rocco long to come up with the offensive game plan for the following week's matchup with New Hampshire.
On the plane ride home from Elon, Rocco told Delaware offensive coordinator Jared Ambrose that the Blue Hens needed to "get big and run the ball." That plan looked even better when the Delaware offensive staff looked at the New Hampshire defense and realized the Wildcats play three undersized inside linebackers, two of whom weigh less than 210 pounds.
Watch Richmond vs Delaware LIVE on FloFootball
"On Sunday we started really studying New Hampshire's film," Rocco said. "They're good. They're really good on defense. They lead the league, but they're not real big at linebacker.
"They're linebackers are good. There's nothing wrong with not being real big. This isn't a negative thing to say, OK. They're not real big, so to be able to put bigger bodies in the game and make those guys have to play a long, physical game against bigger-bodied players we thought would create somewhat of an advantage as we got deeper into the game."
The plan worked.
They were RUNNING (Forrest Gump Voice)

Big days for @DejounL and @topclassgeneral today!

First time since 2️⃣0️⃣1️⃣7️⃣ the #BlueHens had ✌? 100-yd performances!#BleedBlue302 pic.twitter.com/va1b6xgEnr

— Delaware Football (@DelawareFB) October 19, 2019
With defensive lineman Brandon Nixon (6-foot-1, 280 pounds) and tight end Braden Brose (6-foot-3, 245 pounds) used as blockers in the backfield, running backs Will Knight and Dejoun Lee each ran for more than 100 yards in Delaware's 16-10 victory over New Hampshire on Saturday.
"We threw some big bodies at them and we threw these two backs at them and they ran hard," Rocco said. "They complemented each other. Those two runners are good runners. Both very good, very capable, very interchangeable.
"We made a pretty full commitment to it (the running game). When Nolan Henderson got hurt a week ago we wanted to take a step back and revisit the best way for us to move forward. We made a decision to run the ball a little more frequently using a few different personnel groupings that allowed us to have a little more of a physical presence."
Lee, a 5-foot-7 redshirt junior, ran for 103 yards and a touchdown on 23 carries. Knight, a 5-foot-11, 195-pound redshirt freshman, finished with 101 yards on 16 carries. It was the first time either had surpassed the 100-yard mark during their college career, and marked the first time two Delaware players ran for more than 100 yards in a game since 2017.
The game plan was most effective after New Hampshire took a 10-3 lead in the second quarter. Delaware (4-3, 2-1 Colonial Athletic Association) responded with a five-play, 74-yard drive (all on the ground) capped by Lee's 8-yard touchdown run. The drive included a 39-yard run by Knight.
Lee, who began his college career at Army, has run for 227 yards on 49 carries this season. He said he has no problem sharing time in the backfield with Knight.
TOUCHDOWN!@DejounL punches it in to tie things up!#BleedBlue302#BlueHens pic.twitter.com/yhBOHcAllz

— Delaware Football (@DelawareFB) October 19, 2019
"I think that [drive] embodies it," he said. "We're back and forth. It's selfless. We want to win and we want to drive the ball as best we can. If one of us is tired there's no hesitation to go out. It's, 'I'm tired. I'm gonna get myself out and get Will in.' Or 'Will is tired and get me in.' It's constant, and I feel like it really batters the defense because you have two backs who are solid and can continuously go 100 percent right at you.
"We talked about how we were going to be in a dogfight and we were going to pound it. Will and I talked about it. If we have a good game this team has a good game. Obviously the O-line had a great game and that helped us really do a good job."
Knight was already familiar to Delaware football fans when he transferred from Old Dominion. He led Delaware's Smyrna High School to three state championships and finished his high school career as the state's all-time rushing leader with 6,490 yards (97 touchdowns).
Knight ran for 118 yards and one touchdown and caught seven passes for 95 yards in four games at Old Dominion. He's run for a team-high 447 yards and a touchdown on 57 carries this season. He also has 11 receptions for 102 yards and a touchdown.
"Going in and out of the game with me and Dejoun there's not a beat missing," Knight said. "It's a pleasure playing with Dejoun in this offense, honestly. I feel like every time we get on the field there's a spark."