2019 New Hampshire vs Delaware | CAA Football
New Hampshire Special Teams Has Been, Well, Special
New Hampshire Special Teams Has Been, Well, Special
The New Hampshire special teams units have been nothing if not special through the first seven weeks of 2019.
Oct 18, 2019
by Roger Brown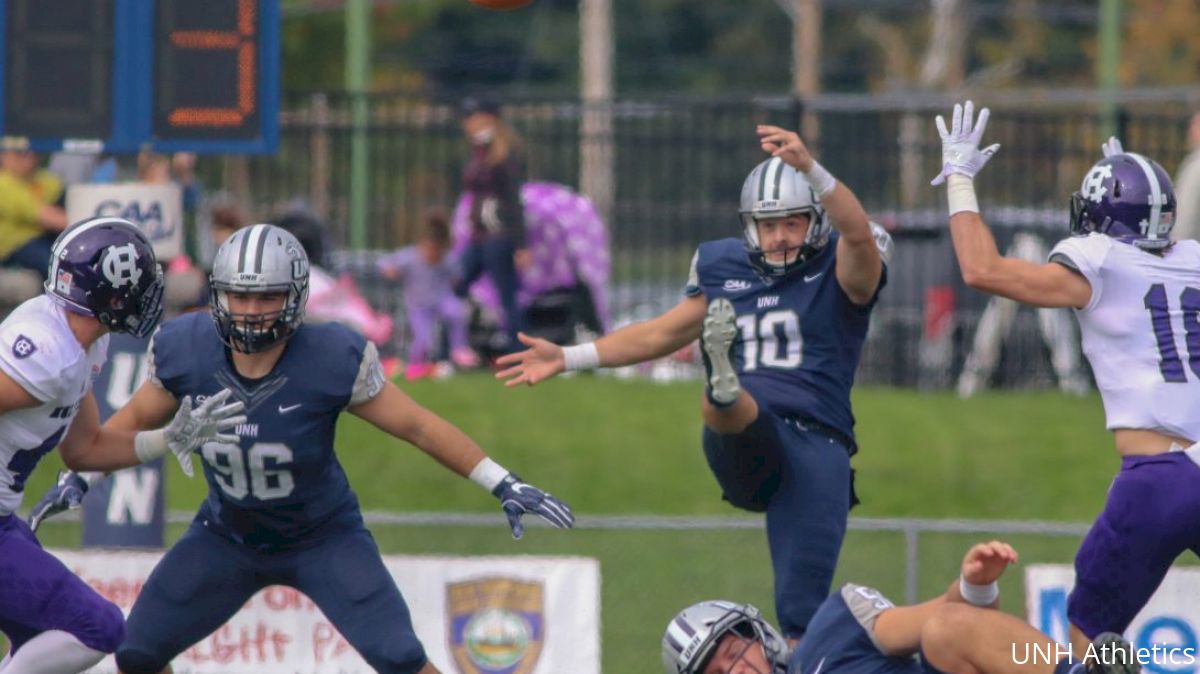 There have been many years when New Hampshire would keep its offense on the field if it faced a fourth-down situation anywhere near the opponent's 25-yard line. It's probably safe to say those decisions had less to do with the coaching staff's belief in the offense than it did a lack of confidence in the kicking game.
That's not the case this year. This year, the Wildcats send junior Jason Hughes on the field in those situations.
Hughes, a junior, has made five of the six field goals he's attempted from beyond 40 yards this season. He leads Colonial Athletic Association in field goals per game (1.83).
"It was kind of like that in the first week (this season)," UNH interim head coach Ricky Santos said. "We weren't sure if Jason was game ready. We went for that fourth-and-8 situation at Holy Cross when it was a 42- or 43-yard field goal. When you looked at him on the sideline you could tell he was disappointed. He was ready for that moment. He wanted that opportunity.
"At that point I felt like going forward in the season when we have those same length kicks we're gonna give him that chance to make it. He's done a tremendous job converting those into three points."
Defense may be the No. 1 reason No. 22 UNH (4-2, 3-0 CAA) will enter Saturday's game at No. 24 Delaware (3-3, 1-1) with a four-game winning streak — the Wildcats rank seventh among FCS teams in scoring defense (16.2 points per — but solid special teams play isn't far behind.
The Wildcats received significant contributions from special teams in last week's 20-14 victory at Stony Brook. Drew Sanborn averaged 46.2 yards on four punts — two of which were longer than 50 yards — and pinned the Seawolves inside the 20-yard line twice; Hughes made two field goals (22 and 42 yards); and Dylan Laube had a 45-yard kickoff return.
"Punting and kicking were two things that were really good for us (against Stony Brook) and continue to be a strength with Jason Hughes and Drew Sanborn," Santos said. "All three phases really showed up in that game. Special teams was huge for us."
Hughes, who was a quarterback in high school, has made 11 field goals in 14 attempts this season. He's also connected on each of his 12 point-after kicks. The Wildcats haven't made more than 11 field goals in a season since 2013, when they made 15 of 20 attempts.
UNH made five field goals last year and missed 15 of its 37 field goal attempts from 2016 to 2018.
"It's really nice having that trust in Jason right now, Sanborn said. "I think the coaches like that. I think he's fully embraced the role. He knew coming into camp, 'This job is mine.' He took full advantage of it. He looks more confident than ever. Even when he does miss one — obviously he gets a little pissed off — but it doesn't seem to shake him too much. The ability to shake it off quickly is what's making him pretty good right now."
Sanborn, a senior who's also the holder on field goal attempts, is averaging 41.2 yards per punt this season. Half of his 28 punts have forced the opponent's offense to start inside its 20-yard line, and four of those kicks have traveled at least 50 yards. He was named the CAA Special Teams Player of the Week for his performance against Stony Brook.
"I think that's one of my strengths right now is trying to get them inside the five or 10," Sanborn said. "I did a pretty good job of that last year, and so far this year. Right now I like that part of my game a lot. I like helping those guys (the defensive players) out."
Pop Lacey ranked fourth in the CAA in punt return average (6.2 yards) before he sustained a broken foot in practice that is expected to sideline him for at least three more weeks, and Laube is fifth in the conference in kickoff return average (27.1).
In addition to his two field goals last week, which accounted for the margin of victory against Stony Brook, Hughes' made kicks include a 29-yarder as time expired that gave UNH a 27-24 win over Rhode Island.
"Jason's been killing it," Sanborn said. "I don't expect him to really slow down at all. I think myself and the punt unit — I think we've done a pretty good job so far. Obviously I can get a bit farther with the kicks and get a little more consistency, but I think overall special teams have been pretty good. I'd say as a whole this has been one of the better years I've seen for the special teams units."