2019 Yale vs Richmond | CAA Football
Richmond D Is Key To Spiders Continued Success vs. Yale
Richmond D Is Key To Spiders Continued Success vs. Yale
Hot off two impressive CAA victories, Richmond returns to Robins Stadium for a non-conference date with Yale on Saturday.
Oct 18, 2019
by Kyle Kensing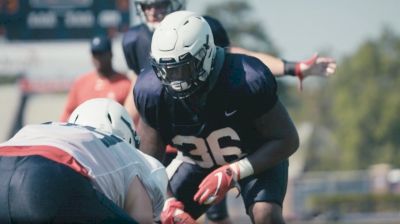 Hot off two impressive wins in Colonial Athletic Association play, the Richmond Spiders return to Robins Stadium for a non-conference date with Yale out of the Ivy League.
---
Who: Yale (3-1) at Richmond (3-3)
When: Saturday, Oct. 19, 4 p.m. ET
Where: Robins Stadium; Richmond, Virginia
Watch: LIVE on FloFootball
---
Although the Ivies play non-scholarship football, this is an exceedingly tough bunch. Spiders coach Russ Huesman knows that well.
"Watching film on them…excellent football team with really good players on both sides of the ball," he said.
The Bulldogs were picked to win the Ivy League, and started the year 3-0. Among their early wins included a defeat of a common opponent with Richmond, Fordham. A one-score loss to the Rams ended a three-game skid for the Spiders.
For Yale, Fordham was the last opponent in the three-game winning streak. The Elis' Ivy League title hopes took an initial hit last week, however, in a 42-10 loss at Dartmouth.
Despite the setback, this is a program with high-caliber FCS players. Just look at last season when Yale beat eventual CAA champion Maine, 35-14.
Turnover Opportunities
Richmond's outstanding defensive play against two of the most prolific passing attacks in the CAA provides the Spiders some momentum heading into Week 8. Yale quarterback Kurt Rawlings threw as many interceptions (four) as touchdowns, and he was replaced in the loss to Dartmouth by Griffin O'Connor.
The youngster from California O'Connor has completed 51.9 percent of his 27 attempts. The prospect of pressuring the sophomore looms for a talented Richmond defensive line, including arguably the front-runner for the Buck Buchanan Award, Maurice Jackson.
The Spiders' interception numbers are low through six games with three total, but it's only a matter of time before the pressure that has resulted in 15 sacks and nine quarterback hurries presents takeaway opportunities.
Explosive Pass Plays
Dartmouth's scores against Yale a week ago included the following big plays:
75-yard pass
31-yard pass
61-yard pass
Although neither Joe Mancuso nor Beau English has put up gaudy passing numbers, each has delivered explosive passing touchdowns thus far in 2019. In fact, of the team's six passing touchdowns, four were of 36 yards or more.
Yale's rush defense has been rock-solid, holding opponents to 3.2 yards per carry and just 90 yards per game. Richmond is a run-first team, but spreading the Elis out with some big pass plays early may be the most effective counter.
Yale's opponents average 245.8 passing yards per game, and a noteworthy 9.4 yards per attempt. Saturday could be a highly productive afternoon for Keyston Fuller, Richmond's big-play weapon. He's averaging 20.8 yards per reception and a shade below 94 per game.
Time & Distance
Methodical might best describe the Yale game plan. The Elis dominate the ball with a whopping 36:31-to-23:29 time of possession advantage.
It's an effective means of grinding down an opponent, aided with the defense's effectiveness in getting off the field. Opponents average just 26 percent on third downs. That's an element of the game with which Richmond has struggled at 33.8 percent successful conversions.
But one way of making third down easier is to avoid penalties. The Spiders did that entirely in Week 7, drawing not a single flag.
While their third-down production remained consistent, shortening the length to go for first down in general helps a team with the multifaceted rushing approach the Spiders employ.