2019 Rhode Island vs UAlbany | CAA Football
Jeff Undercuffler Brings Winning Ingredients To UAlbany
Jeff Undercuffler Brings Winning Ingredients To UAlbany
UAlbany quarterback Jeff Undercuffler has emerged as a bonafide star while leading the Great Danes to an unexpected 4-3 mark through seven weeks.
Oct 16, 2019
by Kyle Kensing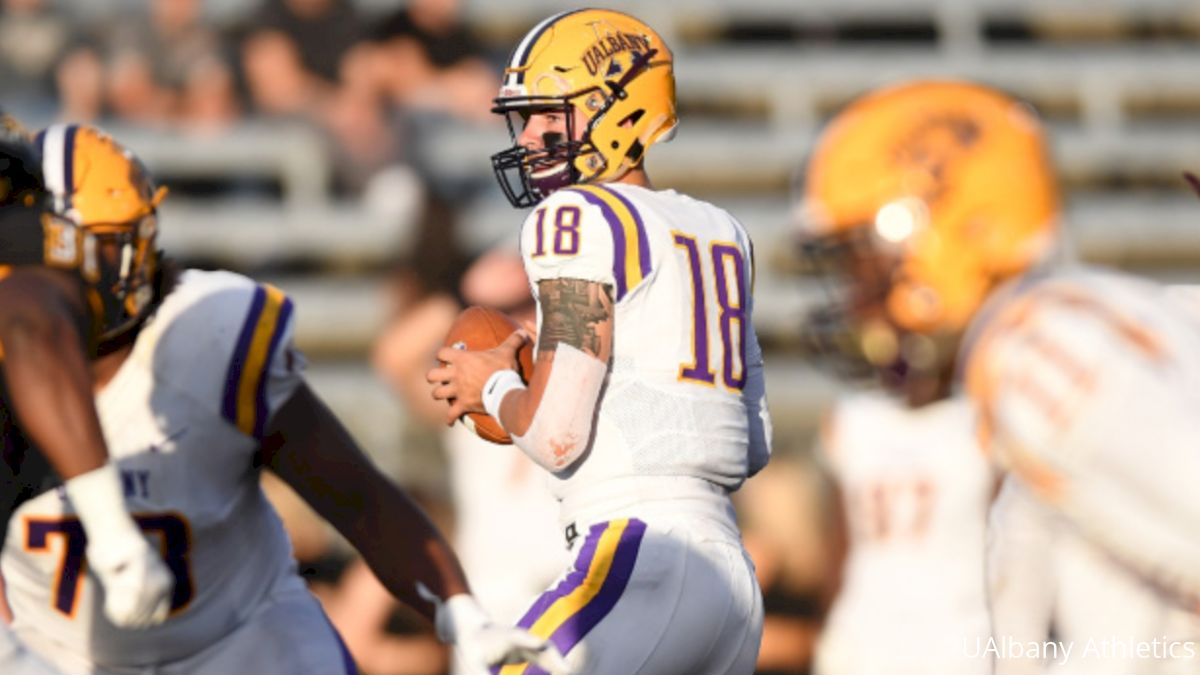 UAlbany may have been picked to finish No. 12 in the preseason Colonial Athletic Association poll, but the surprising Great Danes head into the latter stretch of 2019 with some unprecedented achievements in reach.
A 38-21 win at No. 9 Towson on Oct. 12 gave UAlbany its fourth win on the season, and more importantly, a 2-1 mark in the CAA. Quarterback Jeff Undercuffler has been dealing through these first seven weeks, totaling 1,881 passing yards and 20 touchdowns for an electric, high-scoring offense.
Watch Rhode Island vs UAlbany LIVE on FloFootball
Undercuffler touched on the three ingredients Great Danes coach Greg Gattuso emphasizes as the recipe to this team's success.
"There are three things in every football game we must win: the turnover battle, the big-play battle, and be more physical to win the line of scrimmage every game," Undercuffler said. "If we do that every game, we have a great shot to come out victorious."
So far this season, UAlbany has left the field victorious four times. That's already more than all of 2018. The Great Danes also surpassed their 2018 CAA benchmark with their second conference win of the campaign.
? Award alert!

After throwing for 3️⃣8️⃣0️⃣ yards and 2️⃣ TDs in Saturday's win over No. 9 Towson, Jeff Undercuffler has been named the @CAAFootball Co-Offensive Player of the Week.

?: https://t.co/YlyyGmlFFw#GreatnessLivesHere#CAAFB pic.twitter.com/zn2HdavZnk

— UAlbany Football (@UAlbanyFootball) October 14, 2019
All three of those ingredients Undercuffler referenced are reflected in an offense that's been front-and-center for this surprise season. The Great Danes are averaging 33.4 points per game, good for third-most in the CAA. The only two more prolific-scoring teams are James Madison and Villanova, both of which are ranked in the top 10 nationally.
UAlbany's current average is a remarkable 12.3-point per game improvement from 2018. Two of Gattuso's points translate directly to the uptick in scoring. First is the reduction of turnovers.
Last year, UAlbany ranked No. 107 in FCS with a minus-nine turnover differential. The 2019 Great Danes have a plus-three edge through seven games, in part due to Undercuffler's patience in the pocket. He has thrown six interceptions, one-third the number that UAlbany quarterbacks threw in 2018.
Undercuffler was among those quarterbacks, along with Vincent Testaverde. The veteran Testaverde sustained an injury down the stretch, which thrust the then-true freshman Undercuffler into the lineup against CAA champion Maine, and in the final three starts.
"It was monumental last year, starting those three last games of the season," Undercuffler said. "Going in there, getting my feet wet, trying to execute all the reads we had for that week, was huge."
And because of the NCAA's four-game redshirt rule, implemented at the Division I level last year, Undercuffler played that pivotal stretch without sacrificing a year of eligibility.
That experience, already paying dividends, sets up the Great Danes nicely for years to come.
Plenty of highlights from @UAlbanyFootball's huge road win over Towson! pic.twitter.com/2XK0hYKNaY

— CAA Football (@CAAFootball) October 12, 2019
"He's growing up and getting a feel for the game," Gattuso said. "You see the veteran quarterbacks know when to run and when to throw it away. He's just in the process of that."
That level of savvy addresses the ball control and turnover battle angles of UAlbany's plan. Next are big plays, and the Great Danes offense delivers those in bunches. They are averaging 418.1 yards per game and 6.1 yards per play, up from 335.4 and 5.5 last year.
The passing game is a contributing factor to the added offensive punch, and one of the best wide receiving corps in the country has smoothed Undercuffler's transition to full-time QB1.
UAlbany has the No. 3 and No. 7 receivers in the CAA for yards per game with Juwan Green (100.3) and Jerah Reeves (80.7). Green leads the Colonial with eight touchdown receptions.
Undercuffler called it an "exciting" group, and exciting plays have indeed been the hallmark of UAlbany winning those big-play battles. At Towson, the Great Danes scored on explosive plays of 36 yards with an Undercuffler pass to Donovan McDonald, and 19 yards on Karl Mofor's game-breaking in the third quarter.
Gattuso credited Mofor specifically as one instrumental contributor to UAlbany's red-hot offense. The running back keeps defenses honest against the Great Danes' prolific pass, stepping into the feature-back role seamlessly this season with 93.6 rushing yards per game. He's also been outstanding as a receiver with 19 catches for 212 yards.
"Honestly, call out the O-line," Undercuffler said, making sure the big bodies up front got their due. "Our O-line is playing phenomenal right now."
And there's the third ingredient: winning the line of scrimmage.
Undercuffler has flourished with time to throw, and Mofor's had holes to burst through, all a credit to an offensive line that's showing its experience.
Niko Culnan, Sean Kennedy, Micah Royster, and Griffin Clancy are all either fourth- or fifth-year players. The only youngster on the front five is redshirt freshman Kobe Thomas, holding down the right guard spot.
Mix all those ingredients together, and you have the makings of something special. If the Great Danes can keep cooking up that recipe on the offensive end, they'll have a shot at their first Playoffs since joining the CAA.