2019 Villanova vs James Madison | CAA Football
Dukes' John Daka Strikes Fear Into The Hearts Of Opposing Offenses
Dukes' John Daka Strikes Fear Into The Hearts Of Opposing Offenses
John Daka is a bonafide NFL prospect who has made a career of wrecking opposing backfields as a standout defensive end at James Madison.
Oct 15, 2019
by Kyle Kensing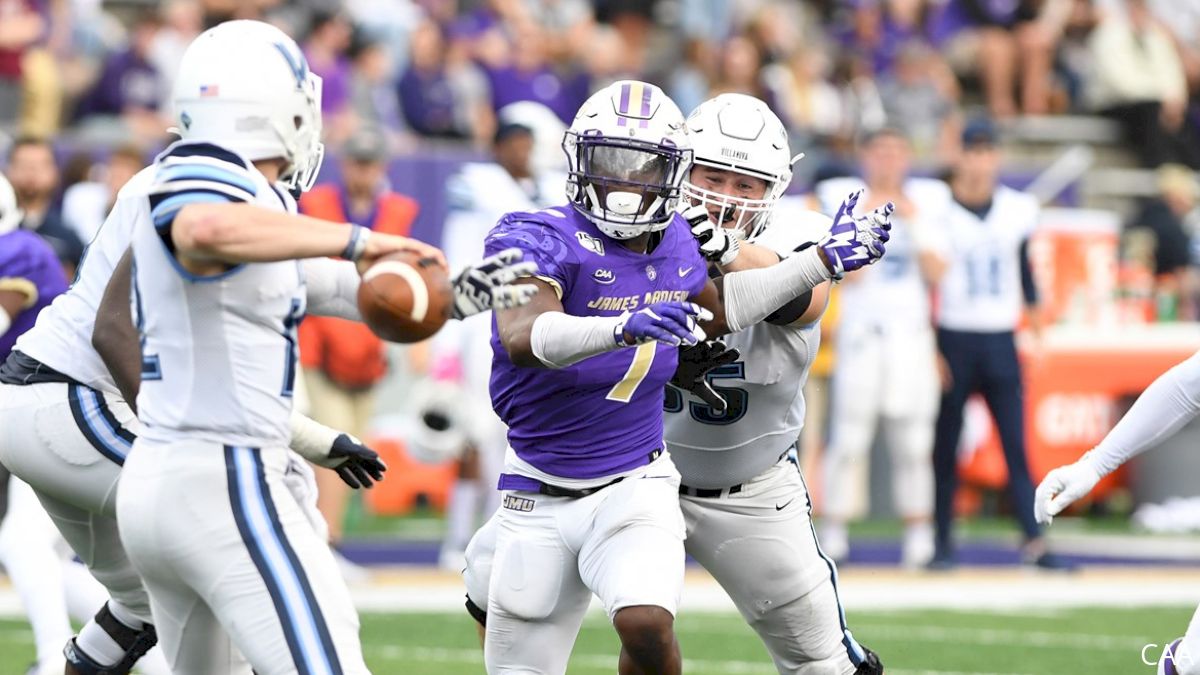 Any number of superlatives could be applied to describe James Madison defensive end John Daka's game. Perhaps one play in particular can provide some insight.
With Stony Brook looking to score a game-winning touchdown on the final possession of regulation against the No. 2-ranked Dukes on Oct. 5, Daka burst off the line and powered through the left tackle — not around, through — to get to Seawolves quarterback Tyquell Fields for a sack.
Renowned for his speed-rushing ability, Daka showed he's still got "power in his arsenal of his moves."
"I got off fast enough where I thought [the tackle] was off-balance, and I just tried to hit the power move on him, try to get the quarterback as fast possible," Daka said. "My adrenaline was rushing … I was just trying to make a play for my team. That was a crucial situation."
No doubt about it, Daka has a knack for getting into opponents' backfields. His well-balanced repertoire most recently shined in an effort that won him FCS STATS National Defensive Player of the Week: nine tackles with a remarkable five tackles for loss, two sacks, a pass breakup, a quarterback hurry, and a pivotal forced fumble.
"That was a very key play for us," Dukes coach Curt Cignetti said of Daka's strip in a come-from-behind, 38-24 defeat of then-No. 5 Villanova. "He had his man tackled for a loss and stripped the ball. That kind of got us going."
With the sack at Stony Brook and pacing the defensive line when it denied the Seawolves a touchdown in overtime, and then the monster performance against Villanova, Daka is emerging as more than a premier pass-rusher. He's a leader and a tone-setter at the most critical juncture of important games.
"In those situations, I know the mindset of our team [is], 'We won't be denied.' I know coach Cignetti talks about how our will has to be greater than the opponent's will," Daka said. "And he harps on winning our one-on-one matchups."
Matching up with Daka one-on-one isn't exactly ideal. Because he's fast enough to speed past would-be blockers but also has the power repertoire to get through blocks, Daka is the kind of end most teams need to double-team.
That's not exactly easy when he lines up with the standout teammates alongside him.
"When you have him on one side, Ron'Dell [Carter] on the other and Mike Greene … you've got the potential to create some issues for an offensive line," Cignetti said of the imposing James Madison front.
That's a group Villanova coach Mark Ferrante lavished praise on heading into the Wildcats' visit to Bridgeforth Stadium.
OK, maybe you need more than one play, or even one game, to describe Daka's energy. There is certainly no shortage of moments in his James Madison career, and in particular his senior season, that demonstrate the caliber of player he is.
Perhaps a better way of describing Daka is through the pros to whom his style compares.
Daka is an intriguing NFL draft prospect with the size at 6-foot-3 and about 230 pounds, as well as the skill set to transition to outside linebacker. He can rush quarterbacks, pursue ball-carriers behind the line of scrimmage, even drop back into pass coverage as needed.
To that end, he's like All-Pro Denver Bronco Von Miller.
With a relentless approach, Daka's game also comparable favorable in some ways to another James Madison defensive end who transitioned to linebacker on Sundays: Arthur Moats. Before embarking on his 10-year pro career, Moats was a pass-rushing terror for the Dukes.
In 2009, Moats became the second James Madison representative to win the Buck Buchanan Award, given to the top defensive player in the FCS. Derrick Lloyd was the first in 2001, and there has not been another since Moats.
That could change with Daka in 2019. His national Defensive Player of the Week recognition marks a milestone in a season during which Cignetti said the senior "is improving every week."
If his games against Stony Brook and Villanova are not Daka at 100 percent, offensive coordinators should be nervous. The Duke DE already has 12.5 tackles for loss and five sacks on the season, and as he continues to add to his resume, his case for the Buchanan will grow.
"That would be an honor, definitely, but I don't think about that," he said. "Those kind of awards come with team success. … That comes when you're trying to achieve something greater, and getting a conference championship with my team is greater.
"That's a blessing, and I'm not going to try to downplay that," he added. "But is that something I've got my eyes on, is that a goal? No."
A single, breathtaking highlight does not describe John Daka, nor does one standout game. Even one prestigious trophy lacks the superlatives to summarize his impact. It's what he does every snap on every gameday that shapes a bright future for Daka and James Madison.