2019 Villanova vs James Madison | CAA Football
Forrest Rhyne Is Spearheading Villanova's 'Redemption Tour'
Forrest Rhyne Is Spearheading Villanova's 'Redemption Tour'
Villanova linebacker Forrest Rhyne will lead the fifth-ranked Wildcats into a mammoth matchup against No. 2 JMU on Saturday afternoon.
Oct 9, 2019
by Kyle Kensing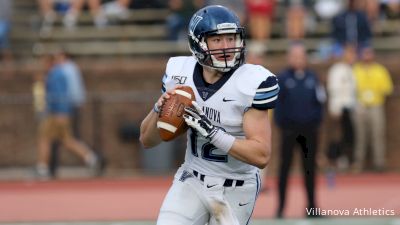 Villanova linebacker Forrest Rhyne may have had a unique familiarity with the William & Mary offense heading into a Week 6 matchup, but that's not the same as knowing what to expect.
Rhyne played at Waynesboro Area High School in Pennsylvania, where, in his 2014 sophomore season, current Tribe offensive coordinator Brennan Marion was the head coach. Marion spent the one season at Waynesboro Area before rejoining his former college coach, Todd Graham, as an assistant at Arizona State.
Watch Villanova vs James Madison LIVE on FloFootball
Rhyne showed out against his former prep coach, earning Colonial Athletic Association co-Defensive Player of the Week with 15 tackles, 3.5 tackles for loss, 2.5 sacks, and a forced fumble. His career day wasn't a result of familiarity, though; on the contrary, Rhyne said the Tribe threw a whole new look at the Wildcats in the 35-28 contest.
"They came out against us and ran a lot of different stuff — a lot of spread, not as much of the two running backs on the same side of the quarterback," he said. "We were actually shocked about what they were running."
Congratulations to junior LB Forrest Rhyne on being named @CAAFootball Co-Defensive Player of the Week after a monster game at William & Mary! #GoNova #TTR pic.twitter.com/upQdSRvAGG

— Villanova Football (@NovaFootball) October 7, 2019
Marion brought a run-heavy look to William & Mary from his previous stint in the same role at Howard. The "Go-Go offense" has been successful midway through his first season, too, nearly doubling the Tribe's point-per-game output from a season ago.
But during a 39-31 shootout at UAlbany in Week 5, what had been a platoon look at quarterback, primarily with explosive ball-carrying freshman Hollis Mathis and the pocket-passer Kilton Anderson, coach Mike London turned the reins entirely to Anderson.
"All week we were preparing for [Mathis]: more running, dual-threat kind of guy," Rhyne said. "We have different game plans, but our call sheet was directed more to No. 12.
"Once we were able to make some adjustments, see that [Mathis] wasn't playing, we were able to settle down and just lock into what coach Ola [Adams] wanted us to do," he added.
With Rhyne's excellent all-around performance setting the tone, the Wildcats' defense delivered with a team showing indicative of what makes this a CAA championship-contending team.
Villanova heads into a Top-5 showdown Week 7 at James Madison boasting the nation's No. 14-ranked rushing defense, holding opponents to just 89.2 yards per game. The Wildcats rank 20th in FCS with nine turnovers forced, and are holding opponents to a 33.8-percent third-down conversion rate.
6️⃣-0️⃣ M O O D❗️ pic.twitter.com/rVaX8mXSq5

— Villanova Football (@NovaFootball) October 6, 2019
The team's adopted "0-and-9" mentality, spurred on from the zero first-team All-CAA selections garnered and ninth-place pick in the preseason poll, plays a part in the defense's aggression. But Rhyne said it goes deeper.
"We constantly talk about '0 and 9' … Obviously, that hurts, but this started long ago," Rhyne said. "Media day was what, less than a month before the season? I remember over Christmas break, we started a group chat about the redemption tour 2019.
"Last year, we only won two games in the CAA. This year, we've already won three," he added.
The tour's certainly started strong. The Wildcats' 6-0 mark is a program-best dating back to 2003, with the adjustments made at William & Mary securing that sixth win overall and third in the Colonial.
And part of earning redemption came from some new faces stepping up. On offense, the spotlight has been on FCS-leading rusher Justin Covington and Campbell-transfer quarterback Dan Smith. On defense, Rhyne has emerged from a reserve who made 16 tackles all of 2018, to a leader for a unit coach Mark Ferrante said is "playing really well right now."
#CAAFB continues to lead all FCS conferences with six teams ranked in the latest Top 25 national polls!

Three squads are in the top 10@JMUFootball @NovaFootball @Towson_FB @DelawareFB @BlackBearsFB @StonyBrookFB @UNH_Football is also receiving votes pic.twitter.com/zPnXGn5r28

— CAA Football (@CAAFootball) October 7, 2019
And in his first year as defensive coordinator, Adams has helped the defense improve to trim 35 yards per game off its per-game rushing yield, as well as 2.7 points allowed per game.
Some of it comes from performance, as Rhyne explained.
"This year, our pursuit to the ball has really covered up a lot of our issues," he said. "If we miss a tackle, it's alright because it's going to get chopped down a couple yards later by the next guy."
Some, like in the adjustments made in the William & Mary game, come from a willingness and ability to adapt schematically.
"There's been games where we blitzed more, and were a more aggressive style of difference," Ferrante said. "Two weeks ago, we only rushed three the majority of the game against Maine."
Against the Black Bears' pass-heavy offense, Adams' game plan allowed an excellent secondary to sit back and make plays. It delivered with Darius Pickett and Elijah Trent snagging interceptions.
At William & Mary, Ferrante credited the defensive line for occupying the Tribe's blockers, "so the linebackers can make plays."
Rhyne and senior Drew Wiley did just that, each forcing a fumble. The two also accounted for five of the Wildcats' nine tackles for loss, and three of the four sacks.
That the next stop on the redemption tour is James Madison seems fitting: Villanova hasn't beaten the Dukes since 2014. In this season's matchup, the new-look defense is opposite the nation's No. 12 rushing offense.