2019 Richmond vs Maine | CAA Football
Over The Turnovers: Maine, Richmond Look To Get Right In Orono
Over The Turnovers: Maine, Richmond Look To Get Right In Orono
Defending CAA champion Maine will look to get on the board with a league win against Richmond when the Spiders head to Orono on Saturday.
Oct 9, 2019
by Roger Brown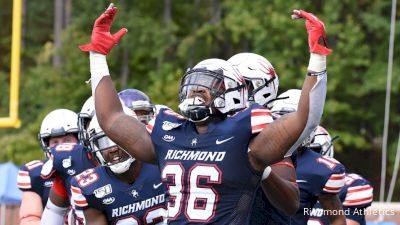 What did Maine head coach Nick Charlton emphasize to his team during its bye week? Among other things, there was this: Protect the football.
---
Who: Richmond (2-3, 1-1) at No. 18 Maine (2-3, 0-2)
When: Saturday, Oct. 12, 12 p.m. ET
Where: Morse Field at Harold Alfond Stadium; Orono, Maine
Watch: LIVE on FloFootball
---
Maine enters Saturday's home game against Richmond ranked 12th (last) among Colonial Athletic Association teams in turnover margin at minus-nine. The Black Bears (2-3, 0-2 CAA) haven't come out ahead in the turnover battle in any of their five games.
"I think the turnover margin is probably the biggest issue that we've had," Charlton said. "When you look at some of the things statistically, that's a big one. We have to take care of the football and of course we have to force people into bad spots on the opposing side. I think once we start to get that going it'll be a big help to us."
Maine quarterback Chris Ferguson is third in the FCS in passing yardage (1,622) and sixth in passing yards per game (324.4), but has been intercepted eight times. The Black Bears have also lost two fumbles.
Maine has one takeaway this season: a fumble recovery in its second game, a loss at Georgia Southern.
"That's just doing your job," Charlton said when asked how his team can create more turnovers. "A lot of times guys talk about, 'Hey, we want to make a play here.' We need somebody who's going to do something. We all want that, but if you're putting yourself in the right position, you're using the right technique and you're in the right spot, good things happen. In terms of stripping the ball or being in the spot to get an interception, that's stuff you have to capitalize on. We work on those things every day in segments of practice, but at the end of the day you have to put guys in good spots and they have to make plays."
? - Highlights from today's #CAAFB clash at No. 8 Villanova#BlackBearNation | #Elevate pic.twitter.com/z2L5NAOpsP

— Maine Football (@BlackBearsFB) September 28, 2019
Turnovers have been a major problem for Richmond (2-3, 1-1) this season as well. The Spiders are 11th in the 12-team league in turnover margin at minus-four.
Richmond has four takeaways (two fumbles and two interceptions), but has had five passes intercepted and lost three fumbles. The Spiders lost the turnover battle in each of their first four games, three of which were losses, but forced the game's only two turnovers (both interceptions) when it beat Albany 23-20 last weekend.
One of those two interceptions came late in the first half with Richmond leading 16-13. Defensive lineman Maurice Jackson picked off a screen pass and returned it 27 yards to the Albany six-yard line. Two plays later quarterback Beau English scored from the one with 36 seconds remaining in the half to help Richmond build a 10-point halftime lead. Jackson has a team-high five sacks and is third in the CAA in tackles for loss (1.8 per game).
"Offensively, all the way across the board, we just did enough to win a game," Richmond coach Russ Huesman said. "And we didn't turn the ball over. If we'd have turned it over once we probably don't win the game."
Pressure Points
Sacks have come in bunches for both of these teams. Maine has nine sacks this season, but recorded eight of those during a 35-21 triumph over Colgate. Richmond collected seven of its 11 sacks against Albany.
Maine led the CAA in sacks per game last season (3.36).
"Those guys need to step up," Charlton said. "We think we have some really good players up front, and what's happening a little bit is when teams are able to get the run game going of course that eliminates opportunities to get a rush. When you're playing good quarterbacks in this league the ball is going to be out with any good protection. We certainly know we need to be playing better, specifically up front. Those guys are hard workers, they're good kids, and I expect that to happen."
Maine is second in the CAA in sacks allowed (five). Richmond is seventh (11).
"As I look at it I think the quarterback (Ferguson) is really, really good and they have some wideouts who are tremendous," Huesman said. "They're throwing the ball all over the place and doing a great job with the passing game, so we're going to have to play tremendous up front. We gonna have to get some pressure on them."
Game Notes
Maine (164.8) and Richmond (195.2) are the top two teams in the CAA in pass defense. The Black Bears are second in pass offense (331.8) and the Spiders are seventh (209.8).
Richmond's Jake Larson has made nine of his 10 field goals attempts this season. He's 4-for-4 from at least 40 yards, and his longest kick was a 50-yarder.
The Black Bears are the most penalized team in the CAA (79.8 yards per game).
Maine ranks 103rd out of 124 FCS teams in rushing yards per game (98.2).
Richmond has converted on 34 of 69 third-down situations (49.3 percent), which is 11th in the CAA.
Maine wide receiver Earnest Edwards leads the CAA in kickoff-return average (34.9 yards per return) and third in receiving yards per game).