After Spurning Georgia For UNH, Max Brosmer Is Making Himself At Home
After Spurning Georgia For UNH, Max Brosmer Is Making Himself At Home
Freshman Max Brosmer has been a pleasant surprise for a New Hampshire squad that entered 2019 with question marks at quarterback.
Sep 27, 2019
by Roger Brown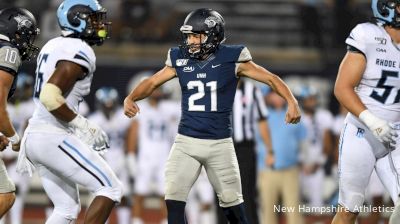 New Hampshire and Rhode Island were tied 24-24 with less than a minute to play Saturday night when the Wildcats faced a third-and-four situation from their own 34-yard line. Anything but a first down likely meant UNH would have to give the ball to URI and increase the risk of opening the season 0-3.
After finding no open receiver when he dropped back to pass, UNH quarterback Max Brosmer found some room on the right side and picked up eight yards and a first down. Brosmer completed a 41-yard pass to wide receiver Brian Espanet on the next play, which set up a field goal as time expired to give the Wildcats a 27-24 victory.
Watch Duquesne vs New Hampshire LIVE on FloFootball
"I knew we had to get the ball past the first down (marker) if we were going to have a shot at winning the game without going to OT, and I didn't want to force the ball because forcing it might cause a turnover," Brosmer said. "I took my reads and nothing was open. There were some tight holes, but I didn't want to force the ball, so once I got through my reads I kind of just took off and there was a huge spot for me to get a first down."
Michael Perry, Brosmer's coach at Centennial High School in Roswell, Ga., probably chuckled when he heard about that third-and-four play.
"Our staff used to give him a hard time about his running," Perry explained. "Even though he ran for more than 600 yards as a senior he was not the fleetest of foot as a quarterback out there."
Brosmer, a true freshman, was known more for his passing when he enrolled early at UNH last January. In his junior and senior seasons at Centennial, he completed 441 of 629 passes (70.1 percent) for 7,209 yards and 61 touchdowns. Since Brosmer's speed — he's not fast, but not slow — may have prevented him from garnering interest from more FBS schools, he would like you to know that he also ran for 789 yards and seven TDs during those two seasons.
"He's been teased about his speed for a long time," said Brosmer's father, Colin. "He's been able to make due with what he has. He definitely proved his senior year he could get it done on the ground."
A few things you may not know about Brosmer:
His interests outside of football include music and fishing, and he and likes to play the guitar to relieve stress.
He began playing football when he was 7 years old and living in Toronto. He was a receiver back then and played in a league that used Canadian football rules.
His golf game could use some work.
"Who told you that, Santos?" Brosmer asked, referring to UNH interim head coach Ricky Santos. "Yeah, we played a round with the quarterbacks and I had the worst putting experience I've had in a long time. They say when I play golf I'm 'long and wrong.' I can hit it, but it's probably not going to go in the right direction. My short game's not too good."
A lot has happened to Brosmer in the last year. He committed to UNH last fall; suffered a season-ending knee injury during the final regular-season game of this high school career; made the decision to enroll in college early; lost the quarterback battle to redshirt freshman Bret Edwards; made his college debut in the third quarter of UNH's opener against Holy Cross; and guided the Wildcats to their first victory last Saturday.
Brosmer, who won't turn 19 until March, has completed 39 of 77 passes for 514 yards and four touchdowns this season. He's been intercepted three times (once in each game). He was selected as the Colonial Athletic Association Rookie of the Week for his performance against Rhode Island, when he connected on 12 of his 23 pass attempts for 184 yards and two TDs. He also ran for a touchdown in that game.
Brosmer will make his third college start Saturday when the Wildcats (1-2, 1-0 CAA) play a non-conference game against Duquesne (2-1, 0-0 Northeast Conference) in Durham, N.H.
"I just think that the moment hasn't seemed to be too big for him, being a young 18-year-old freshman," Santos said. "He's just playing within himself. He's protecting the football and he's taking what the defense gives him. If we're going to continue to run the ball the way we feel we will then he just needs to manage the game and allow some of the big plays to come to him and not force it. I think that's the only way he's going to put himself in a bad situation is if he tries to do too much."
Here's another fact about Brosmer you may not know: He spurned a preferred walk-on offer from the University of Georgia after he committed to UNH. That led to an interesting phone call Brosmer received during a trip to New Hampshire.
"My (high school) AD (Jeff Burch) called me right after I got off the plane in Boston and said 'Max, Kirby Smart is here to see you.' I was like, 'Coach Burch, tell them I'm already at New Hampshire and I'm 100 percent going to UNH.' He flew in on his helicopter to our school and that SEC showy stuff, but I was fully committed.
"What can you say bad about UGA? It's crazy big, the atmosphere is awesome and it's near home, too, (but) I kind of wanted a college life away from home. I also wanted to pay back my parents for what they did for me all through the years and I had the opportunity to have a full scholarship here."
The injury Brosmer suffered at the end of a 38-28 victory over the Northview Knights last season was a scary moment. According to Perry, Brosmer was the leading passer among Georgia high school quarterbacks at the time.
The injury resulted in a nasty scar on Brosmer's left knee — he calls it his "tattoo" — and left him wondering if UNH would honor his scholarship and if he would play Division I football at any level. It also left him wondering about his speed.
"Even though I didn't have much speed to lose obviously, coming from the words of my (high school) coach," Brosmer said with a laugh. "I thought I was getting faster my senior year and I was going to try to come into college and work on my speed. It really set me back.
"I always knew I had to be faster. I kind of accepted that I was not going to be a 4.4 guy, and I got overlooked for those reasons. I believe that you always end up in the spot you're supposed to be in. In my mind, as long as I can get four or five yards, I'm OK."