2019 James Madison vs Elon | CAA Football
A Closer Look At Curt Cignetti's Return To Elon
A Closer Look At Curt Cignetti's Return To Elon
Curt Cignetti makes his return to Elon this week, where his former defensive coordinator, Tony Trisciani, will lead the upset-minded Phoenix.
Sep 25, 2019
by Kyle Kensing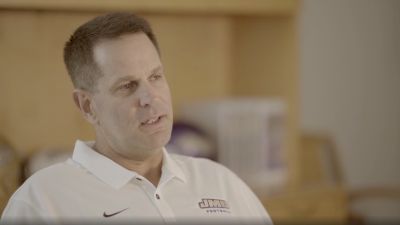 A lot of history can be made in just two years. Curt Cignetti's tenure with Elon football proves as much.
Cignetti coached the Phoenix in 2017 and 2018, taking them to the FCS Playoffs both years. It's the only time in the 20 years since Elon joined the FCS that the program reached the postseason in consecutive campaigns; in fact, Elon went to the playoffs just once prior to Cignetti's stint, in 2009.
If any one win most clearly signified Elon's elevated stature in the FCS landscape, it was a 27-24 defeat of James Madison in October 2018. The Dukes entered with a 19-game winning streak at Bridgeforth Stadium, and a remarkable 22-game winning streak against the Colonial Athletic Association.
Watch James Madison at Elon LIVE on FloFootball
There in Harrisonburg, VA, in their fifth season as members of the toughest conference in FCS, the Phoenix planted their flag. And, evidently, James Madison took notice.
Two months later, James Madison introduced Cignetti as its new head coach. Cignetti was tabbed to replace 2016 national championship-winner Mike Houston following Houston's departure for East Carolina.
"I couldn't be happier to have him be the next football coach at James Madison," JMU athletic director Jeff Bourne said at Cignetti's Dec. 17 introductory press conference. "You don't have to look much further than Curt's resume to see he checks all the boxes: been a head coach for eight years, five playoff appearances in those eight years, and a winning season every year, even though the programs where he may have come didn't have those kind of records [preceding him]."
So happy to have my family with me today to introduce them to JMU Nation. The Cignetti family is excited and ready to throw some streamers! #GoDukes pic.twitter.com/ZKOQ0XhcMR

— Curt Cignetti (@JMUCurtCignetti) December 17, 2018
Indeed, Cignetti's success at Elon was unprecedented. Prior to that, he returned Division II program Indiana University of Pennsylvania — where his father, Frank, was a legend for 20 seasons — to a previous standard for success.
But if there was any previous job from Cignetti's career that his introductory presser might reflect most, it's that of Nick Saban at Alabama in January 2007.
Saban began his tenure in Tuscaloosa that day with the high standards of Alabama's lineage looming, standards he met almost immediately. The 2008 Crimson Tide reached the SEC Championship Game, and in 2009 they won the program's first national title in 17 years.
Cignetti worked on the ground floor of the dynasty as wide receivers coach and recruiting coordinator. With that on his aforementioned resume, Cignetti came to James Madison with experience accepting the expectations of a place with the highest standard.
"This is the best FCS job in the country," Bourne said. "Our goals are high. Can't afford to take a step back, and the margin for error is very small."
Cignetti has branched from the illustrious Saban Coaching Tree, one of 12 former Saban assistants who began the 2019 season helming Division I programs.
The Cignetti Coaching Tree doesn't extend quite as far, but it did take root in one important location on Dec. 18, one day after his JMU introduction. That was when Tony Trisciani was formally presented as the new head coach at Elon.
Tony Trisciani has been appointed as Elon football's new head coach. Here is a look at today's press conference: pic.twitter.com/GSiWBRwm7e

— Elon News Network (@ElonNewsNetwork) December 17, 2018
Trisciani was instrumental to those two historic seasons Elon enjoyed with Cignetti at the helm, coordinating a defense that played an aggressive style. The Phoenix ranked No. 28 and 15 in the nation for sacks in Trisciani's two years coordinating the defense; that approach helped define the Phoenix's overall identity.
"When I looked at this program, I didn't want to come in and make changes just to make changes. A lot of the things have stayed consistent," Trisciani said on Monday.
"I learned a lot from Curt Cignetti," he said. "He's a really good football coach, he's a very good leader, good motivator for the players and the staff. He has a vision and really focuses on executing that vision. With Curt, I learned sometimes less is more: Focus on a few things, things that are important; do them right and do them well."
Unprecedented success was not a standard from which Elon athletic director Dave Blank had any interest in straying.
"Sometimes, change can be a catalyst, and other times, staying the course can be the right thing. Two years ago, we installed a system we believed in," Blank said at Trisciani's introductory press conference. "Our coaches sold it. The administration, the athletic department, everybody bought in. But most importantly, our players bought in."
According to one of Elon's breakout players in the 2018 season, running back Jaylan Thomas, the returning player buy-in for Trisciani is evident.
"The transition's been good," he said. "We've been doing a lot of team-bonding activities, and I know coming in, that was one of coach Trisc's priorities: get a team that's together."
The offseason began the process of Trisciani putting his own spin on Elon: Yes, the program seeks to sustain its trajectory from Cignetti's tenure, but every regime is going to have its own approach.
Trisciani does indeed come from Cignetti's tree, but the Elon head coach spent time on other winning programs around the CAA. Before Elon, he was on the staff of legendary Villanova head coach Andy Talley. The same year Cignetti won a national title at Alabama, Talley led Villanova to the FCS championship.
Prior to Villanova, Trisciani coached on the staff of New Hampshire icon Sean McDonnell. McDonnell's coaching tree includes other such noteworthy names as Chip Kelly and Ryan Day. And while two consecutive playoff appearances made history at Elon, New Hampshire under McDonnell went to an incredible 14 straight postseasons.
Taking the lessons cultivated from outstanding coaches throughout his career, Trisciani has given Elon a slightly different look than Cignetti — and James Madison under Cignetti isn't the same as Elon in Cignetti's time there, which Trisciani points out.
"He's got new coordinators, and they're good coaches," Trisciani said. "They've been able to add their own spin on things and flavor."
Trisciani's version of Elon football welcomes Cignetti back to Rhodes Stadium with this new take for James Madison this Saturday.