2019 Villanova vs Towson | CAA Football
The Big Picture: Villanova Is For Real
The Big Picture: Villanova Is For Real
Another week, another massive matchup that actually exceeded its billing in the CAA. Here's your weekly whip-around the league.
Sep 23, 2019
by Kyle Kensing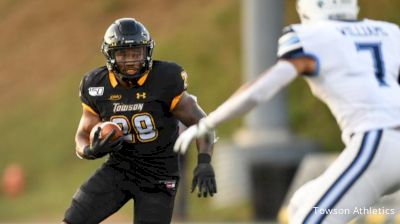 When the distinction of best conference in the FCS is applied to the Colonial Athletic Association, it refers to championship intensity befitting December on a September night. It refers to standout players shining at the most crucial moments, and it refers to a team picked to finish ninth in the conference shocking the fifth-ranked team in the nation to move to 4-0.
An instant classic between Villanova and Towson delivered all that, and more. The overtime thriller at Johnny Unitas Stadium promises to factor prominently into the Big Picture of what's already been a remarkable CAA season.
And there's still two months to go.
Unforgettable at Unitas
Villanova's 52-45, overtime defeat of Towson concluded Saturday's loaded slate of CAA action, and that's for the best. Nothing was going to be able to top this showdown of Top 20 competitors, which exceeded its billing.
The Wildcats and Tigers put on a heavyweight championship fight, exchanging haymakers from bell to bell. Daniel Smith threw a 31-yard touchdown pass to Jaaron Hayek on the first drive, Tom Flacco rushed 42 yards to paydirt on the next, and the tone was set.
Both quarterbacks were dynamite. Flacco did nothing but further strengthen his early case for the Walter Payton Award: 304 yards passing with a touchdown toss to Shane Leatherbury, and a team-high 110 yards rushing picking up the slack with Shane Simpson out for the season.
No, the loss shouldn't hurt Flacco's case — but it does perhaps give him some company from Smith, who passed for 279 yards, rushed for 70, and scored a ridiculous six touchdowns, including the game-winner. Smith has been excellent all season, but Saturday's performance is the sort that lives in a program's lore for years.
Gushing about the quarterbacks is a bit obvious, and misses so much of what made this game special. Playmakers up and down both rosters delivered at championship levels.
Win No. 4 ☑️#BeatTowson

Next Sat ➡️ Back home vs. Maine pic.twitter.com/dYPqwUESvr

— Villanova Football (@NovaFootball) September 22, 2019
"That's a very, very, very good football team," Towson coach Rob Ambrose said in his postgame press conference, before half-smiling and adding, "It's another CAA team, so it's no surprise."
No surprise to Ambrose or his Towson team, but a surprise, perhaps, to the preseason poll that tabbed the Wildcats ninth. Or to the voters who reluctantly elevated Villanova into the Top 25 after a dominant Week 0 route of Colgate.
Any surprise can be chalked up to unexpected star turns. Smith's seamless transition since transferring from Campbell is a revelation, and he's not the only head-turner on that offense.
Villanova running back Justin Covington continued his breakout season with a new career-high 194 yards rushing, a touchdown on the ground, and a receiving score.
The visiting Wildcats went ahead 42-28 in the fourth quarter, but Towson battled back, first with Yeedee Thaenrat rushing for his third touchdown; then when defensive captain Robert Heyward took an interception to the house.
Towson took a lead in the late minutes, but part of Smith's epic outing was his leading the Wildcats on a drive that set up Drew Kresge's game-tying field goal.
Ambrose called it "what Saturday night football should be." Taking that idea a step further, Towson-Villanova was everything a fan could want from college football.
On a night when Georgia and Notre Dame went down to the last play and UCLA rallied from a 32-point deficit to beat Washington State, the best game in the sport may well have unfolded at Johnny Unitas Stadium.
488 to Gagliardi
Legendary Div. III coach John Gagliardi holds the record for career head-coaching wins at 489. Ricky Santos needs only 488 after Saturday.
The interim New Hampshire coach -- stepping in for a legend in his own right, Sean McDonnell -- notched his first W in dramatic fashion.
Malik Love took a touchdown pass to the house 44 seconds in, and the Wildcats never trailed CAA New England counterpart Rhode Island. However, despite building two different two-touchdown leads -- including in the early fourth quarter -- it came down to the final possession.
Rhode Island rallied, thanks in part to another monster game from wide receiver Aaron Parker. He caught 144 of quarterback Vito Priore's 312 yards passing, and Isaiah Coulter added 105 with a touchdown.
But after Zoe Bryant rushed for a game-tying touchdown, the biggest reception of the day came on Brian Espanet's 41-yard haul from Max Brosmer. That set up Jason Hughes for the game-winning field goal as time expired.
Comeback Hens
Week 3 for No. 20-ranked Delaware could be described as a Mind Body and Soul Game. Seven-time national champion and top-ranked North Dakota State coming to town for a non-conference showdown brought plenty of emotion.
It also brought plenty of physicality. North Dakota State's physical brand of football tests a team not just for 60 minutes, but for the weeks to come in what's sometimes called the body-blow theory.
Perhaps some lingering effect from the previous week impacted the start to Week 4. Whatever the reason, Delaware had to rip off three straight touchdowns in the second half Saturday vs Penn, then stop a two-point conversion to escape with a 28-27 win.
Finished for the W.#BleedBlue302 pic.twitter.com/D0IQeYx12k

— Delaware Football (@DelawareFB) September 21, 2019
"The good news," said Delaware coach Danny Rocco in his postgame press conference. "Another game we were trailing, significantly, and came back and won."
Delaware rallied from down two touchdowns in the Week 2 CAA opener under the lights at the renovated Meade Stadium in Rhode Island. The comeback completed in a triple-overtime classic, when Pat Kehoe found Will Knight on a game-winning connection.
Nolan Henderson was behind center for the Fightin' Blue Hens this time, but Knight again provided the game-winning score. Henderson went 20-of-29 passing and threw three touchdowns, and Thyrick Pitts had a huge game: 128 yards receiving and a score.
Run New York
One week after beating Staten Island's Wagner, Stony Brook laid claim to New York City on Saturday with a blowout of Fordham from the Bronx, 45-10.
To use the cliche the Seawolves ran all over the Rams isn't an abuse of tired language: It's an accurate reflection of how this one went. Seba Nekhet and Isaiah White rushed for a combined 314 yards, Nekhet scored two touchdowns, and White averaged a ridiculous 11 yards per carry.
Just Like Old Times
James Madison's visit to Finley Stadium in Chattanooga marked its first since winning the 2004 national championship there.
The FCS Championship Game moved to Frisco, Texas, in the 2010 season, but the Dukes looked up to title form in the Scenic City. Twenty-three unanswered points powered James Madison to a 37-14 win, completing the No. 2-ranked Dukes' non-conference schedule at 3-1.
The James Madison defense's prowess was well-known heading into 2019 and has lived up to billing through four games. Opponents are scoring just 13.25 points per game, with Big 12 member West Virginia's 20 points Week 1 marking the most the Dukes have allowed.
Ron'Dell Carter is hitting his stride ahead of CAA play, his 2.5 tackles for loss at Chattanooga giving him six now on the season. That's tops among players in the Colonial.