2019 Pennsylvania vs Delaware | CAA Football
Delaware Looks To Bounce Back Against Penn
Delaware Looks To Bounce Back Against Penn
Sophomore quarterback Nolan Henderson gets the start for Delaware when Penn visits the Blue Hens on Saturday in Newark.
Sep 20, 2019
by Roger Brown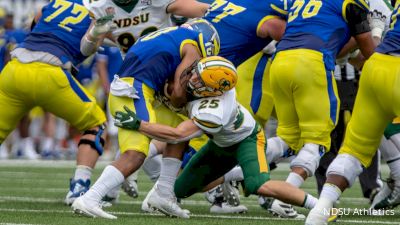 Delaware coach Danny Rocco said he liked what he saw when quarterback Nolan Henderson played in the second half of last weekend's 47-22 loss to top-ranked North Dakota State. Rocco will get a longer look at Henderson when No. 20 Delaware faces Penn on Saturday at Delaware Stadium.
Rocco announced in his weekly coach's show that Henderson, a redshirt sophomore, will make his first career start against Penn.
Watch Penn vs. Delaware LIVE on FloFootball
Henderson replaced starting QB Pat Kehoe on Delaware's second offensive possession against North Dakota State and led the Blue Hens (2-1, 1-0 CAA) on scoring drives in three of the team's final four possessions (two touchdowns and a field goal). He completed 9-of-12 passes for 125 yards and ran for 19 yards in the loss.
"He was under duress, just like Pat was, and Nolan was able to extend plays and avoid the rush and get his eyes down the field and make some plays throwing it and makes some plays running the ball with his legs," Rocco said. "It did kind of open some things up for us. They became a little less willing to bring pressure. We were able to get some of our base run game going.
"Obviously he's very talented and I thought our team responded well with him out there, and I think that's another very important thing to look at."
14 ?
2 ?#TouchdownTuesday x #BleedBlue302 pic.twitter.com/FlPDDBbiXN

— Delaware Football (@DelawareFB) September 17, 2019
Kehoe, who tossed five TD passes in Delaware's 44-36 victory over Rhode Island two weeks ago, completed 2-of-9 passes for 11 yards and was intercepted once before he was replaced by Henderson with 8:04 remaining in the third quarter.
"I do feel like we have two quarterbacks who can compete in this league," Rocco said. "The one (Kehoe) is older, more experienced (and) kind of went through the wringer a year ago and came out with a really solid season. And the other one is young and talented and his best years are ahead of him. I'm glad we have those kinds of options. Now we just have to do the best we can managing that moving forward and be as productive as we can possibly be."
While Delaware has three games under its belt, Saturday contest will be Penn's first game. Penn, which finished 6-4 overall (3-4 in the Ivy League), was picked to finish fifth in the Ivy League's preseason poll.
"It's a long road and right now we're just trying to build a foundation," Penn coach Ray Priore said. "Our kids are focused and ready to go."
The Quakers, who averaged 18.6 points per game last season, have a new offensive coordinator in Kevin Morris, who was the offensive coordinator at Monmouth last year. Morris also served as Yale's offensive coordinator from 2012-13 and was the head coach at the University of Massachusetts from 2009-11.
Take that deep breath...

?? #BleedBlue302 pic.twitter.com/rfXKNdzbHs

— Delaware Football (@DelawareFB) September 18, 2019
"That does create a little bit of uncertainty in terms of what they want to feature, but we haven't been able to see who they're going to feature," Rocco said. "That makes it even more about us."
Penn quarterback Nick Robinson, a transfer from the University of Georgia, is expected to make the second start of his college career Saturday. Robinson, a senior, has appeared in 13 games over the last two seasons and has completed 75-of-113 passes for 910 yards. He's thrown nine TD passes and has been intercepted once.
The Quakers will add fifth-year safety Sam Philippi to a defense that returns eight starters and allowed the fewest points per game (20.9) in the Ivy League last year. Philippi, a two-time All-Ivy League selection, sustained a season-ending hip injury in Penn's opening game last year.
Delaware will play a non-conference game at Pittsburgh next weekend and will then play seven straight games against CAA opponents.
"Our best football is ahead of us," Rocco said. "I really believe that. Hopefully we'll be focused and hungry against a really good Ivy League team."
Out of Their League
Colonial Athletic Association teams have a 16-4 record against non-conference FCS opponents this season, which is the best non-conference record of any league at the FCS level. CAA teams went 22-9 (.710) against non-conference FCS opponents last season, and had a 26-6 record (.813) in non-conference games against FCS opponents in 2017.
Noteworthy
Saturday's game will be the sixth meeting between the programs, but the first since 1983. Delaware won the most recent matchup 40-7 in Newark.
Priore is the brother of Stony Brook coach Chuck Priore.
No NCAA football program at any level has played more games than Penn. Saturday's contest at Delaware will be the team's 1,394th game.
Delaware linebacker Kendrick Whitehead made a career-high 10 tackles against North Dakota State. He has a team-high 22 tackles this season.
Penn running back Karekin Brooks has run for 1,844 yards on 313 carries in his college career. He enters the season with the highest yards-per-carry average (5.9) of any player in the program's history.