2019 Villanova vs Towson | CAA Football
No. 5 Towson Hosts No. 18 Villanova In CAA's Game Of The Week
No. 5 Towson Hosts No. 18 Villanova In CAA's Game Of The Week
Towson's road doesn't get any easier one week after traveling to No. 7 Maine, as 18th-ranked Villanova heads to Johnny Unitas Stadium.
Sep 19, 2019
by Kyle Kensing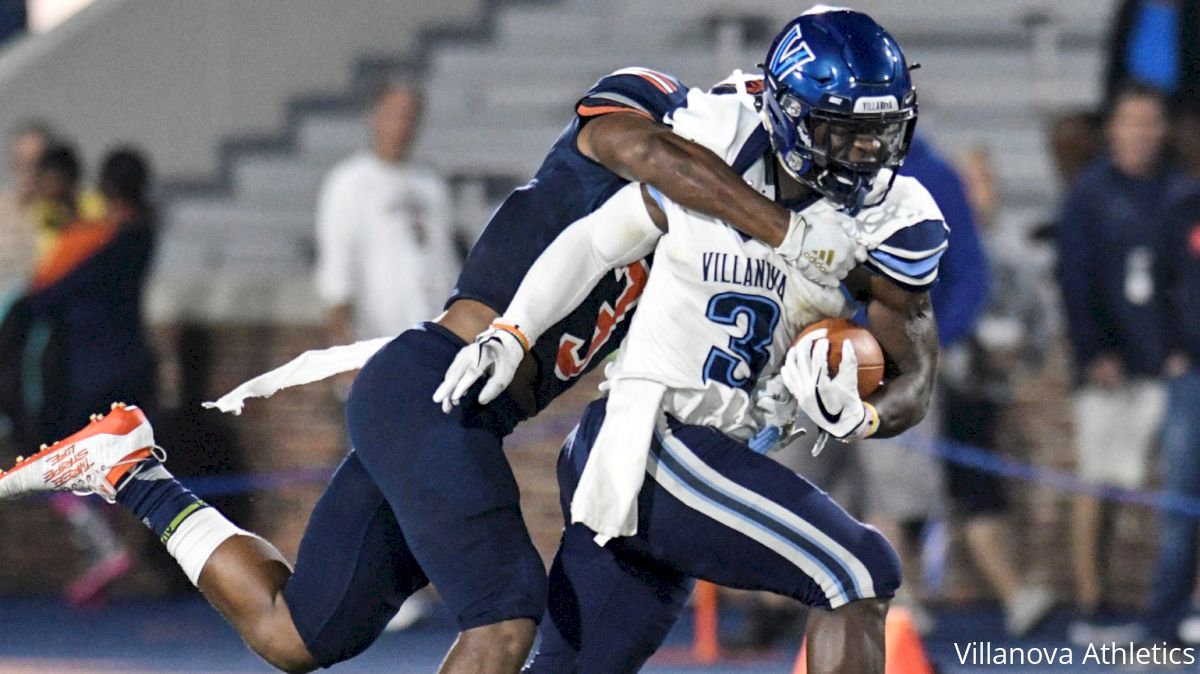 From traveling to No. 7 one week, to hosting No. 18 the next: fifth-ranked Towson's first two league games provide an appropriate snapshot of autumns in the Colonial Athletic Association.
---
Who: No. 18 Villanova (3-0, 0-0 CAA) at No. 5 Towson (3-0, 1-0)
When: Saturday, Sept. 21, 6 p.m. ET
Where: Johnny Unitas Stadium; Towson, Maryland
Watch: LIVE on FloFootball
---
The Tigers return from a head-turning win Week 3 at defending CAA champ Maine, welcoming another conference opponent commanding attention in its own right, Villanova.
The Wildcats ushered in the 2019 college football season with a thoroughly dominant win over defending Patriot League champion Colgate. The 20-point margin of victory for Villanova Week 0 is the closest any of the first three opponents played the Wildcats.
Oh, and this team was picked to finish ninth in the preseason CAA poll.
Already exceeding outside expectations, Villanova begins Colonial competition with an opportunity to make a resounding statement. A win over Towson dramatic alters the forecast for the championship chase.
A greedy defense and the emergence of a standout running back have set Villanova on the its course, while Campbell transfer Daniel Smith has emerged as one of the season's early surprises.
Towson has plenty of surprises of its own to counter. Everyone knew coming into 2019 that the Tigers could put points on the board, returning CAA Offensive Player of the Year Tom Flacco to quarterback an offense that led the CAA in scoring.
But with a new coordinator, the Towson defense comes into Saturday's matchup ranked 10th in the nation in scoring defense.
In a testament to the CAA's strength, two of the nine teams yielding fewer points than the Tigers are from the Colonial. One of them is Villanova.
It makes the season a grind, but that's fun for the players.
"I like the competition," said Towson linebacker Keon Paye.
Defensive Playmakers
Towson and Villanova ranked in the CAA's upper-half for scoring a season ago, with the Tigers setting the pace. With Towson returning a solid corps of returners, the Tigers' 38.3 point per game average comes as no surprise.
However, even with the addition of Smith — Campbell's all-time career leader in total offense before his arrival —Villanova's 39 points per game may be one of the most surprising developments of the CAA season thus far.
A matchup of two multi-dimensional and explosive offenses can turn on a single big play from the defense. Three games into the 2019 season, few teams in college football have had defensive playmakers step up as prominently as those at Towson and Villanova.
Jaquan Amos opened the scoring in Villanova's 45-10 romp at Bucknell last week with a 34-yard pick-six – his second interception-return-for-touchdown on the season. He got the ball rolling on a second-quarter avalanche with one in Week 0 at Colgate.
"Jaquan's been a steady player for us, [and] this is his third year now," Villanova coach Mark Ferrante said, pointing to the value of experience in the Wildcats secondary.
It's a unit with proven stars, like 2018 CAA Defensive Freshman of the Year Christian Benford – who sustained a mild injury in Week 3, but Ferrante said should be ready for Saturday – and Julian Williams. But Ferrante also pointed to some of the newer contributors, like Elijah Trent and Isas Waxter, who have stepped up in the early going.
Towson's Paye nearly duplicated Amos' feat of two pick-sixes in the first three games. He ran one back in Week 2 against North Carolina Central, and was tackled at the goal line at the end of a 73-yard return last week at Maine.
Paye's two interceptions are second among all Tigers, behind cornerback Coby Tippett. Tippett's picked off a pass in all three Towson games, including a game-winner Week 1 at The Citadel.
Both teams owe their turnover-generation through three weeks to outstanding play up front.
"We've put a little more pressure on some of the teams we've faced, because we feel we can cover it in the back end, probably playing a little more man than we have in the past," Ferrante said.
A single pick from any of those difference-makers can swing the game – especially because these quarterbacks aren't exactly offering up many interception opportunities. Smith and Flacco have one between them.
Carrying On
In its big, CAA-opening win over Maine, Towson suffered a critical loss. Do-everything running back Shane Simpson sustained a season-ending knee injury and will undergo surgery.
In Simpson's absence last week, Flacco carried a fair portion of the rushing load with a team-high 68 yards on an impressive 9.7 per carry. Adrian Feliz-Platt got back into the mix after missing last season due to injury, while Yeedee Thaenrat rushed for four touchdowns handling goal-line duties.
Expect Towson to continue with the committee approach, both in the run game and via the pass. Simpson's injury isn't just a detriment on the ground, but takes away a proven weapon through the air.
Flacco isn't lacking for other targets, though. Shane Leatherbury's the clear No. 1, but tight end Chris Clark is coming off a monster Week 3 performance that included stiff-arming a defensive back down en route to the end zone.
Villanova's rushing attack won't feature a workload nearly as spread-out as Towson's. Justin Covington has established himself as one of the most exciting backs in the CAA in short order.
A change-of-pace back behind Aaron Forbes last year, Covington has raced past his 2018 total of 263 yards. He's at 362 through three games, ripping off an absurd 10.6 yards per carry.
A Game of Runs
Last season's 45-35 Towson win at Villanova followed a unique script. The Wildcats book-ended a four-touchdown Tigers streak with consecutive touchdowns to open the game, and a pair that turned a three-touchdown deficit into a more manageable, one-score gap.
Both squads feature different looks in key areas, but still demonstrate, shall we say, spurtability.
Towson led Maine last week by a single point in the third quarter before scoring four consecutive touchdowns – a streak reminiscent of the Tigers' first-half outpouring at Villanova a year ago.
Likewise, the Wildcats have posted a four-touchdown run at Colgate; a three-touchdown streak Week 2 against Lehigh; and five touchdowns before giving up a score last week vs. Bucknell.