The Big Picture: 'Famous Amos' & The 'Cats Roll Into Towson
The Big Picture: 'Famous Amos' & The 'Cats Roll Into Towson
A Top 25 matchup, a pair of blowout wins over the Patriot League and more in this week's CAA 'Big Picture' report.
Sep 18, 2019
by Kyle Kensing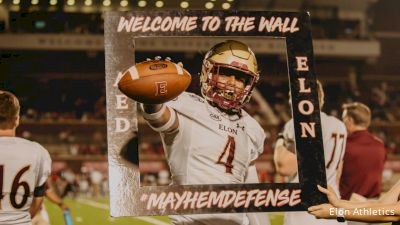 In a week bereft of Top 25 matchups in the Football Bowl Subdivision, the Colonial Athletic Association filled the void with a Top 10 showdown.
Saturday night's historic pairing of No. 8 Towson and No. 7 Maine — the highest combined rankings for two teams ever to play in Orono — headlined Week 3 in the CAA. Another ranked Colonial team opened conference competition with an emphatic win on the road, as Elon took to the air to dominate Richmond.
The Colonial also continued its success against other FCS conferences, including a pair of blowout wins over Patriot League opponents. This and more in the Big Picture.
Flawless Victory
OK, so it wasn't entirely flawless — any coach will tell you no win is ever flawless. But in a marquee matchup with a Mortal Kombat theme — courtesy of the Maine social media team — Towson delivered a decisive KO on the road.
There's a NATIONALLY ranked battle taking place on Saturday night in Orono and we need YOU there to support the Black Bears!

Tickets: https://t.co/J9KKRr1hsx#BlackBearNation | #Elevate | #CAAFB pic.twitter.com/pOhQbkjuUu

— Maine Football (@BlackBearsFB) September 10, 2019
The Tigers' second-half deluge came with Shane Simpson sidelined due to injury. No sweat; Yeedee Thaenrat came on to score four touchdowns, one for every six yards of rushing he produced.
Thaenrat's goal-line work complemented an all-around impressive effort. Tom Flacco showed once again why he's the reigning CAA Offensive Player of the Year, putting up 232 yards passing and 68 rushing. But Thaenrat also scored on an opportunity set up when linebacker Keon Paye picked off a pass for the second time in as many weeks and ran it back 73 of the 74 yards necessary to reach the end zone.
Paye's interception highlighted an outstanding second half for the Towson defense. Maine managed only a field goal until a late touchdown, well after the outcome was no longer in doubt.
Turn the Other Cheek
Elon's three-man running back rotation of Jaylan Thomas, Brelynd Cyphers, and De'Sean McNair carried the load in a Week 2 win over The Citadel. In the Phoenix's CAA opener at Richmond, it was quarterback Davis Cheek's turn.
Cheek completed 18-of-30 pass attempts for 234 yards and five touchdowns in Elon's 42-20 rout of the Spiders.
Kortez Weeks continues to be Cheek's most consistent option, this week putting in eight catches and 125 yards worth of work. But showing off the diversity of Elon's rotation of pass-catchers, five Phoenix caught touchdown passes.
To the House
A trio of kickoff returns went for touchdowns in Saturday's CAA action. Up first, William & Mary's Bronson Yoder going 93 yards in the Tribe's 38-10 romp over Colgate.
Bronson Yoder returns the kickoff 93 yards to the house!

3Q, 6:59 | W&M 24, Colgate 10 #OurStateOurTribe pic.twitter.com/pwi48b5vkB

— William & Mary Tribe Football (@WMTribeFootball) September 15, 2019
Then Elon's Shamari Wingard went 96 yards to paydirt. Wingard's marks the program's first kickoff-return touchdown in 12 years.
Un. TOUCHED! #AED #CAAFB pic.twitter.com/KNV2XLDglM

— Elon Football (@ElonFootball) September 14, 2019
Meanwhile at James Madison, Devin Ravenel scored on may end up being the most unusual kickoff return this season, scooping up a Morgan State onside kick attempt to go 43 yards untouched.
TOUCHDOWN DUKES! Morgan State goes for the surprise onside kick, Devin Ravenel scoops it up and NOBODY is catching him as he needs only 43 yards for the house call to make it 56-6!#GoDukes pic.twitter.com/HDQ6KM7x1Q

— JMU Football (@JMUFootball) September 14, 2019
Famous Amos
Another week, another pick-six for Jaquan Amos.
His 27-yard interception-return-for-touchdown blew open Villanova's Week 0 rout of Colgate. In Week 3, Amos took one back 34 yards for his second touchdown of the season.
Amos ➡️ PICK-SIX ?#TouchdownTuesday @NovaFootball x #TapTheRock pic.twitter.com/obqJcQO91w

— Villanova Athletics (@NovaAthletics) September 17, 2019
The two scoring interceptions are among four the Villanova defense has generated in three games. Elijah Trent also has one -- and 2018 CAA Defensive Freshman of the Year Christian Bedford has yet to get in on the action.
The Wildcats secondary is looking particularly feisty, thanks in large part to the pressure the front's creating. Malik Fisher's made three sacks in three games, as well as a quarterback hurry. Drew Wiley has two quarterback hurries.
Villanova's rolling defense faces the stiffest test it might see all year in the CAA opener next week. It should be another Top 25 showdown when the Wildcats visit Towson in Week 4.
Tribe On the Move
One of Mike London's highest priorities taking over at William & Mary was improving the offense. The Tribe ranked last in the CAA in scoring offense a season ago, putting up almost four points fewer per game than the next-most anemic team.
In two games against FCS competition under London, William & Mary's new-look, hurry-up offense is picking up the pace. The Tribe hit 30 points in each of their wins, including scoring the program's first 38-point effort since the 2015 season in the Week 3 romp of Colgate.
Freshman quarterback Hollis Mathis rebounded from a tough Week 2 visit to Virginia. He passed for 189 yards and a touchdown, and rushed for 62 more with a score. Mathis was one of three Tribe ball-carriers to reach the end zone, along with Donavyn Lester and Owen Wright. Wright's 6.8 yards per carry for 108 in total paced an impressive 254 out of the Tribe as a team.
Green Is Money
UAlbany dropped an overtime heartbreaker at Monmouth, after rallying from a 21-0 deficit. Wide receiver Juwan Green put on a show: 15 receptions, 245 yards, three touchdowns.
Green and quarterback Jeff Undercuffler both had career days: Undercuffler threw for 398 yards, 21 of which came on an overtime-forcing touchdown strike to Jerah Reeves with just four seconds in regulation.
Good Knight
Delaware's hot start against top-ranked North Dakota State, with Luke Frederick blocking a Bison punt to score a safety, wasn't enough to prevent the Fightin' Blue Hens from becoming the 24th straight opponent to lose to the seven-time national champions.
One decided positive in the loss, however: running back Will Knight. The Old Dominion transfer rushed for 115 yards on just eight carries against North Dakota State's stellar defense. His 46 yards receiving also marked a team-high.
Look at those wheels!@topclassgeneral goes over the century mark for the first time in his career with this 59-yard carry. #BlueHens #BleedBlue302 pic.twitter.com/6mwKmxlgyg

— Delaware Football (@DelawareFB) September 14, 2019
Knight provided a reliable option for Nolan Henderson, who came on in relief of Pat Kehoe at quarterback. Henderson's 9-of-12 passing with two touchdowns sets up an intriguing storyline for the Blue Hens' Week 4 matchup with Penn.
The veteran Kehoe threw for five touchdowns in the epic Week 2 win at Rhode Island, but Saturday's loss was his second shaky start. He was intercepted three times in the first half at URI.
A Quality Win
An interesting result for the CAA on Saturday that had no CAA involvement came from Atlanta. There, Southern Conference member The Citadel beat Georgia Tech in overtime, 30-27.
In the season's first two weeks, Colonial members Towson and Elon beat The Citadel on late-game scoring drives to erase a deficit in Towson's case, and break a tie in Elon's. Both Rob Ambrose and Tony Trisciani lauded the Bulldogs' execution in their respective wins over the SoCon foe. Both called it a quality opponent.
Should The Citadel build off beating a Power Five conference opponent, those wins will carry a lot of weight for Towson and Elon come November and Selection Sunday.