2019 North Dakota State vs Delaware | CAA Football
No. 18 Delaware Readies For Rematch With Top-Ranked North Dakota State
No. 18 Delaware Readies For Rematch With Top-Ranked North Dakota State
In what figures to be one of the top games of the week across all of college football, top-ranked North Dakota State visits No. 18 Delaware on Saturday.
Sep 10, 2019
by Kyle Kensing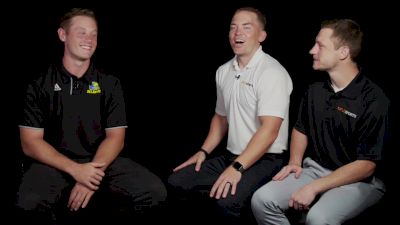 In what figures to be one of the top games of the week across all of college football, top-ranked North Dakota State visits No. 18 Delaware on Saturday.
---
Who: No. 1 North Dakota State at No. 18 Delaware
When: Saturday, Sept. 14, 1 p.m. ET
Where: Delaware Stadium; Newark, Delaware
Watch: LIVE on FloFootball
---
Fresh off winning what can only be described as the early front-runner for Game of the Year, the Delaware Fightin' Blue Hens return home from Rhode Island presented with the opportunity of the year.
Delaware hosts No. 1-ranked North Dakota State, winner of seven of the last eight Football Championship Subdivision national titles, and the most dominant dynasty in major team sports since John Wooden's UCLA basketball teams of the 1960s and '70s.
But whereas the UCLA dynasty is synonymous with one coach, North Dakota State claimed three championships with Craig Bohl, now at Wyoming, and four with Chris Klieman, now at Kansas State. Matt Entz inherits the FCS juggernaut, and through two games the Bison show no signs of slowing down. They trampled Butler in Week 1, 57-10, and North Dakota in Week 2, 38-7.
The Bison are 2-0 after Saturday's 38-7 win over UND. ? pic.twitter.com/9TPs4V4u38

— NDSU Football (@NDSUfootball) September 8, 2019
"The biggest thing — and the most impressive thing — is their execution. They have been able to execute at a high level on a very consistent basis," Delaware coach Danny Rocco said of the foundation to North Dakota State's sustained success. "Now we all know when you have good players and you recruit well and develop your athletes, that you're going to be able to build a good program. But the ability to execute, precision-like execution in all three phases of the game … that's the game I respect most about what they've been able to do.
"The names change, the rosters change, but the execution is the thing I see that remains the most constant," he added.
Delaware seeks to do something no program outside of the Missouri Valley Football Conference has done since CAA counterpart James Madison in the 2016 FCS Playoffs: beat the Bison. If the Fightin' Blue Hens can pull it off, it would be North Dakota State's first non-conference loss in the regular season since the 2015 opener.
A Whole Different Ballgame
When asked what Delaware needs to do differently against North Dakota State this time compared to their 2018 meeting, Rocco's answer sounds like it was read from a cartoonishly long scroll.
"We got pummeled up there last year, so ask me what we have to do different? We've got to do a whole lot of things differently, right?"
Going down Rocco's list of improvements needed reveals the difficulty of playing North Dakota State, as the Fightin' Blue Hens saw in a 38-10 loss.
"We've got to get some first downs."
#BLUEHENS WIN!! pic.twitter.com/sTewtO87oQ

— Delaware Football (@DelawareFB) September 8, 2019
Delaware moved the chains 11 times last year at the Fargodome, a byproduct of the Bison's stout and physical defense.
"We've got to control the ball."
Time of possession was 34:28 to 25:32 in favor of the Bison. Evaluating the program's scant few losses in recent years, opponents flipped that on its head. South Dakota State in 2017, for example, held possession for more than 35 minutes; in 2016, the Jackrabbits had a 32:23-to-27:37 edge in time of possession.
James Madison in the 2016 FCS Playoffs was an exception, but the Dukes replaced ball control with explosive plays. Those come rarely against the Bison, but are effective when available.
"We've got to get stops on defense … [and] force some punts."
Last season, Delaware did not force a punt until North Dakota State's fifth possession. The Bison punted just three times overall in the contest.
"We've got to get off to a fast start."
The Blue Hens rallied from a 13-0 halftime deficit to win last week's triple-overtime thriller at Rhode Island, but cannot afford to dig a similar hole this time around. Likewise, Delaware needed some time to get its offense going in Week 1's Route 1 Rivalry.
Pat Kehoe's Time To Shine
Veteran quarterback Pat Kehoe bided his time before earning the starting job in 2018. In his fifth and final season, Kehoe's shown off the lessons of his progression through the program. He's thrown seven touchdown passes through two games and was absolute dynamite in the clutch at Rhode Island.
Kehoe rides the momentum of his outstanding late-game performance in Week 2 against North Dakota State's lockdown defense. Bison teams thrive with aggressive blitz packages and physically battering opposing lines. This year, they come to Newark with a typically loaded front seven, including All-American linebacker Jabril Cox.
Your 2018 #MVFC Defensive Player of the Year -- @NDSUfootball LB Jabril Cox -- https://t.co/pTAaphoyJU pic.twitter.com/hzoUaUo8kz

— Valley Football (@ValleyFootball) November 21, 2018
Getting the ball out quickly is key to alleviating the pressure. Fortunately, the Delaware rotation of pass-catchers runs deep this season with Thyrick Pitts, Chichi Amachi, and Bryce De Maille all providing consistent targets through the first two games.
Running backs DeJoun Lee and Will Knight can catch effectively out of the backfield, which could be crucial for spreading out the field.
Slowing The Rush
Two games into the season, North Dakota State boasts the third-most prolific rushing attack in the FCS at 327 yards per game. The Bison's typically excellent offensive line this year features Zack Johnson paving the way for the program's usual power run game, but the addition of dynamic playmaker Trey Lance adds a new element.
Delaware entered into the 2019 season replacing several cornerstones of the 2018 defense, including do-everything linebacker Troy Reeder and NFL draftee Nasir Adderley. Opportunities have arisen for new leaders like second-year Blue Hens Johnny Buchanan and Justis Henley.
But with North Dakota State's punishing rush coming to town, Delaware defenders who can get into the backfield to emerge. Thus far in 2019, the Blue Hens have just four tackles for loss and one sack.