2019 Lehigh vs Villanova | CAA Football
No. 23 Villanova Enters Home Opener Rested & Riding High
No. 23 Villanova Enters Home Opener Rested & Riding High
Our season-long coverage of CAA football continues this week with No. 23 Villanova, who will take on Patriot League foe Lehigh in the Wildcats' home opener.
Sep 5, 2019
by Eugene Rapay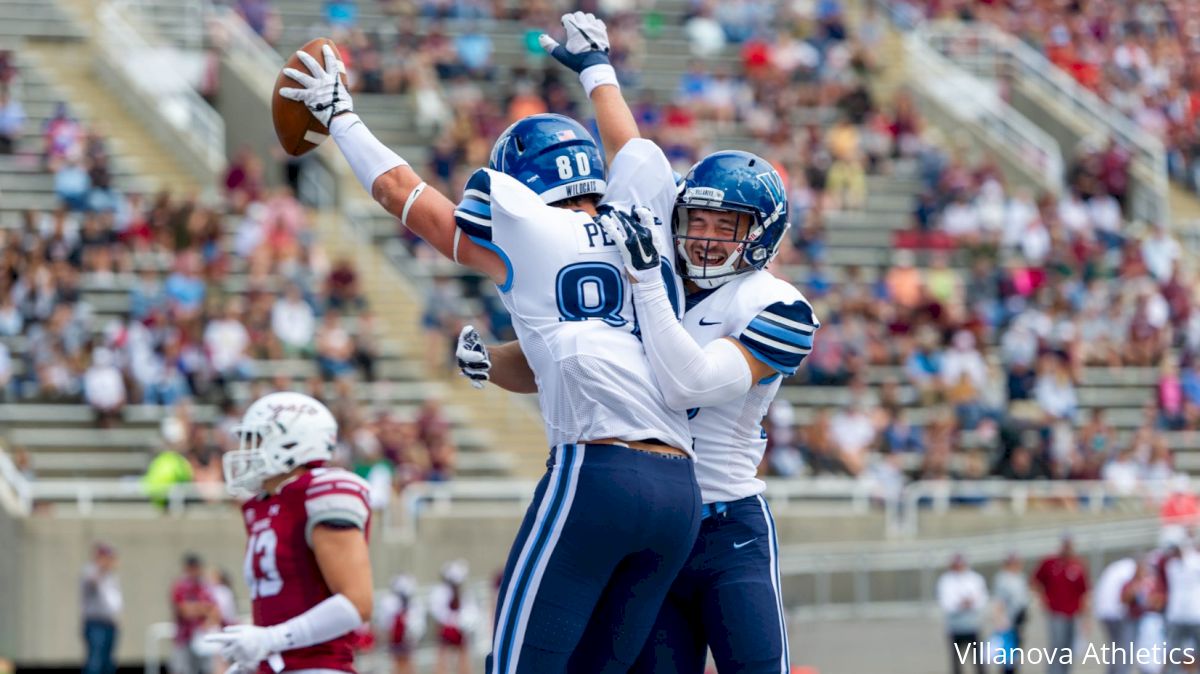 Our season-long coverage of CAA football continues this week with No. 23 Villanova, who will take on Patriot League foe Lehigh in the Wildcats' home opener.
---
Who: Lehigh (0-1) at Villanova (1-0)
When: Saturday, September 7, 6 p.m. ET
Where: Villanova, Pa., Villanova Stadium
Watch: Live on FloFootball
---
After dismantling then-ranked Colgate on the road, kicking off the first game in all of Division I football with a 34-14 victory, the Villanova Wildcats return to action after an early bye week.
Villanova re-enters the STATS FCS Top 25 polls in the upset win, coming in at No. 24 — the Wildcats' first appearance in the rankings since October 2018.
As for Lehigh, their first game didn't go as well. The Mountain Hawks had a 13-0 lead going into halftime, but a stagnant offensive performance in the second half allowed St. Francis (Pa.) to eventually take a 14-13 lead late in the fourth quarter. The Mountain Hawks had one last opportunity to salvage the game, but they missed the game-winning 40-yard field goal as time expired.
The Mountain Hawks will look to bounce back from the loss, and also hope to avoid coming close to repeating last season's 3-8 finish.
Four in a Row?
The Wildcats have dominated the series against their in-state foes. Villanova leads the all-time series over Lehigh 10-5, including victories in each of the last seven meetings with the Mountain Hawks dating back to 2007.
Saturday marks the fourth consecutive season in which the Wildcats and Mountain Hawks will battle it out on the gridiron. Villanova has beaten Lehigh in each of the last three seasons. Most recently, the 'Cats beat the Mountain Hawks on the road, 31-9.
However, the two meetings before that were much closer, with 'Nova winning 26-21 in 2016. Then, in 2017, there was a 38-35 shootout that ended in the Wildcats' favor once again.
While history is on the Wildcats' side, 'Nova has made a legitimate case to stretch that winning streak even further. Their solid all-around play against Colgate, outgaining the Raiders 444-288, proved that the blue and white won't be an easy opponent to face on both sides of the ball.
Pick Your Poison
Villanova has had some great playmakers at the linebacker position, and they continue to pump out quality talent year-in and year-out. Drew Wiley and Jaquan Amos were two of the already-established contributors at linebacker as returning starters, but co-captain Forrest Rhyne shined in his first-ever start against Colgate.
Known for his work ethic in practice and the weight room, Rhyne relished in his first opportunity to see extended action on the field, leading the 'Cats with a team-high eight tackles and a sack in the win over the Raiders.
The other two linebackers at his side, Wiley and Amos, also made their mark. Wiley, a preseason All-CAA selection, had a key sack in the game. Meanwhile, Amos — who was named the CAA Defensive Player of the Week — tallied six tackles and had a pick-six that helped spark a big-scoring second quarter for the 'Cats. This trio will look to help lead the Wildcat defense and pounce all over the Mountain Hawks on Saturday.
Back for More
Despite being a couple of the younger players on Villanova's roster last season and having to defer to the more experienced seniors at the time, running backs Justin Covington and Jalen Jackson actually had some of the biggest impacts on the ground game in last year's 31-9 win over Lehigh.
While a vast majority of the offensive players who logged any stats in the 2018 Villanova-Lehigh meeting have since graduated, Covington and Jackson were a couple of the lucky few that played in it and are back.
Covington, now a co-captain, scored his first and only touchdown so far against the Mountain Hawks last season. He didn't score any touchdowns in this year's win against Colgate, but he did have an impressive 134 rushing yards on 19 carries. He's bound to hit paydirt again soon.
As for Jackson, he had a team-high 69 rushing yards in last year's Lehigh game. Now a sophomore, that performance still stands as a personal-best in his young career. Like Covington, he'll look to add even more damage this year.