2019 Lehigh vs Villanova | CAA Football
No Need For Second Chance At First Impression For Nova's New-Look Offense
No Need For Second Chance At First Impression For Nova's New-Look Offense
Villanova's new-look offense, led by running back Justin Covington, soared in the Wildcats' season-opening upset of then-No. 14 Colgate.
Sep 5, 2019
by Eugene Rapay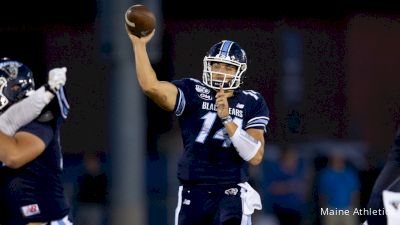 First impressions aren't always everything, but they surely mean a lot for an offense that has often taken a back seat within a program known for its hard-nosed defense.
Over the last couple of seasons, it's no secret that the Villanova Wildcats have stood out on the defensive side of the ball — between a second-round NFL draftee in defensive end Tanoh Kpassagnon, the sustained continuity of quality linebackers, and a swarm of playmakers in the secondary, the Wildcat defense has continued to operate without a hitch in recent years.
Although their physicality and toughness on defense resonated once again in the Wildcats' season opener against then No. 13-ranked Colgate, it was Villanova's new-look offense that left quite the impression.
Against another defensive-minded squad in Colgate, the Wildcats could not be stopped. Once they got into a groove, they marched up and down the field to the tune of 444 yards of total offense. It was a balanced effort, with 239 yards coming from the ground game and the remaining 205 through the air. Villanova scored 27 unanswered second-quarter points en route to a 34-14 lopsided victory over the Raiders.
Head coach Mark Ferrante hopes to see this kind of performance more often as the season unfolds.
"(The) team performed well, we do like the balance obviously," Ferrante said. "You always want to be able to have a run game so you can set up play-action and so on. We did have some shots downfield, which if you can loosen up some of the secondary people — safeties running the alley and so on — in the passing, then that can help the run game."
It was an important start for the Villanova offense. The Wildcats had a number of questions and uncertainties that could have only been answered with the season opener against Colgate. For a team that returned only four starters on offense going into the year, the Wildcats saw plenty of players rise to the occasion.
Daniel Smith was a prominent example. With a unique situation that featured seven different quarterbacks vying for the starting spot at the beginning of summer camp, Smith emerged as QB1, raising the anticipation behind finally seeing him in action on the gridiron. Although a newcomer to Villanova, he arrived as a grizzled veteran who had already achieved so much in three seasons at Campbell, where he holds numerous program records.
Once he settled in under center, it was clear why the graduate transfer had generated so much buzz at his former school. Smith threw for 205 yards and three touchdowns. He also added a touchdown on the ground. As the game unfolded, it felt like he was just getting even more comfortable in the pocket.
"He's done a really good job picking up the system. I think what has helped him to compete and earn that starting spot was bringing in OC Chris Boden," Ferrante said. "The terminology has changed, but the overall scheme and implementation — not so much. Everyone is starting and learning Chris' terminology...We felt that Dan picked things up and was a little further along after this summer. We gave him the nod, and we were very happy with his production."
It helped to have a variety of weapons to work with and many new Wildcats looking to contribute in a much bigger role.
Wide receiver Andrew Perez and running back Jalen Jackson, both sophomores, got to enjoy their first career receiving touchdowns. Zac Kerxton and Jevon Jones, a pair of players expected to be more involved in the wideout rotation, added a couple of receptions. Changa Hodge is a deep threat who will help the 'Cats strike from over the top. He reeled in a 45-yard touchdown pass on Colgate's All-American cornerback Abu Daramy-Swaray, beating the fifth-year senior downfield. Senior tight end Simon Bingelis had three catches for a team-high 58 receiving yards in the win, but overall, it was a balanced effort that had many different players catching a few passes here and there.
"They did really well," Ferrante said of his receivers. "We had a really good opportunity to spread the wealth a little bit. We don't have any guys coming back with crazy numbers, as far as stats from a year ago, or anything like that. With Dan coming in here, being a new quarterback, it's not like he has any guys he prefers or favorite targets. He's just trying to get his timing down with everybody. We're really excited that you're going to have to defend the field, as opposed to maybe focusing on a top guy here or there."
The success in the passing game certainly benefited from Villanova's ground game. Justin Covington filled in seamlessly as the lead running back after the graduation of Aaron Forbes, who was the Wildcats' top rusher in each of the last three seasons. Covington ran for 134 yards on 19 carries in the season opener. When Covington wasn't on the field, Jackson also contributed to the rushing attack, taking 11 carries for 64 yards.
"They're similar in some ways," Ferrante said of his two running backs. "They're strong on the field, very strong in the weight room. I'm not sure which one's faster, to be honest with you."
With all the yardage that Villanova was able to achieve, it would be remiss to not give credit to the offensive line. Like almost every single position in the Wildcat offense, there were plenty of gaps to fill after the graduation of key long-time starters. The Wildcats debuted three new starting offensive linemen — Colin Camroth, Nick Torres, and Kofi Appiah — who helped pave the way alongside returners Paul Grattan and M.J. Dumas.
Ferrante hopes to carry the momentum against Lehigh on Saturday, as well as the rest of the season. They also hope to avoid any of the plaguing injuries from the last couple of years. After a restful bye week, the 'Cats will have their home opener against the visiting Mountain Hawks.
Lehigh arrives at Villanova fresh off of a loss to St. Francis (Pa.). The Mountain Hawks lost 14-13 after a series of unfortunate events that included wasting a 13-0 lead to start and missing the game-winning field goal in the closing seconds of the game.
"They're going to come in here hungry," Ferrante said of Lehigh. "They're going to want to go out and put a better performance on the field than they did last week. We've played them a few years in a row now, so it's always going to be a highly-contested game, you just gotta go out there, hopefully play a cleaner game with fewer mistakes and fewer turnovers, and hopefully fewer penalties as well."