2019 Maine vs Sacred Heart | CAA Football
Confident Chris Ferguson Elevates Maine Offense
Confident Chris Ferguson Elevates Maine Offense
Maine quarterback Chris Ferguson exploded on Saturday, throwing for 423 yards — 404 yards in the first half alone — during a victory over Sacred Heart.
Sep 3, 2019
by Roger Brown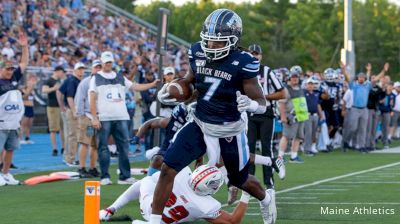 During CAA media day last month, University of Maine coach Nick Charlton said he thought junior quarterback Chris Ferguson might take his game to another level this season. Based on Ferguson's Week 1 performance, it looks like Charlton's assessment was on the mark.
Ferguson, in his third season as Maine's starting QB, was named the CAA's Offensive Player of the Week after he completed 23 of 29 passes for a career-high 423 yards and three touchdowns in Maine's 42-14 season-opening victory over Sacred Heart.
Ferguson, who left the game late in the third quarter, completed his first 11 passes for 270 yards and had 404 yards through the air by halftime. His 423 passing yards were the most by a Maine quarterback since 2009.
ICYMI - Ferg finds fellow captain Jaquan Blair for Maine's sixth TD of the half! Maine tallied 42 points in the first half, its most points in a quarter since also scoring 42 against Jacksonville State in last year's NCAA Second Round playoff game#BlackBearNation | #Elevate pic.twitter.com/DAMBdRF8aQ

— Maine Football (@BlackBearsFB) August 30, 2019
"Chris played at a very, very high level," Charlton said. "At the end of the day he's trying to take another step as a player and I thought it was a good start to the season for him.
"I said in the offseason we have an elite defense that's trying to go from being elite to being the best in the country, and we have a solid offense that's trying to be elite. And (against Sacred Heart) there were some points where I think we reached that. And that starts at the quarterback position."
Marcus Wasilewski, who passed for 409 yards during a 35-14 victory over Villanova in 2012, was the last Maine quarterback to throw for at least 400 yards in a game.
"I think we had a good week of prep," Ferguson said. "I (saw) everything that we prepared for. Obviously the game plan was really good because everything we called worked out. I had guys open. The offensive line … I don't think I got touched once, so they did an unbelievable job. Wide receivers were patient, they did what they had to do and they made plays. Credit them. Obviously the running backs opening up the run game makes it easier to throw. It was a good night."
Ferguson's touchdown passes went to Earnest Edwards (8 yards), Devin Young (10 yards) and Jaquan Blair (14 yards). Blair finished the game with seven receptions for 140 yards, Young caught four passes for 104 yards and Edwards made three catches for 84 yards. In addition, Andre Miller had five receptions for 53 yards.
Maine, the 2018 CAA champion, scored on each of its six first-half possessions.
ICYMI: The Maine offense exploded for 582 total yards in its season opener. The total yards were the most by the Black Bears since 2013 and also marked just the 7th time in 7 seasons in which Maine has bested 500 yards in a single game.#BlackBearNation | #Elevate | #CAAFB pic.twitter.com/fqO1fHW5ht

— Maine Football (@BlackBearsFB) September 3, 2019
"Ferg puts the ball in a position where only we can make the play," Blair said. "We go out there and compete and make plays whenever we can. ... I think the UMaine community knows what Top Flight (Ferguson) can do and what he brings to the table."
Ferguson, a Fort Washington, Pa., resident, redshirted the 2016 season but started 10 games in 2017, when he completed 171 of 313 passes for 2,064 yards and 16 touchdowns. He ranked fourth among CAA quarterbacks in both passing yards per game (206.4) and yards per completion (12.1) that season.
Last season Ferguson started 12 games -- he missed two games with a shoulder injury -- and ranked second among CAA players in passing yards (2,372), third in completions (209), second in passing touchdowns (22) and fifth in passing yards per game (197.7). His 2,372 yards passing ranks ninth on Maine single-season all-time list.
The Black Bears finished the 2018 season with a 10-4 record and reached the FCS semifinals for the first time in the program's history. Ferguson was selected as one of Maine's four captains this year.
"His confidence has grown tremendously (since last season)," Blair said. "His technique, he's basically just reading defenses faster. Where to put the ball precisely. What coverages they're running -- stuff like that. He's just a better leader. At the end of the day you need your quarterback to be able to lead. Not just the offense, but the team."