2019 Freedom Bowl
Ashford Leads Hoover Into Freedom Bowl With A Healthy Chip On His Shoulder
Ashford Leads Hoover Into Freedom Bowl With A Healthy Chip On His Shoulder
Hoover quarterback Robby Ashford thew and caught a touchdown during Friday's 'upset' victory over No. 13 Central-Phenix City.
Aug 26, 2019
by Kolby Paxton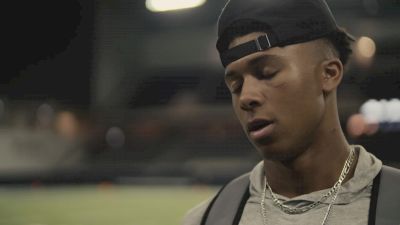 As it turns out, rumors of Hoover's demise were greatly exaggerated.
The perennial powerhouse opened the 2019 season unranked, despite a bevy of talent returning from last year's highly-regarded group—among them, Alabama's top-ranked quarterback prospect, Robby Ashford.
Watch No. 19 Hoover (AL) vs. Cocoa in the 2019 Freedom Bowl LIVE on FloFootball
Nonetheless, the Buccaneers did not appear in anyone's preseason Top 25. Not USA Today. Not MaxPreps. The slight—be it perceived or otherwise—likely the remnants of an ultra rare four-loss '18 season that ultimately fell apart when Thompson's Taulia Tagovailoa erased an 11-point deficit over the final six minutes to hand the Bucs a final defeat in the Class 7A state semifinals.
A program as tradition-rich as Hoover could have simply brushed last season aside as an aberration. Safe to say that did not happen, however.
"We had that game in the bag and we gave it away," said Ashford. "My heart was crushed into a million pieces. I couldn't stop crying. We were talented enough to win state and we just gave it away."
Ashford had that to say in July. Eight months later. At The Opening of all places, where the top high school players in the country could not be more detached from their high school teams. Even then, the emotion was raw.
On Friday in Montgomery, Ala., Ashford, and the Bucs made it clear to No. 13 Central-Phenix City (AL) and the rest of the country: They've not forgotten what it felt like to watch Tagovailoa rip their hearts out—and they have no intention of feeling that way again.
"Playing with a chip on our shoulder has been a big motto of ours," said Ashford. "When we play anybody, they see that 'Hoover' across our chest, they're going to give us their best game. We just have to always come out and play our best game and do what we know how to do and everything will fall into place for us."
Everything did, indeed, fall into place against Central, as Ashford threw and caught second-half touchdowns before engineering a 90-yard drive that resulted in a 30-yard game-winning field goal off the foot of Constantine Hontzas.
Some trickeration gets Hoover on the board. Robby Ashford catches the 8-yard touchdown pass. Central's lead over Hoover down to 14-7 5:35 3Q pic.twitter.com/Djn0gTTzB3

— OA News Preps (@oanewspreps) August 24, 2019
Just as Tagovailoa stunned Hoover eight months ago, Ashford stunned Central, leading the Bucs to 17 unanswered points to erase a 14-point deficit and vault the program back into the national consciousness.
Just don't expect him to bask in the glory for any length of time.
"The goal is to win state because that's what we're used to doing," he said. "We finish the year at Auburn. We're going to do whatever it takes to get back there."
Frankly, that's what it means to play for Hoover. And that's damn sure what it means to quarterback for Hoover. Ashford understands that.
"[Playing for Hoover] is a big task," he said. "We're the biggest in the state, with the most tradition. And every day we come out to work. We work harder than any team in the country—and we have some of the best coaches in the nation.
"Wearing the Hoover across my chest has been a blessing."
Next up for Ashford and the Bucs is a trip to Milton, Ga., where they will be one of the headliners of the 2019 Freedom Bowl.
"Playing in the Freedom Bowl means a lot to me. I watched it last year," Ashford said. "The tradition of it and what it means … getting to play for a great cause definitely means something to me."
The Bucs will meet Caziah Holmes and Cocoa (FL) on Saturday at 8:30 PM ET. The game will be broadcast LIVE on FloFootball.com and the FloSports app.