2019 Freedom Bowl
Living Legend Terry Curtis Leads UMS-Wright Into Freedom Bowl
Living Legend Terry Curtis Leads UMS-Wright Into Freedom Bowl
UMS-Wright has won seven state titles in the last 20 years and the common thread in those championship seasons is Terry Curtis.
Aug 24, 2019
by Roger Brown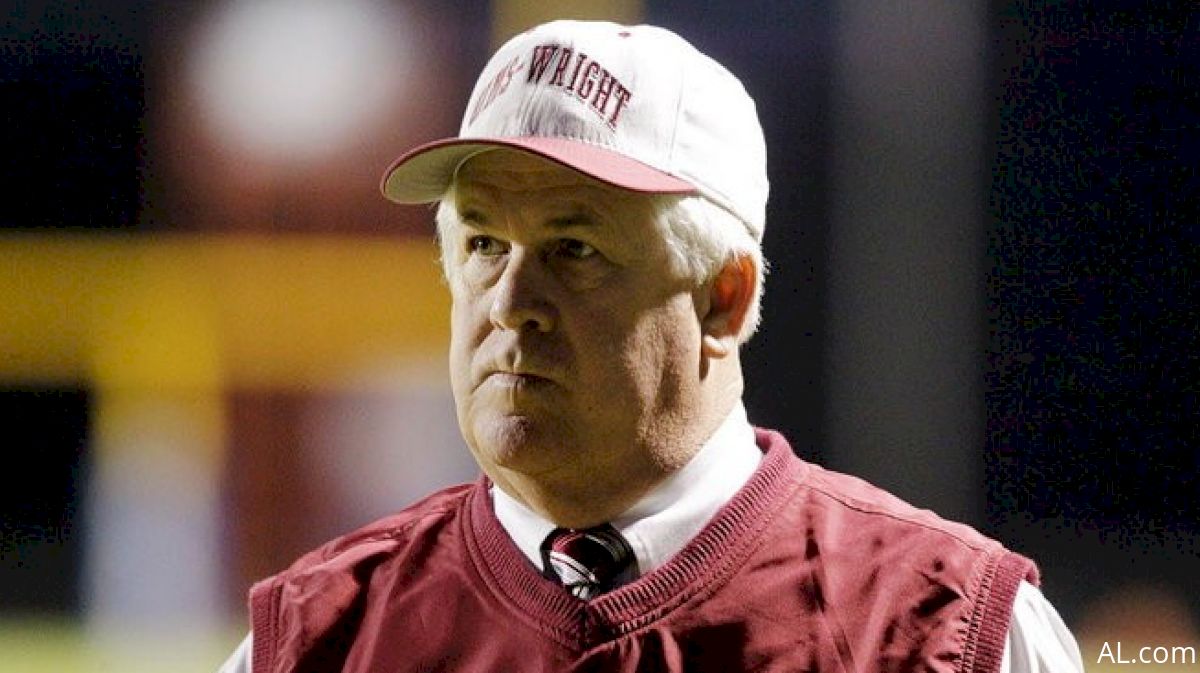 If you want to know what sustained success looks like, then turn your attention to Terry Curtis.
The UMS-Wright football program has won seven state titles in the last 20 years and the common thread in those championship seasons is Curtis, who is now in his 21st season as the program's head coach. He has guided UMS-Wright to 226 victories during his first 20 seasons.
Curtis entered the 2019 season with a 303-85 record in 30 seasons as a head coach at three Alabama high schools. His teams are 70-20 in the playoffs and have won at least 10 games 17 times.
The Bulldogs will be seeking their third consecutive 4A state championship this season.
"I think it's a combination of great assistant coaches and trusting people — trusting kids," Curtis said when asked about the program's level of success. "Our whole deal here is a family kind of atmosphere. The parents are very involved in everything we do and the kids feed off that. We really try to keep our day-to-day stuff consistent. We just take it one day at a time. Our practices … we don't even have to do a practice schedule. They know what we're going to do on Monday, Tuesday, Wednesday, Thursday, and all of our stuff on offense and defense — we stay within the confines of what we can do and our kids buy into it.
"They were 3-7 the year before I came (to UMS-Wright). It took probably a year or two to get the culture right and so forth. We've always played with good kids — and smart kids — and try to get them in the right positions. I do know that blocking and tackling and being well-coached still wins football games."
The Bulldogs extended their win streak to 20 games with an 18-13 victory over rival St. Paul's on Friday. UMS-Wright's schedule includes an Aug. 31 matchup against Western High School — a Class 8A program from Davie, Fla. — at the Freedom Bowl in Alpharetta, Ga.
The Freedom Bowl is a three-day event that features six games between some of the nation's top high school programs. All games will be played at Milton (Ga.) High School and can be seen live on FloFootball.com.
This year's other Freedom Bowl matchups:
Aug. 29
Alpharetta (Ga.) vs. Milton (Ga.)
Aug. 30
Pickerington Central (Ohio) vs. Winter Park (Fla.)
Cocoa (Fla.) vs. Hoover (Ala.)
Aug. 31
Bishop Sycamore (Ohio) vs. Daytona Mainland (Fla.)
Clearwater Central Catholic (Fla.) vs Brentwood Academy (Tenn.)
Watch the Freedom Bowl LIVE on FloFootball
"We've been pretty successful over a long period of time and it really never appealed to me of going that far and doing something like that (playing in the Freedom Bowl), but this past year for the first time we only had nine (regular-season) games," Curtis said. "We couldn't get anybody to play us, and I didn't like that. So when they reached out to us this past year I said, 'Let's do it.' I stepped in and decided to give it a try.
"They put us against a much bigger school," Curtis continued. "There will be a lot more of them than us and they'll have a lot more size, but other than that it'll be OK. Every week we play against teams bigger than us, so that doesn't really bother them that much. We'll go up there and play and see what happens."
The Bulldogs returned several key players from a team that finished 14-0 last season and held their opponents to 58 points in those 14 games. The returnees include running back Symon Smith, wide receiver Keyshawn Woodyard, safety Edwin White, and linebacker Will Breland. Woodyard was the MVP of last year's 4A championship game, where UMS-Wright defeated Deshler 52-0. He caught nine passes for 128 yards and four touchdowns in that victory.
Curtis, who played baseball at Auburn, also served as the head coach at Shaw High School in Mobile for four years (31 victories), and at Murphy High School in Mobile — his alma mater — for six seasons (46 victories). His teams have qualified for the playoffs in 27 of his 30 seasons.
UMS-Wright assistant coach Gerald Jones, who has coached with Curtis for more than 20 years, had this to say when he was asked to explain Curtis' success:
"He demands excellence," Jones told Al.com during last year's playoff run. "That's his magic. If you do it wrong, we do it again. You have to do everything right on the field, at practice and in the classroom. He has never changed. He simplifies everything down for the kids, and we practice the same way and just repeat, repeat, repeat until it is done right."
Curtis said he hasn't changed much over the years, other than the fact that he now allows music at practice.
"They (the players) pick it sometimes, but it's pretty good stuff," he said. "A lot of 'em like country music, so we play a lot of that. I let 'em play a little rap every now and then, but not a whole lot. One day they had all rap and I said, 'Nope. We ain't going that route.'
"We're still old school in a lot of our ways. It'd be one thing if we were going 2-8 or 3-7 or 1-9 — they'd be saying the game's passed him by — but here we are, I'm 68 years old, and we've won back-to-back state championships and neither game was close.
"I've always been a guy who likes to run from the I-formation. Now we do a lot of the H-back stuff, but a lot of it is based off our I principles. We just give them a lot of what we call 'eye candy' where we do more motioning and that sort of thing, but really we pretty much run the same plays we've always run. We're just trying to put our players — offensive and defensive — in position to make plays. That's the key to the whole thing is putting your playmakers in places they can excel."
How many victories will Curtis have when he decides to retire? Hard to say, since he doesn't seem to have any intention of giving up coaching anytime soon.
He did say that when he steps down he hopes it will be on his terms.
"As long as my health is good it will probably have a lot to do with my grandkids," Curtis said. "I have one who's 7, and one who's 10. They live in North Carolina. My wife and I get to keep them for two or three weeks in the summer and it gets harder and harder to give them back.
"I still love the scheming. I still love the preparing. I still like the practices, even as hot as it is. And I still like the weekend work. I play a little bit of golf, fish a little bit, but nothing that's a passion. My passion is coaching."