2019 Freedom Bowl
The 7 Best Uncommitted Players At The Freedom Bowl
The 7 Best Uncommitted Players At The Freedom Bowl
Check out the seven best players who will be in action at the Freedom Bowl who are still uncommitted.
Aug 23, 2019
by Kyle Bratke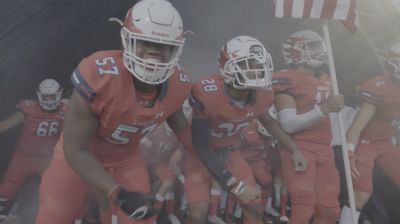 Nearly 20 three-star and above prospects will be on display this weekend at the Freedom Bowl, and while the majority of them are committed, there remains plenty of talent still looking for the school they will play for at the next level.
WATCH THE FREEDOM BOWL LIVE AUG. 29-31
James Williams, Western (FL), Safety | ⭐️⭐️⭐️⭐️⭐️
Ranked as the number four overall player in the class of 2021, Williams can do it all. The American Heritage transfer can play close to the line of scrimmage and stop the run or drop in coverage and become a ball hawk. At 6'4, Williams towers over the competition and flies around the field.
Offers: Alabama, Clemson, Florida, Florida State, Georgia, LSU, Miami (FL), Michigan, Ohio State, Oregon, Tennessee, and many more. WATCH HIGHLIGHTS
---
Lorenzo Styles Jr, Pickerington Central (OH), WR | ⭐️⭐️⭐️⭐️
The four-star wideout from the class of 2021 does a little bit of everything for Pickerington Central. Styles is the Tigers top receiving target, plays corner, and also returns punts and kicks on occasion. The junior wideout is a burner who ran a 4.43 40-yard dash at Notre Dame's Elite Skills Camp last June.
Offers: Auburn, Notre Dame, Ohio State. Styles has many more offers but recently said that those schools are his top three.
---
Eli Sutton, Brentwood Academy (TN), Tackle | ⭐️⭐️⭐️⭐️
The tackle anchors the offensive line for a Brentwood Academy team that has won four straight Tennessee state titles. Sutton is an elite talent that currently holds over 15 power five offers before playing a snap as a junior.
Offers: Arkansas, Florida, LSU, Miami (FL), Michigan, Nebraska, Tennessee, Texas A&M, and more.
---
Noah Josey, Brentwood Academy (TN), Guard | ⭐️⭐️⭐️
One elite lineman is enough to make your line one of the best in the state. Two elite offensive linemen and you have one of the best lines in the country. Josey is a big 6'5 junior guard who consistently overpowers defenders before finishing them with a pancake block. He could be a candidate to pick up a few more stars over the next two years.
Offers: Alabama, Auburn, Georgia, LSU, Michigan, Penn State, and of course a lot more. WATCH HIGHLIGHTS
---
Demeatric Crenshaw, Pickerington Central (OH), QB | ⭐️⭐️⭐️
Despite being listed as a dual-threat quarterback, Demeatric Crenshaw wants to beat you with his arm first. The three-star prospect does an outstanding job of extending plays and keeping his eyes downfield to turn nothing into something. Crenshaw becomes a much bigger threat on the ground when the Tigers enter the red zone.
Offers: Boston College, Cincinnati, Indiana, Kentucky, Louisville.
---
Jaden Slocum, Alpharetta (GA), Safety | ⭐️⭐️⭐️
The junior safety is the definition of the playmaker. While he stars in the defensive backfield, Slocum is comfortable lining up at wide receiver and is a serious deep threat when he does. Slocum's strength is in coverage and he does a great job playing the ball in the air. As just a sophomore, he picked off four passes.
Offers: Colorado, Florida, Georgia, Georgia Tech, Tennesse, and plenty of others. WATCH HIGHLIGHTS
---
Devyn Curtis, Brentwood Academy (TN), ILB | ⭐️⭐️⭐️
To say the senior linebacker has a nose for the football might be an understatement. As a junior, Curtis racked up 115 tackles, 15 for a loss, and recorded 9 sacks. No matter where the ball is on the field Curtis finds his way there in a hurry.
Offers: Kentucky, Mississippi State, Nebraska, South Carolina, Vanderbilt, Virginia. WATCH HIGHLIGHTS