Ricky Santos Is Back Home In New Hampshire's Quarterback Room
Ricky Santos Is Back Home In New Hampshire's Quarterback Room
Former New Hampshire quarterback Ricky Santos has returned to UNH to lead the team's signal callers into 2019.
Aug 20, 2019
by Roger Brown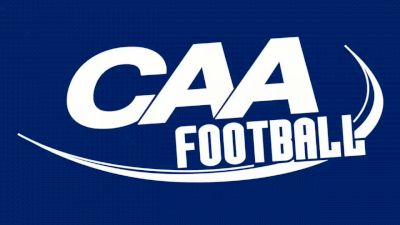 Only the most ardent University of New Hampshire football fans gave the Wildcats a chance to be competitive in their 2004 game at Rutgers. Even that group became less optimistic when it was announced that UNH starting quarterback Mike Granieri would miss the Rutgers game with a knee injury suffered a week earlier against Delaware.
UNH had never defeated an FBS opponent (Division I-A back then), and Rutgers was coming off a 19-14 victory over Michigan State. What happened that night changed the course of UNH football, however.
Quarterback Ricky Santos, a redshirt freshman, passed for 385 yards and five touchdowns—a school record at the time—to help UNH pull off the upset, 35-24. Santos was nearly flawless in that game. He completed 30 of 40 passes and was intercepted once.
One week earlier Santos entered the game after Granieri was injured and directed UNH to a 24-21 triumph over Delaware, a program that won the FCS (I-AA) championship the previous season. Santos completed 10 of 11 passes for 146 yards in that victory.
UNH made the first of 14 straight FCS playoff appearances that season.
"The Rutgers game—the first start is something that always sticks out to me," Santos said when he was asked to reflect on his college playing career. "Just being so naive and not understanding how big the moment was and then being able to play well in that game and helping our team win.
"The playoff victories and starting that playoff streak is something I hold dear to my heart. The 14 years stopped last year, but to be a part of those first four years and to kind of start that tradition of excellence and to be a part of a team and a program that kind of got us to be nationally recognized … that's probably the second thing that's really special to me."
In 2006, his junior season, Santos received the Walter Payton Award as the top player at the FCS level (it's now awarded to the top offensive player). When his senior season ended he ranked third among FCS players in career passing yards (13,212) and career touchdown passes (123). He was inducted into the UNH Hall of Fame in 2016 and is one of four former UNH players to have his number (No. 2) retired.
Santos, 35, returned to UNH in March, when he was hired as UNH's associate head coach/quarterbacks coach. He spent the past three seasons as the QB coach at Columbia.
"It came about because it was an opportunity for us to be able to plug him in as the associate head coach, but more importantly he was a guy we wanted to get back," said UNH coach Sean McDonnell, who was the head coach when Santos played at UNH. "Keith LaVan, who was coaching the quarterbacks, was still living away from here in Waltham (Mass.) and the commute was killing him, so the job opened up and it was the first call I made and the first call he made when it happened. He said, 'Coach, I want to get back there again.'
"It was a good fit for both of us. Excited about him. I know the quarterbacks are excited about having him coach them. He's a very good teacher, a very good coach. More important he's a demanding teacher and a demanding coach, and you need that at that position especially with young guys."
This is the second time Santos has been a part of the UNH coaching staff. He was the program's wide receivers' coach from 2013 to 2015. If you want to get technical it's his third stint on the staff, since he was hired as an assistant coach last year but backed out of the job one day after he accepted it.
"It was a family dynamic," Santos explained. "My wife and I were getting ready to have our first daughter. I wanted to come and actually accepted the position for about a day and then it just didn't work out. I was a little nervous that I might not have that opportunity to come back. I thought my window was going to be gone, and it was almost serendipitous that I had an opportunity a year later."
Santos' primary task this summer? Find the next Ricky Santos, or at least a reasonable facsimile.
Trevor Knight, the team's starting QB last season, graduated, and backup Christian Lupoli transferred to Division II New Haven, leaving the Wildcats with very little experience at quarterback. Sophomore Tommy Herion, redshirt freshman Bret Edwards and true freshman Max Brosmer appear to be the three quarterbacks competing for the starting job.
Herion, a transfer from the University of Iowa, is the only one of the three with game experience at the college level. He completed 23 of 52 passes for 284 yards (two interceptions) last season; Edwards didn't take any snaps as a true freshman; and Brosmer joined the program in January after passing for 3,549 yards and 31 touchdowns as a senior at Centennial High School in Roswell, Ga.
"Right now we have a three-man quarterback battle," Santos said. "Max Brosmer and Bret Edwards are taking the snaps with the ones and twos—they're switching on a daily basis. Tommy Herion has been taking the third reps. I think each one of them brings something different to the table.
"Max is a young kid who has a really, really high football IQ. He came in in January, so he's already had spring ball under his belt. He processes information very fast. Quick release. Understands defenses and where we want the ball. Those things are very, very encouraging with him. We just need him to take the next step and get a little more vocal as a leader.
Should the Rams opt to add a dimension to the offense from the quarterback spot, it may be Edwards who has the requisite skillset. Meanwhile, Herion brings the experience.
"I think a guy like Bret Edwards has maybe a little more of what we want in terms of a dual threat. Really good athlete," Santos said. "Can make plays with his feet. Isn't seeing the field as clean now, but I think he has elite upside and a lot of things that we're very, very encouraged with.
"Tommy, just because he's taking reps with the threes, we don't look at him like that. It's just that we're trying to get the young guys involved and up to speed quicker. He's the only one in the group that really has game experience, so he's someone we can lean on if we need him as well."
Santos will ultimately make the decision based on ball control, but that won't be the only differentiator.
"The first thing is I want a guy who's accurate and understands where the ball needs to go. We're throwing a lot of stuff at this guys. We practice really, really fast. That's (McDonnell's) big philosophy. We're gonna play at a frenetic pace so the game's slowed down, so within that I want a guy who can move the chains, can make his teammates better. If they don't know what they're doing, find a way.
"And then the next thing is we need guys who are mentally tough out there. Football is a game where adversity is going to set in. We all know that. Something is gonna happen where it's not going to go our way, whether it's in practice or a game. Can they bounce back from that? Can they be somebody who inspires hope in their teammates. I want leaders and I need these guys to emerge a little more at those things."
Santos was not drafted, but signed as a free agent with the Kansas City Chiefs and ended up playing in the Canadian Football League for four seasons, mostly in a backup role with the Montreal Alouettes.
His current title, at least the "associate head coach" part of it, has many assuming Santos is being groomed to become the program's head coach when McDonnell retires. Dick Umile played hockey at UNH and had a successful career as the school's men's hockey coach. When he stepped down UNH athletic director Marty Scarano hired Mike Souza—one of Umile's former players—to take over as head coach. Like Umile, McDonnell graduated from UNH, and since Santos is one of McDonnell's former players, a familiar blueprint could be followed.
Santos made it clear his goal is to become a college head coach.
"Absolutely it is," he said. "I'm like a sponge. Every second I get around Coach Mac now I'm trying to learn from him and trying to embody some of the stuff he does. Hopefully somebody will have that faith in me that I can run and lead a program. I'm working every day to hopefully take over here."
Santos was planning on becoming a teacher and coaching at the high school level when his playing days ended, but McDonnell talked him into giving college coaching a try. That conversation took place at a UNH men's basketball game when Santos came back to visit the campus in 2013. That's how he entered the coaching profession as UNH's wide receivers coach.
Now he's back at UNH in a bigger coaching role and, unlike the days leading up to that Rutgers game, optimism is everywhere.
"I'm very close with coach LeVan," Santos said. "He gave me a call a couple weeks before he left and let me know what was happening, so I had already made up my mind about what I wanted to talk to coach (McDonnell) about. I approached him and said, 'Listen, I know it didn't work out a year ago, but I'm in a better place now. This is where I want to be. I want to come here and help forge this program forward and build on some stuff we've done in the past.'"