Arthur Moats Left A Lasting Legacy At James Madison, Beyond
Arthur Moats Left A Lasting Legacy At James Madison, Beyond
James Madison's Arthur Moats became one of the program's greatest players of all-time on his way to an impactful career in the NFL.
Jul 3, 2019
by Kyle Kensing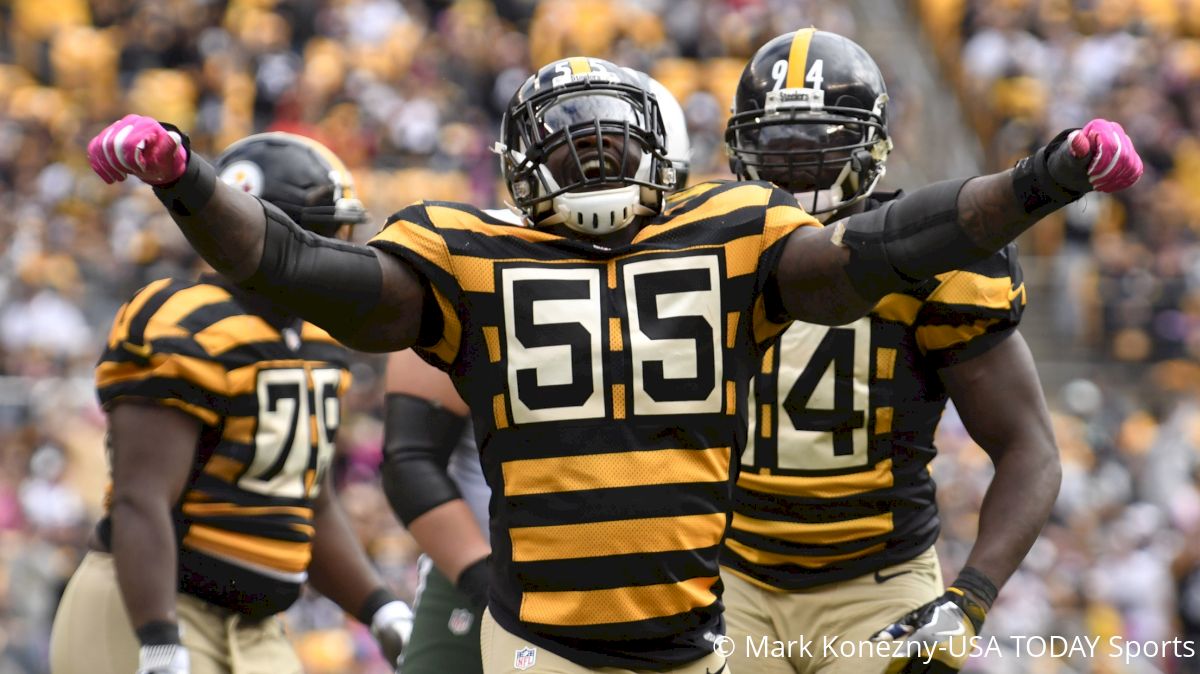 Arthur Moats was just a few months into his NFL career when the linebacker etched his name into the league's history forever.
Racing past a would-be blocker, as he had countless times before, Moats barreled down on future Hall of Fame quarterback Brett Favre. The thunderous tackle Moats unloaded sent the football arching weakly out of Favre's hands, and into Buffalo Bills teammate Drayton Florence's waiting arms.
The hit in December 2010 marked the final play of Favre's pro career. The play unofficially launched the James Madison product Moats on an almost decade-long NFL tenure, which ended with his announced retirement in June.
"The way he played the game, he didn't care if it was Brett Favre or whoever, he was going to tackle him," said Mickey Matthews, winner of the 2004 NCAA national championship and Moats' coach at James Madison from 2006 through 2009.
The statistics from Moats' time donning Dukes purple-and-gold bear Matthews' sentiment. He made 218 tackles in his four seasons at James Madison, increasing his output each year and taking significant strides as a junior and senior.
Moats' 2009 was otherworldly: 90 tackles, an almost unheard-of number for a defensive end, with 23.5 of them going for loss; 11 sacks; and a bevy of accolades.
His highlight-reel play against the Minnesota Vikings came almost a year to the day after he earned the Buck Buchanan Award, given to the best defender in the Football Championship Subdivision. He also earned Colonial Athletic Association Defensive Player of the Year.
With Arthur Moats announcing his retirement today, here are all 11.5 of his sacks as a Steeler. #DontCrossTheMoats pic.twitter.com/lts75ZWAVM

— Alex Kozora (@Alex_Kozora) June 10, 2019
From the overflowing trophy case, to his lengthy NFL stint—mostly with the Buffalo Bills and Pittsburgh Steelers—Matthews said he could see the foundation for such success scouting the traditionally undersized defensive at Portsmouth's Churchland High School.
"Arthur was easily one of the biggest [recruiting projection] mistakes in Virginia high school football history," Matthews said. "He easily was an ACC [caliber] player … We knew when we had him in summer camp that he had tremendous ability.
"The problem at the time was that he wasn't 6-foot-3, so the big-time programs stayed away from him," he continued. "But it was never a doubt in any of our minds that he was going to be an NFL player."
The James Madison coaching staff's collective foresight proved accurate. Moats called it a career with 202 tackles, 16.5 sacks, four forced fumbles and 38 quarterback hits—including the Favre tackle in 2010.
Along the way, he helped the Pittsburgh Steelers to four consecutive NFL Playoffs appearances. He was especially dynamic in 2015, making 11 starts and matching a career-high set a season prior with four sacks.
Matthews hypothesized Moats could have put up gaudier numbers playing defensive end, as he had at James Madison, rather than outside linebacker in 4-3 base sets. Regardless his position, Moats carved out a solid career that defied any recruiting projections.
The lasting impact of his pro football career, however, is reflected in James Madison—one of the beneficiaries of Moats' philanthropic efforts.
During his standout 2015 campaign with the Steelers, and after receiving the largest contract and signing bonus of his professional career, Moats donated $300,000 to JMU.
"The family's gift to the university was unique because it benefitted both athletics and academics and speaks [to] the holistic experience that we promote," James Madison athletic director Jeff Bourne said in an email.
In 2017, Moats gave again to the university in a more unique way: as the commencement speaker at graduation.
Being tabbed as a commencement speaker is a high honor; doing so as a young alumnus is an honor particularly indicative of someone who is "a model representative and ambassador" of a university, as Moats was from the moment "he stepped on campus as a freshman," per Bourne.
Much like his place in the NFL, Moats' dedication to his university does not surprise Matthews. The former James Madison head coach shared an anecdote from Moats' recruitment.
After a Churchland High wrestling meet, Matthews said Moats was eager to cut a conversation short. The coach said, with other FCS programs and FBS coaches taking notice, he worried the prospect was antsy because his focus was elsewhere.
And it was—but not football. Moats had to clock into his job at a restaurant.
"How many heavily recruited [players] ... go to work at Wendy's? But he just had a great work ethic," Matthews said. "He's a man's man."