Maine's 30-Year-Old Head Coach Looks To 'Elevate The Standard' In '19
Maine's 30-Year-Old Head Coach Looks To 'Elevate The Standard' In '19
Nick Charlton, the youngest head coach in NCAA Division I, is set to lead a Maine program that is navigating lofty expectations in 2019.
May 28, 2019
by Kyle Kensing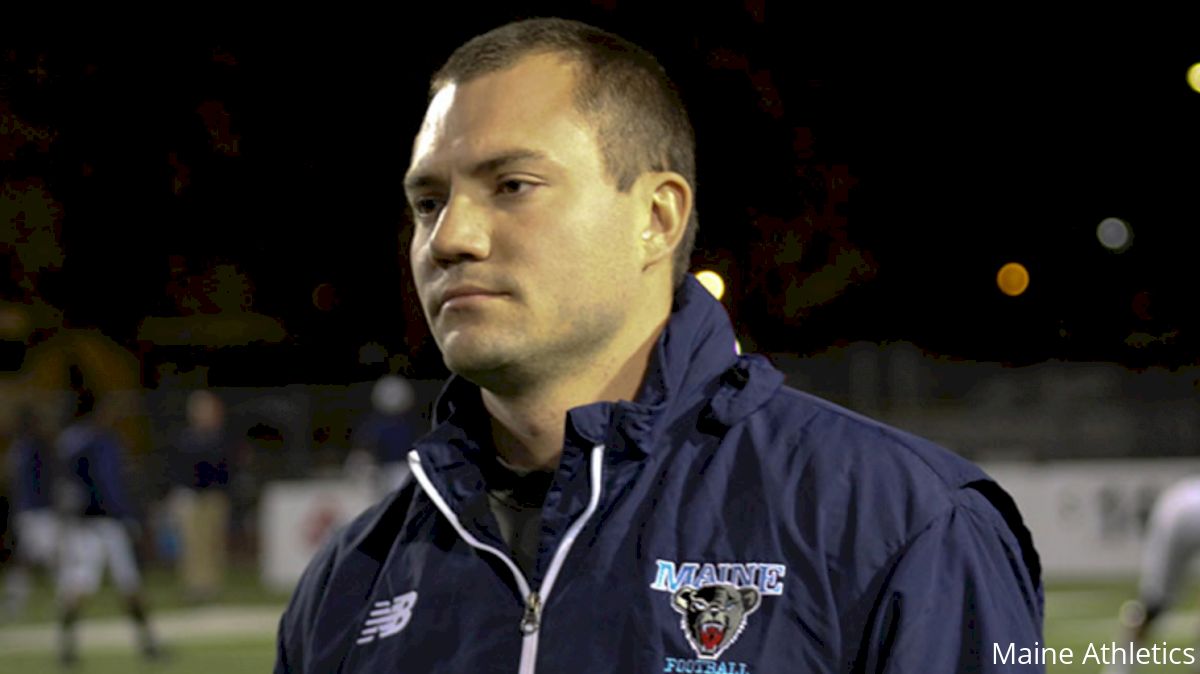 On Dec. 20, Nick Charlton reached a major life milestone—and had an especially relatable thought for anyone who has celebrated a 30th birthday.
"I'm still young, even though I feel a little old now that I'm 30," Charlton said with a chuckle.
A day later, Charlton celebrated another landmark life moment when the University of Maine athletic department promoted him from offensive coordinator to head football coach. In 2019, he take the helm of the defending Colonial Athletic Association champion Black Bears as the youngest head coach in NCAA Division I.
At another program, a youthful sideline general might make for a jarring transition. Not at Maine. Charlton replaces Joe Harasymiak, who was 29 when he accepted the program's head-coaching vacancy ahead of the 2016 season. Harasymiak turned 30 less than three months before the season opener.
By the time he was 32, Harasymiak coached Maine to a surprise CAA championship, 10 wins and a run to the FCS semifinals. Coordinating the Black Bears offense during that magical 2018 was a 29-year-old Charlton, in his fourth season as an assistant at Maine after working as a graduate assistant at Boston College.
"You always prepare the best you can for the highest job you can achieve," Charlton said when asked if he, during those GA days on Steve Addazio's BC staff, envisioned heading up a Div. I program so early in his career. "Ever since I was a grad assistant, my biggest thing was making sure I was always moving forward and progressing."
? - 2018:
? - NCAA Semifinalists
? - CAA Champions
? - No. 4/5 National Ranking
? - FBS Victory Over Western Kentucky
? - 5-0 Mark at Home
? - 12 All-Conference Accolades

and we're just getting started ... #Elevate The Standard#BlackBearNation | #Elevate19 | #CAAFB pic.twitter.com/amjAUnnRqp

— Maine Football (@BlackBearsFB) May 9, 2019
Charlton's moved forward, alright—and he's done so about as fast as Black Bears wide receiver Earnest Edwards moves returning a kickoff. He progressed from wide receivers coach in 2015, under then-23-year head Black Bear Jack Cosgrove, to special teams coordinator in Harasymiak's first year at the controls.
Those roles prepared Charlton for the ongoing transition once Harasymiak left for the defensive coordinator's job at Minnesota.
"When he was coaching special teams, or even just when he was running the offense, he always found time to reach out to defensive guys, build those relationships," Black Bears quarterback Chris Ferguson said. "I think it put him in a really good position to get this head coach job, and to have the respect of kids on both sides of the ball."
The transition to his new role bears similarities to that of Charlton's former BC colleague, new Ohio State head coach Ryan Day. Day was named the successor to Urban Meyer, who retired in December.
"One of the coaches I worked with at BC, we were talking about doing a good job, presenting, and those kind of things, and he mentioned Ryan Day: He always presents and progresses toward eventually being a head coach—and this was six years ago, seven years ago," Charlton said. "That was something I always kind of thought about and stuck to, because that's how you get these kind of jobs. And [Day] was pretty good with that."
Day was a mentor for a fresh-to-the-ranks Charlton then, so it's no surprise the Ohio State coach is someone Charlton cited as still being an influence today. That's in addition to Addazio and Harasymiak, all three of whom the new Maine coach said have been helpful in the transition.
And while Charlton has positive influences of his own to prepare him for the season, the coach pays it forward to the team.
?: Ever wonder what the QB is thinking during a game?

We mic'd up Chris Ferguson for the Jeff Cole Spring Game - check it out! ?#BlackBearNation | #Elevate19 | #CAAFB pic.twitter.com/CkHGHvaG3W

— Maine Football (@BlackBearsFB) April 29, 2019
"He brings it every day. We feed off that—especially me as a quarterback," Ferguson said. "You want to have that same energy, and he's a great example as a leader."
Ferguson praised Charlton's work as a play-caller in 2018, crediting the coach's "guts" to "put [his] faith" in the young quarterback. The result for Ferguson was a 22-touchdown campaign, which ranked second-best among CAA passers.
Ferguson returns, one in a veteran corps for the reigning conference champion. Wearing the crown adds an extra layer to Charlton's first season as head coach, because the once-surprising Black Bears now are the benchmark the rest of the CAA will chase.
"Elevate in '19—that's the hashtag," said Ferguson. "It's a big deal for us, taking that next step. Elevating our play, elevating our practices, everything … [Charlton] is going to look out for us, take care of us, but we've got to give it back 10 times harder than last year."
If Maine can improve on a stellar 2018 the way it wants in 2019, Charlton's 31st birthday could outdo this 30th with the gift of a trip to Frisco.