The Realest NFL Draft Blog On The Worldwide Web
The Realest NFL Draft Blog On The Worldwide Web
From a lonely hotel room in Las Vegas, Kolby Paxton provides instant analysis of each pick of the 2019 NFL Draft.
Apr 25, 2019
by Kolby Paxton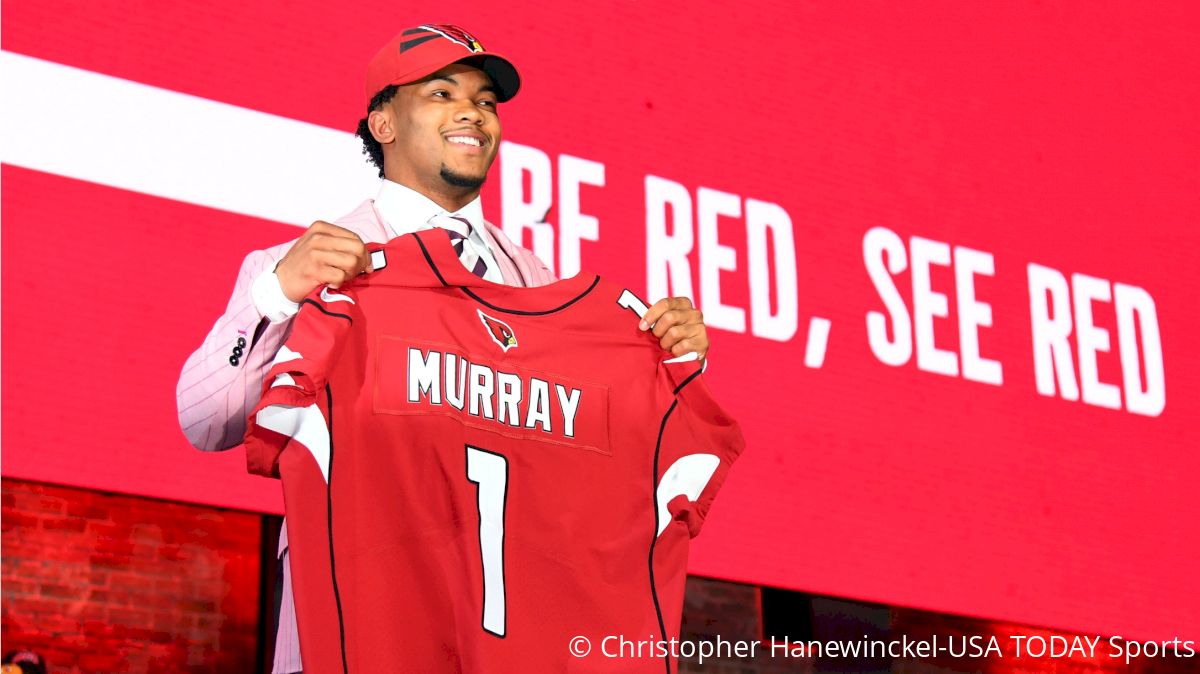 So, here's the deal: I'm sitting, alone, in my hotel room at the South Point Casino in Las Vegas, where I'm supposed to be checking out this evening's U.S. Open wrestling action downstairs.
But, I did a poor job of reading the directions in my sneaky-not-finished approval email a few weeks ago that essentially just acknowledged me as a working media member (thanks, NBD), but—later on, towards the bottom—directed me to take an actual SafeSport class.
I didn't come to FloSports to play school, but, in this instance, I must. Otherwise, my compadres will be grinding away while I'm just laying by the pool and that is unacceptable.
... actually, that sounds awesome.
Anyway, because it takes more than an instant to process this SafeSport business, I am left out tonight. And, because I'm a pro's pro, I'm not going to the pool. No sir/ma'am. I'm going to make my Flo impact on the football side of the business by wowing you guys with the realest, most unfiltered NFL Draft reactions on the net.
Let's get to it:
Taylor Swift, No Matter What (5:01 PM PST)
Umm, wow. I've never seen a mass of humanity quite like the one in Nashville for the NFL Draft. I mean, aside from New Year's Eve in Times Square. But that looks miserable. This looks awesome.
I'm watching the draft on ABC this year just because I miss College Gameday right now and that immediately paid dividends with the early appearance of Taylor Swift.
Oh, also, I'm not feeling my boy Kyler's footwear for this one. There's a time and place to pair white Nikes with a pink suit (I guess), but this ain't it.
Herbstreit Is Going To Be Exhausted (5:20 PM PST)
All due respect to Lee Corso. God love him. But, in the first 10 minutes, he's already told the viewing audience that Dwayne Haskins played at Iowa State and that Haskins is his pick to go No. 1 overall.
... and now he's wearing a giant Haskins head and waving goodbye—with three hours to go.
Good luck, Kirk.
Kyler Murray Is A Cardinal (5:24 PM PST)
As expected, Kyler goes to Arizona with the first overall pick. Sorry, Josh.
It would've been absolutely wild if anything else had happened there. Not only have we been talking about Murray to the Cardinals for a couple of months, but the ABC set spent the entire 23 minutes leading up to the selection focusing exclusively on him.
I love you Steve Keim!!!! Welcome @thekylermurray!!! Go Cardinals!!!! @AZCardinals pic.twitter.com/0snJEUWhF8

— Blake Shelton (@blakeshelton) April 26, 2019
Listen, Kyler is kind of a quirky dude. Admittedly. But the kid can absolutely ball—and it's not like he suddenly added the quirks. He's always been a little on the mercurial side and it didn't slow him down in Norman.
No idea what Arizona can get for Rosen now that everyone knows they have to deal him, but that's neither here nor there, honestly. Back-to-back No. 1 picks for the University of Oklahoma.
Boomer.
Bosa To The Niners (5:29 PM PST)
Back-to-back picks that shocked no one.
Pretty sure the 49ers sprinted to the podium before Murray even made it off the stage to turn in that pick.
Nick Bosa showing off a very nice custom suit featuring the team he quit on during in the middle of the midseason. #NFLDraft pic.twitter.com/wmORWG8Am3

— Saturday Down South (@SDS) April 26, 2019
Nick Bosa's a beast. I don't know that he deserves the presumed separation from the rest of the defensive line prospects that he's received, but that's not because I don't think he can play.
He's a good player. He'll be a good pro. Adding Bosa and Dee Ford in one offseason is a remarkable makeover for San Francisco's front seven.
Quinnen Williams Has To Wear Those Lame Jets Jerseys (5:38 PM PST)
The good news for Quinnen Williams: He's the third overall pick.
The bad news for Quinnen Williams: Nike kind of ruined the Jets' uniforms.
Live analysis over on our site – including the highest ever single-season grade from an interior defensive lineman that belongs to new Jets DI Quinnen Williams. #NFLDraft https://t.co/AvaBudUW6D pic.twitter.com/RazL5XtReG

— Pro Football Focus (@PFF) April 26, 2019
The Jets sort of had a need on the defensive line with Leonard Williams headed into the final year of his deal and Williams was unequivocally the best interior player on the board in my ever-so-humble opinion.
Dude is going to be a star.
God Bless Jon Gruden (5:47 PM PST)
Listen, I love Clelin Ferrell. By all accounts, this is a phenomenal kid and a solid player.
But I really don't know about paying this price for this amount of juice. Actually, that's not true. I do know. Ferrell was a mid-to-late first round pick. Not the fourth overall pick.
Clelin Ferrell over Josh Allen? RRRRRrrraiders

— Big Cat (@BarstoolBigCat) April 26, 2019
No wonder Gruden and Mike Mayock had to send all of their scouts home.
The Bucs Get The Best Player In The Draft At No. 5
Thanks to Oakland, Tampa Bay was sitting there at No. 5 with the option of taking either Devin White or Josh Allen. They couldn't go wrong—but the definitely went right.
LSU's Devin White is the best player in this draft me says.
He gives the Bucs an absolute dude in the middle who is going to be a perennial Pro Bowler from jump.
OMFG ... The Giants Just Took Daniel Jones Sixth (6:01 PM PST)
Hahaha ... God, I love the Giants under Dave Gettleman. They can't get out of their own way and it's spectacular.
When you don't have to catch passes from Eli Manning or Daniel Jones pic.twitter.com/A0v6wiOfBC

— NFL Retweet (@NFLRT) April 26, 2019
I was genuinely afraid that New York would end up with Kyler Murray or Dwayne Haskins. Everything is coming up Cowboys.
Josh Allen To The Jaguars Is Perfect (6:07 PM PST)
I'm so glad that the Raiders didn't take Josh Allen, because this Jacksonville defense is going to be must-see TV this fall, what with a quarterback who won't repeatedly hand the ball back to the opposing offense.
Allen is an absolute freak. He can play virtually anywhere on the field and he can win on pure athletic ability.
Seventh pick last year: Josh Allen.
Seventh pick this year: Josh Allen.

— ProFootballTalk (@ProFootballTalk) April 26, 2019
If the Jags were weak at any spot on defense, it was at edge rusher. Safe to say they just turned a weakness into a strength.
Put A Bow On TJ Hockensen's Head And Send Him Over To The Stafford Residence (6:13 PM PST)
Todd McShay's "can't miss" prospect did the seemingly impossible and surpassed Noah Fant at Iowa last fall. Now he's headed to Detroit to provide Matt Stafford with the multi-dimensional security blanket he's only been in dire need of for the entirety of his career.
.@HawkeyeFootball TE TJ Hockenson will hurdle you and then steal your lunch money pic.twitter.com/qK5P7R1pL5

— FOX College Football (@CFBONFOX) April 26, 2019
The Lions still need some more juice at wide receiver, but adding Kerryon Johnson at running back and Hockensen at tight end in back-to-back drafts is excellent.
Congrats, Matt.
I Just Realized There's No Mini Fridge In This Hotel Room (6:19 PM PST)
That's weird, particularly for a Las Vegas "resort" style hotel, no? I feel like it is. I can buy beverages downstairs, but I can't keep them cold upstairs.
¯\_(ツ)_/¯
Christmas Comes Early In Buffalo (6:20 PM PST)
Shoutout to my boy, Brandon, a long-suffering Buffalo Bills fan, who just had Ed Oliver fall right in his lap (not literally, that would hurt) courtesy of Gruden and the Raiders way on back at pick No. 4.
Let it out, @Edoliver_11! ? #NFLDraft

?: NFLN/ESPN/ABC pic.twitter.com/MBmTLNR3uz

— NFL (@NFL) April 26, 2019
Oliver is the exact dude that the Bills came into this thing hoping to land tonight and they did just that without even needing to move off of their spot at No. 10.
The ceiling for Oliver is Aaron Donald—and also the roof.
A Trade! Let's Go! (6:25 PM PST)
The Broncos are sitting right there at No. 10 with a quarterback who doesn't suck just hanging out, staring at his phone, waiting for a team to pick him.
So, naturally, Denver trades the pick to Pittsburgh.
John Elway's post-Manning approach to that position is nothing short of incredible.
(P.S., this is definitely Devin Bush.)
It Was, In Fact, Devin Bush (6:28 PM PST)
The other Devin is a member of the Pittsburgh Steelers. A phenomenal fit.
I can't focus on the football side of this, though, because what the hell is Devin Bush wearing?
We are moving Devin Bush to the bottom of our draft board after seeing this outfit pic.twitter.com/LS1YJP4ovT

— Barstool Sports (@barstoolsports) April 25, 2019
I'm not even saying that all judgy and accusatory. I just honestly do not know what to call that article of clothing.
(Update: Ok, I believe it's safe to refer to it loosely as a jacket—and I need one for my unborn daughter's wedding in the year 2044)
Cincinnati Goes Beautifully Boring With Jonah Williams (6:33 PM PST)
For a franchise that has had an unfortunate run of bold-turned-bust in the first round lately, taking Alabama's Jonah Williams at No. 11 is so damn refreshing.
Williams is a beast and a sure thing.
Maybe having lunch with Sean McVay that one time was actually all Zac Taylor needed to do to be good at his job.
Rashan Gary To The Pack (6:38 PM PST)
The knock on Rashan Gary was pretty simple: The No. 1 prospect in the country out of high school just never put up the numbers you'd expect for a guy with his size and athleticism. Weird deal.
He also scored like a 7 on the Wunderlic, so that's not awesome.
Not many 300-pounders can move like this. Rashan Gary can. pic.twitter.com/9PyfL7f5m8

— Yahoo Sports College Football (@YahooSportsCFB) April 26, 2019
That said, there's no denying that the guy is an absolute freak show, and should give the Packers an immediate presence off the edge.
Standby for Bratke's take.
(Update: Bratke says, "I can't believe we made the pick, but I actually like it." So, there you go.)
Dolphins Take Christian Wilkins And Haskins Is Officially Going To Fall To Washington (6:45 PM PST)
Two things:
1.) I love Christian Wilkins. Great addition to the program for Miami.
2.) Dwayne Haskins is headed to Washington and, as a Cowboys fan, I'm a little bummed about it.
Let me be the first to congratulate Willie Saylor and Christian Pyles, though.
Haskins Is A Redskin (6:58 PM PST)
The Falcons took Boston College guard Chris Lindstrom with the 14th pick. Shocking as it might be, I don't have any color commentary for that one. So, yeah, on to Haskins.
I really don't want to see this guy twice every season, but my beloved Cowboys will, in fact, be seeing this guy twice every season.
We all heard the Haskins-to-Washington rumors over the past 24 hours, but I really thought it was going to take a trade up from No. 15 to get it done.
It didn't.
Huge win for the 'Skins, who owe the Giants an edible arrangement or something.
And, by the way, not only could New York have waited until No. 17 to take Daniel Jones, they could have also talked themselves out of it by now.
Instead, they took the lesser quarterback and will now get a lesser defender. Bravo.
I'm Going To Meet Willie At The Sportsbook (7:11 PM PST)
This thing may or may not continue henceforth.
You're Looking Live At The Sportsbook ... Right Behind Brent Musburger (8:10 PM PST)
So, here's the life update: I made it down. I found Willie. I found a killer booth in the sportsbook ... right behind the GOAT Brent Musburger's aquarium.
Here's the draft update:
Brian Burns is a Panther. That's cool.
The Giants took the third best defensive lineman from Clemson instead of one of the best defensive linemen in the draft—and the best available—in Mississippi State's Montez Sweat. Keep killing it Gettleman.
The Vikings took Garrett Bradbury, a stud center from North Carolina State. Again, boring but excellent.
The Titans took a top five talent at No. 19 when they grabbed Mississippi State defensive tackle Jeffery Simmons with one of my favorite picks of the first round.
Denver took Iowa's other tight end Noah Fant, so Joe Flacco can check it down to the stick route ad nauseam.
Maryland safety Darnell Savage became the first safety off the board a little earlier than expected, but a lot of teams were high on Savage, so the Packers moved up and grabbed their guy.
Philly went with Wazzu offensive tackle Andre Dillard at 22. Good player. Good value. Good pick.
The Texans took Alabama State offensive tackle Tytus Howard, who grew two inches and gained 87 pounds after walking on as a tight end. So that's a Disney story waiting to happen.
Oakland finally made a pick that anyone saw coming, taking Alabama running back Josh Jacobs—one of my favorite players in this draft.
Baltimore did Lamar Jackson a huge solid, drafting the best wide receiver in the draft—Oklahoma's Marquise Brown—after trading back to No. 25. Hollywood is the cousin of Antonio, but don't hold that against him.
Alright, we're caught up.
The Redskins Are Killing This Draft (8:14 PM PST)
Mississippi State defensive end Montez Sweat fell down (or completely off of) draft boards because of a heart ailment that was apparently misdiagnosed.
Enter Washington, who—once again—took advantage of division rival New York's reluctance to draft the best player at a position of need.
QB to score ✔️
Pass rusher to stop opponents QBs from scoring ✔️

Redskins select Montez Sweat No. 26 overall pic.twitter.com/HKE7wGJ8Nv

— Bleacher Report (@BleacherReport) April 26, 2019
Between getting arguably the best quarterback in the draft at No. 15 and getting one of the best pass rushers in the draft at No. 26, the Redskins are having themselves a night.
With The 27th Pick, The Cowboys Select Amari Cooper
Thank you and goodnight.