NFL Draft: The 2019 All-Upside Defense
NFL Draft: The 2019 All-Upside Defense
By now, we're all aware of who's at the top of NFL Draft boards. But who are the defensive sleepers with huge upside? Emory Hunt gives us his take.
Apr 24, 2019
by Emory Hunt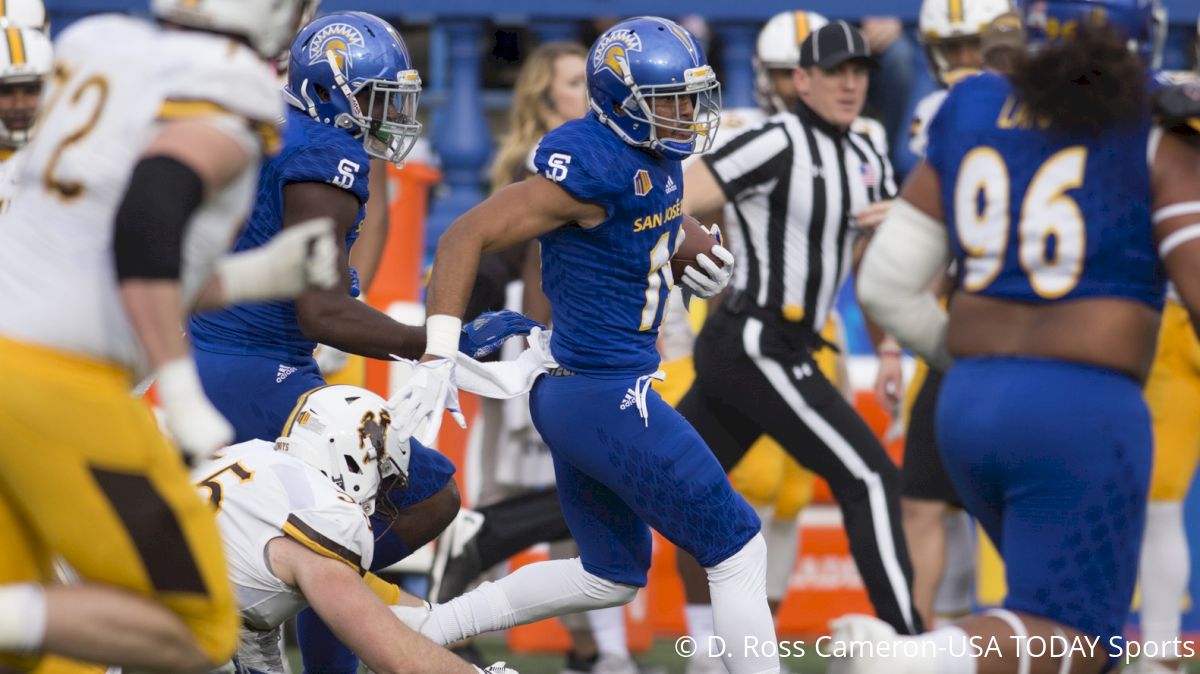 With the 2019 NFL Draft rapidly approaching, draft boards are set and the waiting game is well underway for most NFL teams.
Fortunately for us, there's still plenty more to talk about outside of the top 40-or-so prospects.
During this draft cycle, FBGP Scouting graded more than 800 prospects (810 to be exact; 767 pre-combine, with the rest coming from the Pro Day circuit), and when you dive that deep into college scouting, you're bound to uncover some prospects that still have a lot of growth potential left in their game.
For whatever reason—it could be because of size, school, lack of opportunity, or whatever the case may be—there is something unique about these players, and their film, that tells you they haven't peaked yet as a player, and have a higher ceiling than most.
Having "upside" is the term most commonly used to describe these types of players. With that said, here are my choices for Football Gameplan Scouting's 2019 All-Upside Defense.
Defensive Line

DE James Garcia-Williams (6-8, 255 pounds) | UAB
Garcia-Williams has the look of an NFL-sized defensive end, and still has a ton of growth left in his game as well.
As a junior at UAB, he played mostly on special teams and got spot duty along the defensive line. This past season, he blossomed into a solid piece up front for the Blazers, which led to their remarkable bowl season and one of the better defenses in the FBS. The 6-foot-8 defensive end set up shop in the opposing backfield as he totaled 15.5 tackles for loss and 9.5 sacks.
Coming off of a junior season where he barely played significant minutes, to a senior season where he was this disruptive, is the type of trajectory you like to see in a prospect who is just scratching the surface in how good they can be at the professional level.
EDGE Nate Harvey (6-1, 220) | East Carolina
Another player who is just scratching the surface on their potential is Nate Harvey. The former walk-on running back turned defensive edge rusher was denied a fifth year of eligibility at ECU and had to enter the NFL Draft.
Nate Harvey is an interesting story. Walked on to ECU as a JUCO transfer. Transitioned from FB.

The AAC DPOY was denied an extra year of eligibility. It's a shame because an extra year to polish his game could've done wonders. Has some tools to work with. Worth a day 3 flier. pic.twitter.com/el34Yk1y85

— Jonathan Valencia (@JonValenciaBF) April 10, 2019
In his only season as a starter, he finished the year as the nation's leader in tackles for loss with 25.5. Harvey was also able to rack up 14.5 sacks. Keep in mind, this is extremely good production, first round-type production at that, without really knowing what you're doing.
Some NFL team will get a player who has quietly gone under-the-radar from a media perspective—partly because of how late he entered the process—but will be a surprise mid-round selection who could find himself playing a significant role as a situational pass rusher as a rookie.
DE Darryl Johnson (6-5 240) | North Carolina A&T
Johnson is a rare early entry into the draft from an FCS program, but he articulated his reasons why very well when I spoke with him at the NFL Combine.
Johnson stated that he felt as though he reached his max potential from a development standpoint at A&T, and felt that he could continue to grow his game at the NFL level This makes complete sense from an access to better nutrition and strength and conditioning standpoint.
From an on-field perspective, Johnson's TFL and sack numbers have gotten better each and every season. Add a little bit more technique, a better strength and conditioning program, and better access to nutrition, along with his raw talent and athleticism, and the sky's the limit for the former HBCU star.
Linebackers
OLB Jerry Iweh (6-4 225) | Fairmont State
Many folks will quickly tell you that the NFL is a passing league. If that's the case, then it's very critical to have back seven defenders who can be effective on both ends of defense. If you're playing at the second level, you better be able to cover.
Iweh has some of the best coverage skills I've seen in this draft class. He's a 6-foot-4, 225-pound outside linebacker that has the range of a safety and the length to shrink passing windows. On film, he shows a very good understanding of passing concepts and knows how to get himself in perfect position to make a play on the ball. Iweh also doesn't miss many opportunities to take the ball away either, with 10 interceptions in his career.
The upside he presents comes in terms of adding "good" weight, getting acclimated to the speed of the NFL game coming from a D2 program, and rounding out his game as a run defender.
OLB Anree Saint-Amour (6-3, 245) | Georgia Tech
Considered to be an undersized defensive end, Saint-Amour brings position upside as an outside linebacker at the next level.
Anree Saint-Amour is getting attention prior to the NFL draft with a private workout and an upcoming visit. @anreesaintamour https://t.co/b92rWuKCyV

— Ken Sugiura (@ksugiuraajc) April 12, 2019
Whether that's as a SAM backer or outside edge rusher in a 3-4 (which is essentially a weak-side defensive end), the former Georgia Tech Yellow Jacket has great closing speed to the ball carrier and showed above average ability in the read-and-react department this year as he racked up 12 TFLs and four sacks.
Speaking with him during the lead-up to his Pro Day prep, he spoke about the myth of being undersized and how he's still able to find success because of his technique and dog mentality.
Defensive Backs
CB Deion Harris (6-2, 185) | North Dakota
Harris' story has been well-documented. Coming into the 2017 season, he was seen by many as an NFL Draft pick. But a preseason injury shelved that and forced him to miss the entire year.
This season, Harris was able to bounce back in the right way, displaying the same skills that made him an All-American back in 2017. His value is in his ability to play virtually anywhere in the secondary. He can be a solid option at either corner spot, while also being able to serve as a slot defender or as a safety.
Speaking of safety, he's capable of playing free or strong. So, wherever an NFL coach decides to utilize his skills long-term, he has upside.
SS Sean Jones (6-1, 210) | Texas Southern
Sean Jones definitely shows up on film. He's one of the more impactful tacklers in the class. While at Texas Southern, he went back and forth between linebacker and strong safety.
Last Chance:NFL Draft Diamonds Prospect Interview: Sean Jones, LB, Texas Southern University https://t.co/Jybgd9y9OS #NFL #NFLDraftNews pic.twitter.com/2izgtBgsaU

— NFL Draft Diamonds (@DraftDiamonds) December 5, 2018
He's fluid enough to remain at safety, but also tough enough to serve as a "money backer" at the next level. Again, as with Harris, his upside comes with him being able to solely focus on one position and grow within that role.
This past season, Jones led Texas Southern in tackles with 98, 58 on solo stops and four TFLs.
CB Derreck Thomas (6-3, 196) | Baylor
Thomas started his career at Temple as a wide receiver before switching over to cornerback in 2016. He was a graduate transfer to Baylor, where he played cornerback for the second consecutive season and showed marked improvement.
From an athleticism standpoint, he checks those boxes and even checks the boxes from a ball skills perspective, because of his background as a receiver.
It's obvious that a prospect like Thomas, who is still such a neophyte at the position, will continue to make huge strides in the nuance department as he gets more acclimated with the position as a pro.
CB Dakari Monroe (5-11, 187) | San Jose State
A star slot corner for the Spartans, as Monroe got more playing time the last two seasons, he thrived; actually getting better each season. In the last two years at San Jose State, Monroe led the team in interceptions with seven (three as a junior, four as a senior). He was primarily a slot corner, often showing ability as a blitzer off the edge.
I think he has potential as a field corner on the outside because of his fluidity. That's where he provides the upside as he moves on to the NFL. Monroe would also be a star special teamer from day one.