NFL Draft: The 2019 All-Upside Offense
NFL Draft: The 2019 All-Upside Offense
By now, we're all aware of who's at the top of NFL Draft boards. But who are the sleeper prospects with huge upside? Emory Hunt gives us his take.
Apr 22, 2019
by Emory Hunt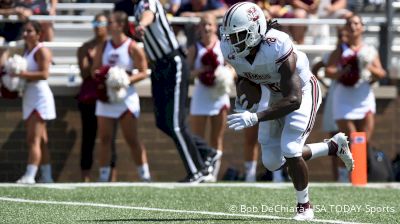 With the 2019 NFL Draft rapidly approaching, draft boards are set and the waiting game is well underway for most NFL teams.
Fortunately for us, there's still plenty more to talk about outside of the Top 40-or-so prospects.
During this draft cycle, FBGP Scouting graded over 800 prospects (810 to be exact; 767 pre-combine, with the rest coming from the Pro Day circuit), and when you dive that deep into college scouting, you're bound to uncover some prospects that still have a lot of growth potential left in their game.
For whatever reason—it could be because of size, school, lack of opportunity, or whatever the case may be—there is something unique about these players, and their film, that tells you they haven't 'peaked' yet as a player, and have a higher ceiling than most.
Having 'upside' is the term most commonly used to describe these types of players. With that said, here are my choices for Football Gameplan Scouting's 2019 All-Upside Offense.
Quarterbacks
Manny Wilkins | 6-3, 200 pounds, Arizona State
There's a lot to like about Wilkins' game. He throws with excellent velocity, especially on short-to-intermediate in-breaking routes. He can drive the football into tight windows on curls and comebacks, as well as spot throw on back shoulder, and 50-50 balls.
I came away with the impression that he was the glue that held that Arizona State offense together, and he's also a guy who got better each and every season in Tempe.
Tanner Mangum | 6-3, 215, BYU
Mangum started out with a bang in Provo, but with the coaching and schematic changes, along with nagging injuries, he eventually gave way to other quarterbacks during his time with the Cougars.
Former @BYUfootball QB Tanner Mangum was very introspective in regards to his collegiate career, what he brings to the table as an #NFL QB & what he's out to prove here at @TropicalBowlUSA ??https://t.co/sfE1fSyQfA pic.twitter.com/qITEZ6mPNy

— Emory Hunt (@FBallGameplan) January 12, 2019
Between the Arizona game this year and the Tropical Bowl all-star event in January, however, there were still glimpses of the 2015 version of Mangum.
For him, it's going to be about regaining the confidence he had during his earlier time at BYU. He would do exceptionally well in a timing-based, west coast offense at the next level.
Running Backs
Ty Johnson | 5-10, 212, Maryland
Johnson has serious speed that makes him a threat to score on every play. His 1,000-yard 2016 season, in my opinion, was not an aberration, but a sign of what could possibly be at the next level if given a chance to be the featured guy.
Marquis Young | 6-1, 210, UMass
Young was the feature back in the Minutemen offensive attack, and was a very productive one at that. He averaged over five yards per carry during his career and showed the ability to pick up yards in chunks.
Check out Marquis Young busting loose for the 95-yard score for UMass! pic.twitter.com/p39c8P7Es5

— Chat Sports (@ChatSports) October 28, 2017
The issue is that UMass was out of ball games so quickly that it forced them to abandon the run game, which is partly why Young doesn't have the gaudy stats as some of his 2019 draft classmates. But make no mistake about it, the league knows all about him.
Aca'cedric Ware | 6-0, 205, USC
I feel like we only got to 'truly' see Aca'cedric Ware for one season at USC. Sure, the former five-star tailback saw time in spot duty since 2015, but this year was the first time he was able to carry the ball more and truly get into a groove.
Ware finished 2018 with 125 carries for over 800 yards rushing at 6.6 yards per run. He had a really good week of work at the NFLPA Game, and looks to be an ideal RB2 at the NFL level.
Jordan Scarlett | 5-11, 210, Florida
Scarlett played in a running back by committee at Florida, but was able to sandwich two really good seasons in 2016 and 2018 (redshirted in 2017) going for nearly 900 yards and 800 yards, respectively.
He has a great combination of both power and quickness, with the short-area burst to hit the home run. A part of me feels like the talk around the redshirt junior tailback has been very quiet, but just like his game, he'll be making noise pretty soon in the NFL.
Wide Receivers
Joe Walker | 6-3, 210, Delaware
Walker came into Delaware as a quarterback, started three years at that position before moving to wide receiver as a senior. All he did was lead the team in receiving, despite only playing the position for one year.
What's equally as impressive is that during the Blue Hens' pro day, Walker went through a full workout as a defensive back before doing a full workout as a wide receiver for NFL Scouts. He also tested through the roof athletically.
When you combine all of those things, along with his great attitude, you can understand why I am excited about his potential upside as a pro.
Denzel Knight | 6-2, 220, Wagner
Knight, like Walker, started his collegiate career at another position. Prior to this season, Knight was a running back for the Seahawks—and was the leading rusher back in 2016.
He made the transition to wideout this season and took to it like a seasoned veteran, leading Wagner in receiving this past season. Knight also doubled as the team's kickoff returner, bringing one back to the house against Montana State.
He's a big, physical wideout that turns into a running back after the catch. Having that ability, in addition to having special teams value, gives him an opportunity to get in the door, with the upside to help him stick.
Jaelan Austin | 6-1, 205, TCU
Speaking of special teams value, that's where Austin can definitely make his mark as a rookie in the NFL. He has no problems playing special teams.
As a wide receiver, he has outstanding hands. This was on display this past January at the Tropical Bowl. Austin was the best receiver during the practices and in the actual game.
On CFB: INSIDE SLANT with @JennyTaft at 10:30 PM ET on @FS1:

?‍? Matt Morrissey's @MSU_Football family legacy
? @CalFootball's QB tandem of Brandon McIlwain & Chase Garbers
?️‍♂️ Jaelan Austin's record-setting performance with @TCUFootball pic.twitter.com/DC4xzHBUtg

— FOX Sports PR (@FOXSportsPR) October 24, 2018
If his name sounds familiar, he was on Bruce Feldman of The Athletic's "Freaks List" this past spring. Austin posted a vertical leap of greater than 40 inches and a ridiculously high broad jump as well.
Speaking with him down at the Tropical Bowl, it was clear that he's a student of the game and wants to make an impact any way he can. His upside is in the passing game, as he can play both inside and outside.
Tight Ends
Justin Johnson | 6-3, 245, Mississippi State
Johnson was a seldom used tight end at Mississippi State until this past season, during which he hauled in 17 receptions for 238 yards and a touchdown. That is still fairly minute considering the era of passing that we are in.
In the three previous years, Johnson hauled in a combined 18 passes. So, the upside is in the production as he gets more opportunities at the next level.
Where he is being slept on is in the route running department. He's a former wide receiver who grew into the tight end spot and still is learning the nuances of playing that role. However, you can see the former receiver in his game in the way he runs his routes.
Johnson is very light on his feet and can consistently work himself open in the passing game.
Charles Scarff | 6-6, 260, Delaware
A former Rutgers transfer, Scarff blossomed as a receiving threat this season for the Blue Hens.
He's been used all across the formation, but his foundation is inline where he is an excellent blocker. The fact that we learned a lot about his skills as a receiver this season at Delaware speaks to the upside he has as he moves on to the NFL.
Offensive Line
OT Jerrod Brooks | 6-5, 285, UTEP
Bulk is where Brooks has the biggest room for growth and where his upside lies. From an athletic standpoint, he checks all of the boxes. He's good on the move and should be an ideal fit in a zone-blocking scheme.
Adding weight could help him anchor a bit more in the passing game.
OT Maurice Simba | 6-7, 328, Concordia (Canada)
Nuance is where Simba has a lot of room to grow as a pro. He's one of the top CFL Draft prospects in this class, who has also garnered a ton of interest from NFL teams, as well. Simba was invited to the NFLPA Game, where he didn't look overmatched.
Core strength and consistency is where he'll have to improve, but that'll definitely come with time and experience. It's the raw talent and want-to that you're taking a chance on with the former Stinger
OG Samuel Thomassin | 6-5, 345, Laval (Canada)
Another top CFL Draft prospect, Thomassin was a standout at the College Gridiron Showcase this past January.
What I like about him, and what he definitely brings to the table, is the fact that he can play guard or tackle. The sure bet is at guard, the upside is at tackle.
OG Larry Allen Jr. | 6-4, 304, Harvard
Allen missed the 2017 season after being named All-Ivy back in 2016. This past year he was back to his all-league status and is one of the better athletes at the position.
@HarvardFootball Larry Allen Jr has the lineage and ability to succeed. Powerful young man on the pull bullies defenders. pic.twitter.com/jZyKzuVYVb

— Cover 2 draft (@Cover2Draft) June 13, 2017
Allen moves like an H-back at the position and it wouldn't surprise me to see him catching touchdowns near the goalline at the next level. His upside is potentially at center.
OC Nate Trewyn | 6-3, 315, UW-Whitewater
Speaking of center, the former D3 All-American dominated his level of competition and displayed above average athleticism, as well.
The question you have with Trewyn, as well as with other small college prospects making the jump, is if they can bring that same level on a consistent basis against top competition. That's the upside gamble you're taking with Trewyn, but his technique and athleticism matches up well in my opinion, so he's definitely worth the risk.
This draft is stacked with talent across all subdivisions and across two countries. Be on the lookout for our All-Upside Defensive Team later this week.
---
Emory Hunt is the owner of Football Gameplan and an excellent follow on Twitter — @fballgameplan.