There May Legitimately Be An Entire Pro Bowl Defense In This Draft
There May Legitimately Be An Entire Pro Bowl Defense In This Draft
The 2019 NFL Draft class may prove to be the deepest defensive group in the league's history.
Mar 7, 2019
by Kolby Paxton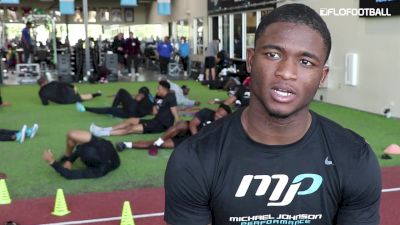 The 1996 NFL Draft class is the gold standard for defensive hauls in a single year.
Ray Lewis and Brian Dawkins are future Hall of Famers that headlined the group. They're joined by Lawyer Milloy and Tedy Bruschi—two linch pins in the early years of the ongoing New England Patriots dynasty—as well as Zach Thomas and La'Roi Glover.
Perhaps, instead, you prefer the 2011 class, led by future Hall of Famers JJ Watt and Richard Sherman and filled out by the likes of Von Miller, Patrick Peterson, Robert Quinn and Justin Houston.
The '96 class was sick. The '11 class was, too. But the 2019 group has the potential to be even better.
The defensive line prospects are a deep and talented group that may be as good at No. 5 as it is at No. 1, which isn't a knock on Nick Bosa, but a credit to Ed Oliver.
Linebackers Devin White and Devin Bush both appear to locks to spearhead an NFL defense for the next decade. Kentucky linebacker Josh Allen is a player so talented, so versatile, that he can conceivably succeed at multiple spots in any number of schemes.
In fact, there may well be an entire first team Pro Bowl defense within the Top 40 players chosen this spring. Check it:
EDGE: Montez Sweat, Mississippi State
DL: Quinnen Williams, Alabama
DL: Rashan Gary, Michigan
DL: Nick Bosa, Ohio State
EDGE: Josh Allen, Kentucky
LB: Devin White, LSU
LB: Devin Bush, Michigan
CB: Greedy Williams, LSU
CB: Trayvon Mullen, Clemson
SS: Johnathan Abram, Mississippi State
FS: Taylor Rapp, Washington
The Defensive Line
It's really not even possible to overhype the defensive linemen in the 2019 NFL Draft. The group is unbelievably deep and the guy who is widely considered to be the best of the bunch—Nick Bosa—could just as easily slip behind a number of his contemporaries on draft day, including Quinnen Williams and Montez Sweat.
This simulcam of Montez Sweat's 40-yard dash against top skill players in the NFL today is ridiculous.pic.twitter.com/Nd8oUzfHJg

— Pro Football Focus (@PFF) March 4, 2019
Both Williams (4.83) and Sweat (4.41) wowed with their 40-yard times in Indianapolis. Sweat—whose Mississippi State teammate Jeffery Simmons would've likely been a Top 10 pick as a defensive tackle were it not for a torn ACL—broke the modern-era record for a defensive lineman.
Beyond Simmons, the list of potential stars at the position could conceivably be expanded further to include Ed Oliver and Dexter Lawrence, as well. It's loaded.
The Linebackers
Where are we putting Josh Allen? The Kentucky linebacker likely becomes an elite edge rusher in the NFL but, since we didn't mention him with the previous group, let's mention him here, because the dude is going in the Top 5.
Allen brings a unique blend of size and speed that will allow him to wreak havoc off the edge as a pass rusher, but also allowed him to be an all-around wrecker while with the Wildcats. He's adept in coverage and a heat-seeking missile against the run.
Devin White sheds tears after running a 4.42, the best 40 time for a linebacker

(via @thecheckdown) pic.twitter.com/rjnejPxxCM

— Bleacher Report (@BleacherReport) March 3, 2019
Now that we've checked the "Mention Josh Allen" box, let's talk Devins.
Minutes after Devin Bush clocked a blazing 4.43 40-yard dash at the NFL Combine, Devin White ran a 4.42. Each has emerged as a rising star at the position. The former solidified his place within the first round, while the latter may well be one of the first 10 players off the board.
The Secondary
Is this entire article simply extended hyperbole aimed at emphasizing how freaking incredible the defensive linemen and the Devins are?
Mostly.
Still, don't sleep on the top prospects in the secondary.
Greedy Williams is going to be a star. And, while most boards still show Georgia's DeAndre Baker ahead of Trayvon Mullen on big boards—with respect to Baker, of course—Mullen flashed game-changing ability during Clemson's national title run and followed it up with an outstanding if overlooked performance at the NFL Combine.
Greedy Williams vs. his fellow @LSUfootball DBs ?@G_Will29 | #NFLCombine pic.twitter.com/m8OtcWHdzJ

— NFL (@NFL) March 5, 2019
Mullen clocked in at 4.46 in the 40-yard dash and broad-jumped 123 inches—with a 6-foot-1, 200-pound frame. His vertical leap of 34.5 inches could present some cause for concern, but c'mon. His tape shows the explosiveness that a mediocre vertical would otherwise suggest he's missing.
If you're looking for a comp for Mullen, think Quentin Jammer or Antrel Rolle.
As for the safeties, that is—at least as far as it appears—the weakest position group in this draft, but, even still, Johnathan Abram looks like a plug-and-play difference maker and Washington's Taylor Rapp is on the rise for good reason.