'Area 51' Will Be Immediately Tested By Spurrier, Gilbert
'Area 51' Will Be Immediately Tested By Spurrier, Gilbert
The Orlando Apollos take their show on the road to San Antonio on Sunday for the league's only matchup of undefeateds.
Feb 15, 2019
by Kolby Paxton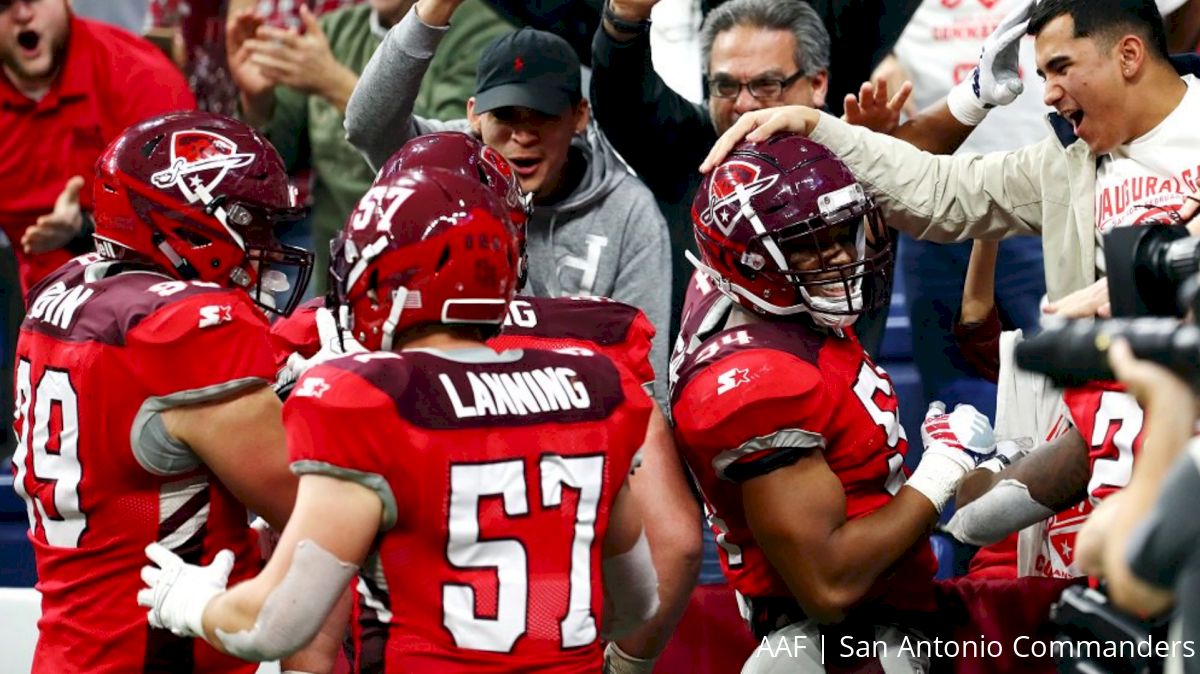 Two of the most impressive performances of the Alliance of American Football's opening weekend belonged to Orlando and San Antonio—and could not have been more different.
The Apollos, led by head coach Steve Spurrier and former mega quarterback prospect Garrett Gilbert, were as high-flying as advertised, dropping a 40-burger on Atlanta in the league's most impressive offensive display thus far.
The Commanders only managed 15 points, but deployed a suffocating defensive attack that picked off San Diego quarterback Mike Bercovici three times. The Fleet lost the game, Bercovici lost his job, and the Commanders' secondary earned its nickname: 'Area 51.'
The interception that started our last drive. ?

Get another! @OStewBU pic.twitter.com/pNPtm2R6Ho

— San Antonio Commanders (@aafcommanders) February 10, 2019
"We call ourselves Area 51 because that's just somewhere you don't want to go," said San Antonio safety Orion Stewart. "I think that all year long we're going to have a pretty good secondary and get our hands on the ball."
Stewart—who intercepted six passes during his senior season at Baylor and collected another last week—may be right, but he won't have to wait long for a significant step up in degree of difficulty.
The Head Ball Coach takes Orlando's show on the road to San Antonio on Sunday for the league's only matchup of undefeateds in week two.
The present challenge is not lost on Spurrier.
Caught up with Coach Spurrier heading into Week 2 as the Apollos prepare to take on the San Antonio Commanders.

?#TakeAim | https://t.co/mZHxg3l9PX pic.twitter.com/IlwkoQX2ZI

— Orlando Apollos (@aafAPOLLOS) February 14, 2019
"[Mike Riley] has done an excellent job with his team, no question about it," Spurrier told the AAF's Tom Alexander. "They play with a lot of effort and enthusiasm. They've got a lot of fire, and we've got to match their enthusiasm and effort this week."
The Commanders were complete on defense in week one, with a pass rush that sacked Bercovici six times and indirectly influenced his inaccuracy even when no one got home. Still, it was the secondary's performance that stands out—and, in particular, this play by former Oklahoma cornerback Zack Sanchez, that dominated the highlight reels.
THE interception of the game. @ZSanchez15

1-0 feels good. ? pic.twitter.com/wsOlGncq5a

— San Antonio Commanders (@aafcommanders) February 10, 2019
Gilbert is unlikely to play with the same unease or make the same mistakes. The Legends are bad, but Gilbert's efficiency in week one was impressive nonetheless, as he finished the lopsided victory with 227 passing yards and two touchdowns—and caught another.
For their part, Orlando's defense was also dominant last week, though it was overshadowed by the flash on the opposite side of the ball.
The Apollos lead the league in rush defense and rank second against the pass after holding the Legends to just 80 rushing yards and 224 total yards of offense.
Linebacker Terence Garvin immediately emerged as one of the stars of the Alliance, collecting the first interception in league history and the first pick-six in league history. He ended the contest with an AAF-leading 11 tackles, as well.
Defensive Player of the Game @T_Garvin28 with the Pick 6️⃣

?#TakeAim

?: https://t.co/8LS4l3Heud pic.twitter.com/gNjz5dzWei

— Orlando Apollos (@aafAPOLLOS) February 10, 2019
San Antonio quarterback Logan Woodside—who would be wise to avoid Garvin on Sunday—did not experience the relative ease and efficiency enjoyed by Gilbert in week one.
Woodside completed just 50 percent of his throws and tossed two interceptions without a touchdown.
Still, the Toledo product—like the rest of the San Antonio offense—flashed promise, and he has no shortage of weapons at wide receiver.
Once a quarterback now starring at wideout, @aafcommanders @G_Ward1 is wowing in The Alliance.

? | https://t.co/Ivv5ZUsZ4T pic.twitter.com/n6fx1DeAYp

— The Alliance (@TheAAF) February 14, 2019
Mekale McKay and Greg Ward Jr. (yes, that Greg Ward Jr.) were the recipients of 21 of Woodside's 36 targets, which they turned into 10 catches and 145 yards. That duo is among the most exciting in the league and should be even more impactful with another week to get familiar with Woodside.
"I want us to go undefeated," Ward told the AAF's Cole Thompson. "The overall goal for me is to make it back to the NFL but I love this team. We are a great group of guys we're just going to keep going and winning from here."