No one is cooler than Oklahoma right now.
With 35-year-old Lincoln Riley leading the way, the Sooners have captured that elusive sort of swagger that no one can really describe but everyone can feel.
At OU, it's a vibe.
Maybe it's the Baker Mayfield Effect. Maybe it's Jordan … or Riley … or Kyler Murray. Or maybe it's the cumulative effect of piling all of that—a genius, relatable, millennial head coach, back-to-back Heisman trophy winners, and a Jumpman logo—on top of spectacular upgrades to facilities that really didn't need upgrades to begin with.
Whatever the case, the Sooners have something different going on right now.
That much was clear during the summer, as we watched Team Overdrive roll to the 7-on-7 championship at Nike's The Opening, with a squad almost entirely comprised of OU commits.
That much remains clear today, as we watch Riley and the Sooners announce the receipt of signatures that will add up to one of the top classes in the country.
But it's not what they're doing, it's how they're doing it.
Exhibit A:
Theo, the future starts now.
Welcome home- @_TheoWeaseJrhttps://t.co/vsvtAD85mR#BoomerSooner #NewWave19 pic.twitter.com/ySU5M5LwyO

— Lincoln Riley (@LincolnRiley) December 19, 2018
While everyone else is putting out the same ol' motion graphics, Oklahoma is out here with 40-second videos that culminate in the carefully selected vinyl record of their latest signee.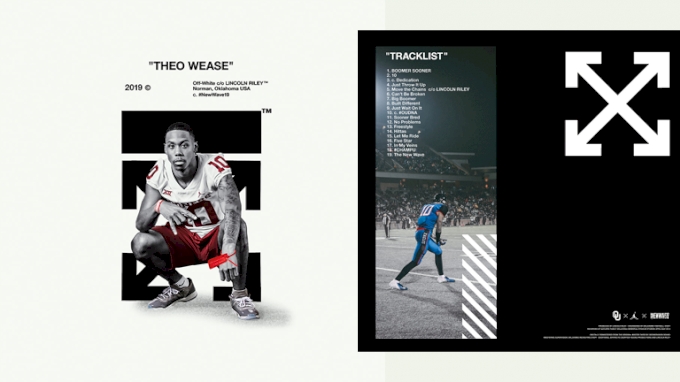 Maybe you think that sort of thing doesn't matter, but I'm here to tell you that it does. It mattered to Jeremiah Criddell enough that he skipped the traditional hat selection in favor of flashing his album while pledging allegiance to OU over Oregon.
Four-star safety/athlete Jeremiah Criddell picks Oklahoma over Oregon on ESPN2—and he's got a copy of the custom vinyl record the Sooners have been tweeting out for each of their signees: https://t.co/Hyvw8B4No4 pic.twitter.com/shMjw9S2PZ

— SI College Football (@si_ncaafb) December 19, 2018
It's the sort of attention to detail—a perfectly tasteful amount of extra—that has, over the past two years, created a unique loyalty amongst commits.
Every school has a class full of signees that are excited and proud to be headed where they're headed. But, at Oklahoma, there's a noticeable belief that they're in on a secret that no one else knows—a belief that, under Riley, back-to-back playoff appearances and back-to-back Heisman winners isn't the pinnacle, but merely the beginning.
OU's brand has become something that is truly unique, amid a copycat landscape that usually just sort of bleeds together. It's a phenomenon that Florida State and Miami achieved during the early '90s and 2000s, respectively, but has rarely been seen elsewhere.
Ultimately, Riley will be judged by his pursuit of the school's elusive eighth national title, of course. But, in the meantime, he has successfully captured 'cool' at The Palace on the Prairie.