Making Sense Of The Overwhelming Disrespect For Lamar Jackson
Making Sense Of The Overwhelming Disrespect For Lamar Jackson
For two years, Lamar Jackson was the most electrifying quarterback in college football. But NFL talent evaluators are recklessly dismissing him.
Mar 21, 2018
by Kolby Paxton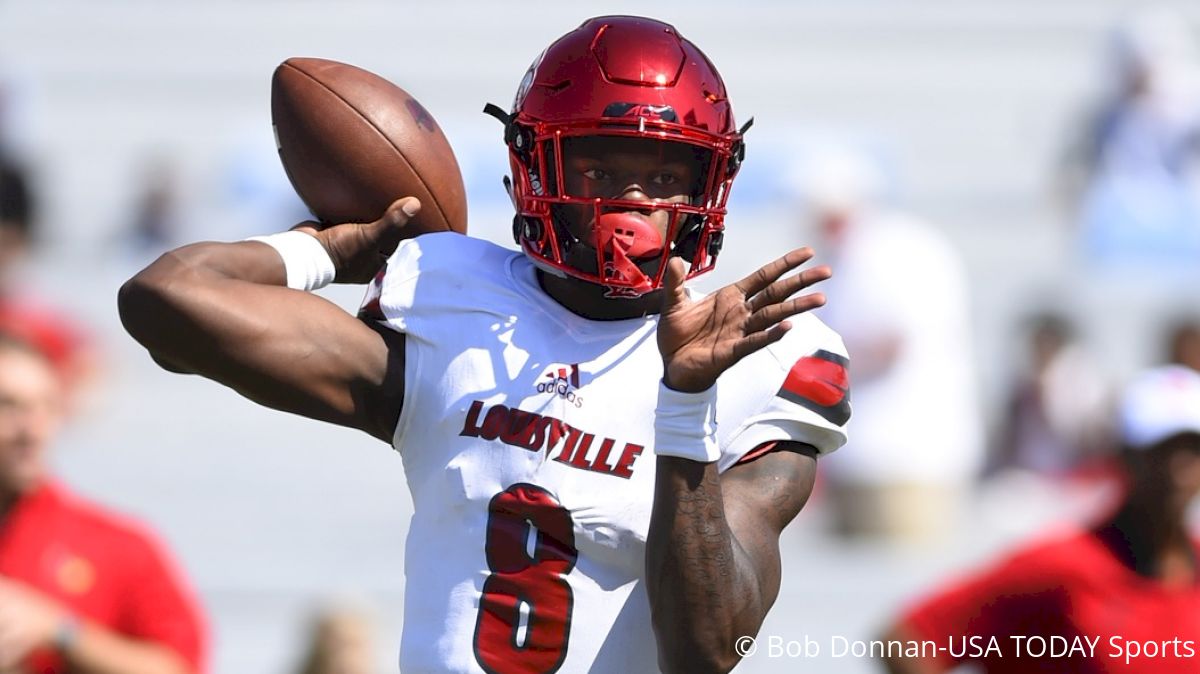 In 2016, Louisville quarterback Lamar Jackson completed 56 percent of his throws for 3,543 yards and 30 touchdowns against just nine interceptions and rushed for 1,571 yards and 21 touchdowns en route to a Heisman Trophy.
A year later, the same guy completed a higher percentage of his throws (59 percent) while passing (3,660) and running (1,601) for more yards. And, in early December, he was, once again, seated inside of the PlayStation Theater in New York as one of three finalists for the award.
Oklahoma's Baker Mayfield won.
Mayfield is two inches shorter and 7-10 pounds lighter than Jackson. But, two months after Jackson watched him accept the 2017 Heisman from the front row, former NFL general manager Bill Polian called Jackson too "short" and "slight" to be an NFL quarterback—meanwhile, Mayfield is being projected as a top 10 pick.
Now, before we get too far off the reservation, this isn't about Mayfield vs. Jackson. This is Jackson vs. Everyone. For Polian—and, frankly, several others—to discount Jackson as a professional quarterback behind the thin veil of size and inaccuracy is lazy at best and reckless, racist defamation at worst.
So, what's really up with Lamar Jackson?
Well, in short, he's nothing less than a first-round talent at the position who's going to ultimately sneak into the opening night of the draft—but not before first being cast aside while guys like Sam Darnold and Josh Allen are being exalted as franchise savers in what ultimately serves as a laughable indictment of the industry's collective tendency to suck at this entire process.
"But all he does is scramble—and that doesn't work in the NFL."
False.
According to Pro Football Focus, 73 percent of Jackson's career rushing yards were earned on designed quarterback runs. I'm not great at math, but I can then deduce that only 27 percent of Jackson's career rushing yards came on scrambles.
Jackson did a whole bunch of this:
And quite a bit of this:
But he only did this when he had to (and, more often than not, his duress was our nirvana):
"Fine, but Louisville's RPO-heavy offense is nothing like an NFL offense."
I guess it's easy to forget what a Bobby Petrino offense looks like when there's not an electric show behind center, but there's not a ton of zone read or single-read RPO to it.
Safe to say no one was disqualifying Brian Brohm or Ryan Mallett based on their college running game. And, by the way, in 2016 and '17, Jackson basically equaled the aerial success of Arkansas' all-time passing leaders, Mallett and Tyler Wilson—plus another 1,600-or-so rushing yards per season.
So, yeah, while piling up over 1,000 regular-ass drop-back passes over the course of three years, Jackson was also serving as the Cardinals' primary ball carrier—because, you know, he was the best all-around player in the country over that span.
That's a problem?
"Well, he'd have thrown for even more yards if he were more accurate."
Oh, right. Almost forgot to address the "inaccuracy" thing. A 59 percent completion percentage at the college level isn't super great.
Here, do me a favor. Pick your quarterback:
QB A: 56.3 completion percentage, 1,812 yards, 16 touchdowns, six interceptions, 6.9 adjusted yards per attempt, 204 rushing yards, and five rushing touchdowns in a Group of Five conference.
QB B: 59.1 completion percentage, 3,660 yards, 27 touchdowns, 10 picks, 8.7 adjusted yards per attempt, 1,601 yards rushing, and 18 touchdowns in a Power Five conference.
Quarterback A is Wyoming's Josh Allen. Quarterback B is Lamar Jackson.
Somehow, Allen gets a pass because he played with a bad group of receivers who dropped a bunch of balls, while Jackson is labeled as inaccurate. There's just one small problem with that:
So the latest I heard in terms of making things up to make the narrative work is: Josh Allen's receivers dropped a lot of balls.

Here's the draft class ranked by drop rate: pic.twitter.com/fqe1fXK3Ls

— Neil Hornsby (@PFF_Neil) January 23, 2018
That narrative is backward.
Of the 61 quarterbacks in the 2018 NFL Draft, only eight guys suffered through a higher drop percentage than Jackson's 12.4 percent. Meanwhile, Wyoming's receivers ranked in the top 20 for keeping the ball off of the turf.
In very related news, ESPN's Mel Kiper, NFL Draft extraordinaire, has Allen going No. 1 overall because, apparently, he hates the Cleveland Browns.
"He's no Cam Newton."
Correct. He's no Cam Newton.
But he could be Michael Vick. Just ask, well, Vick, himself.
Lamar Jackson 5x better than what I was at V-Tech....Enough said!! #future

— Michael Vick (@MichaelVick) September 17, 2016
The former Virginia Tech great—and four-time Pro Bowler—tweeted that in September of Jackson's Heisman-winning campaign, but Vick reiterated the point last summer, telling the Courier-Journal, "If I've ever seen another guy that looks like me, it's been Lamar Jackson."
The super progressive thing to do, here, would be to instead compare him to say, Steve Young or Fran Tarkenton. But Steve and Fran never ran a sub-4.4 40-yard dash. That's Vick (4.25-4.33, actually) and Robert Griffin III.
So if you want to call Jackson a sturdier, less injury-prone Griffin, so be it. Washington traded its entire team to get RG3 at No. 2. In the most recent mock draft from SI's Albert Breer, Jackson is nowhere to be found in round one.
So, you're telling me that the Redskins could dump their entire draft in order to select Griffin III and build an offense around his skill set, but no one wants to take a shot at this guy?
Gotcha.
The fact of the matter is that no one knows if Jackson is going to be a successful pro. No one knows if Darnold or Mayfield or Josh Rosen will be, either. But to act as though there should be a sea of separation between a prospect like Allen and a prospect like Jackson is asinine.
Anyway, don't take it from me, take it from Vick, himself: