Southlake Carroll vs DeSoto
Southlake Carroll Bounces Defending Champ DeSoto
Southlake Carroll Bounces Defending Champ DeSoto
Southlake Carroll defeats DeSoto 33-15 in the area round of the UIL Playoffs.
Nov 25, 2017
by Kolby Paxton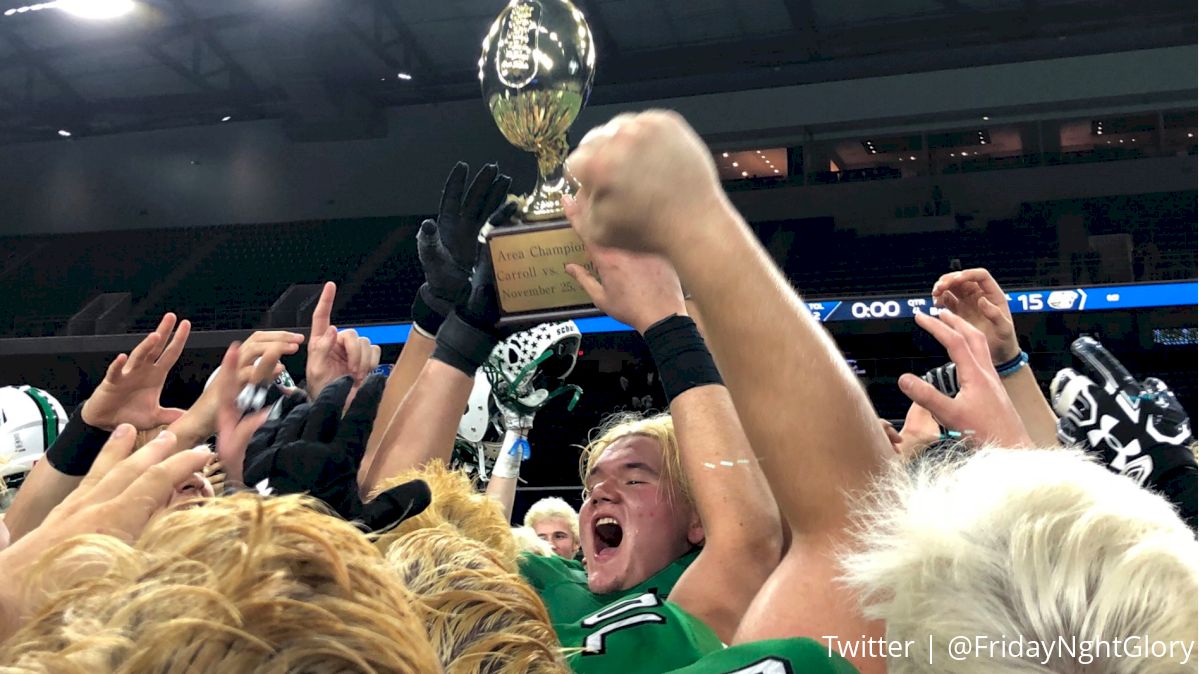 TJ McDaniel rang up 177 total yards and two scores to lead Southlake Carroll to a 33-15 upset victory over defending 6A-II champion DeSoto in the UIL area round at the Ford Center in Frisco, Texas, on Saturday.
The Eagles (10-2) finished the game with 35 more yards of offense and six more first downs, but 11 penalties for 116 yards — and an inability to stop McDaniel — doomed DeSoto.
Early on, it looked as if the favorites would have their way, as Daryon Triche capped the game's first scoring drive with a 16-yard touchdown run to put the Eagles on top 7-0 with 9:37 to play in the first quarter.
The defending state champs aren't wasting any time.

Watch @DesotoFB vs @SLCDragonFB LIVE now: https://t.co/zArd44rO6S pic.twitter.com/8JG6y2cnMH

— FloFootball (@FloFootball) November 26, 2017
But Carroll (9-3) responded with 26 unanswered points, beginning with a 37-yard McDaniel touchdown reception and ending with a 28-yard McDaniel touchdown run to give the Dragons a 26-7 lead with 6:53 to play in the game.
DeSoto would land one final blow — an 11-yard touchdown run by quarterback Courtney Douglas to trim the deficit to 26-15. But the Dragons would slam the door shut on the ensuing drive, as Preston Forney collected Will Bowers' third touchdown pass of the day to set the final margin at 33-15.
The Southlake Carroll Dragons pull it off! #txhsfb

Final Score:
3️⃣3️⃣ @SLCDragonFB
1️⃣5️⃣ @DesotoFB

pic.twitter.com/T0IQoN2DLz

— FloFootball (@FloFootball) November 26, 2017
Carroll will meet Arlington — fresh off of a 77-42 victory over Montwood — in the regional round next week.